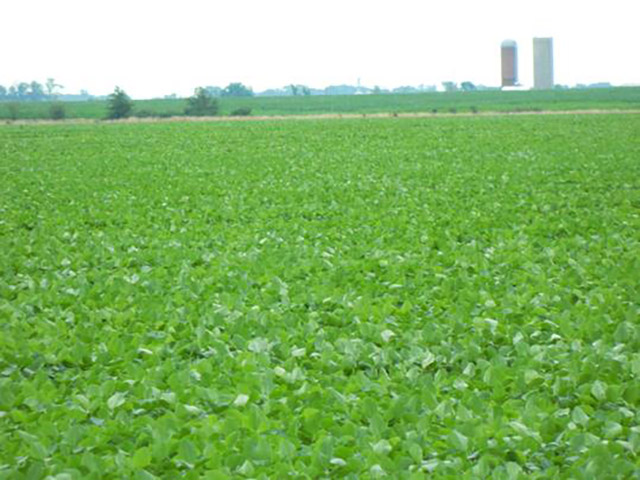 New Weapons in SDS Battle
Between 2009 and 2011, soybean sudden death syndrome (SDS) caused average losses of 42 million bushels per year. SDS was first recorded in Arkansas in 1971 and has spread to most soybean growing states. There is no easy fix for SDS infection, which is caused by a slow-growing fungus that hits soybeans early in the season, rendering crop rotation, fungicides and tillage ineffective at stopping the spread of symptoms. Infections often occur in May, but symptoms, such as leaf discoloring or crinkling and yellowing of leaf tissue between major veins, remain hidden until August. 

For the 2015 crop season, farmers will have two new weapons to deploy against the disease. Bayer CropScience and Syngenta have released seed treatment products that will extend SDS management options beyond seed variety tolerance and delayed planting dates.

Bayer's ILeVO protects soybean root systems against SDS infections and fights against nematodes in the seed zone. Combined with an integrated pest management approach, ILeVO provides greater opportunity for higher yields. ILeVO underwent trials on 181 fields with SDS from 2011 through 2014, producing yield benefits between 4 bu. and 10 bu. per acre. "Our field trials have shown that soybean seeds treated with ILeVO early in the season give valuable yield benefit across geographies and seed vari-eties," says Jennifer Riggs, Bayer SeedGrowth product development manager.

In tandem with Poncho/VOTiVO, ILeVO provides root and plant protection, as well as three modes of action against early season fungus, insects and nematodes.

Syngenta's Mertect 340-F can be applied with Clariva Complete and CruiserMaxx with Vibrance seed treatments to greatly reduce SDS damage. When SDS strikes in conjunction with soybean cyst nematode (SCN), symptoms break out earlier and are more severe, causing greater yield loss. SCN damage opens an entry window for SDS to attack soybeans.

Mertect 340-F also works against seedborne diseases and carries a seed safety profile for germination and stand protection. Following four years of testing and field trials, Mertect 340-F has displayed consistent yield protection against SDS. 

"With Clariva Complete Beans and Mertect 340-F, Syngenta provides additional options to reduce damage from SDS," says Wouter Berkhout, Seedcare product lead at Syngenta. "We're very happy to provide effective solutions for growers to protect from all major soybean pests: SCN, seedling diseases and SDS."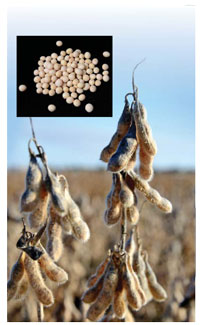 Off-Patent RR Soybean Released
Monsanto Company's first-generation Roundup Ready patent expires in March 2015, and the University of 
Arkansas System Division of Agriculture is releasing UA 5414RR, an off-patent soybean variety with no technology fees or licensing agreements. 

Patent expiration means farmers are free to save harvested seed and replant UA 5414RR without legal repercussions. The group 5 soybean variety yields 56.3 bu. per acre on average, which is 7% less than top varieties but shields growers from licensing fees while maintaining weed control technology. UA 5414RR is resistant to stem canker, somewhat susceptible to frogeye leaf spot and susceptible to soybean cyst nematode (races 2, 3, 4, 5 and 14), southern root knot nematode and reniform nematode.

Monsanto's Roundup Ready soybeans have been grown on billions of acres since their debut in 1996. The line of soybeans will be taken off the market and replaced with Roundup Ready 2 Yield products. Trait patents on the Genuity Roundup Ready 2 Yield trait shouldn't expire until the end of the next decade.