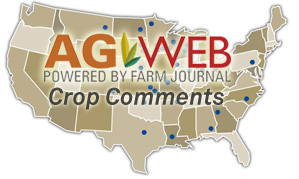 Depending on where you are in the U.S. you're either having a toad-soaker or you haven't seen a drop. Mike Hoffman says that most of the central U.S. will dry out for a few days, while drought stricken areas will see some rain.

Here's what farmers across the country are saying this week on Crop Comments:

6/9 - Lafayette County, Wis.: It may be hard to believe but there are pockets in southwest Wisconsin, Northwest Illinois and Eastern Iowa that are still dry. Our water and creek levels are as low as they got in the drought of 2012. Tiles dry. Since April 10, we have had only 2.5 inches of rain. Got .4 and .33 last 2 weeks. Eastern part of the county had 1 to 3 inches of rain. Crops overall look good here, but no subsoil moisture for summer heat. Amazing how so many are too wet, yet there are still dry pockets from the last 2 seasons. Mothers day had a hard shower, crusted a lot of corn and beans, with one neighbor replanting soybeans today, due to a poor stand. Ground squirrels took out 8 pickup truck size pockets of corn, by going along corn rows and digging out seeds on growing corn. With all the no till, and perhaps less insecticide use, moles too are now a problem. Corn reprayed a second time, little weed pressure. Be safe.

6/10 - Berrien County, Mich.: .75 inch of rain this past weekend stop all field work again are ground is soaked I think a heavy dew will stop field work crops are not growing as good as they should be but are not bad. I think are soil is very wet and cold in the root zone still in the 50s at night. we will have good crops probably no bin busters.

6/13 - McLeod County, Minn.: Rain again. Just got 80 acres of beans in and it rains overnight- .60 and more in some places. That will hault any further planting for another week or more. Many acres took pp on corn and looking like the trend on beans too. Reading today's column by the market analysts. Huge corn crop expected. Funny how that works when you take o bushels/ acre out of production and possible turn them into bean acres, if they get planted. Any corn that got in is in desperate need of dry, hot weather and needs nitrogen. Good luck with that the way this year is going. 66 today and 20 mph winds- not even good haying weather...

6/13 - Somerset County, Pa.: Lots of rain here beans are to be desired and most of the corn looks great what was planted around May 20 th (between the showers) . Corn planted later has lots of stand issues no germination no corn. A lot of acres abandoned this year don't see 158 bu average yeild !!!!

What's your Goldie Locks weather like? Are you too dry, too wet or just right?

Read more Crop Comments and submit your own comments, pictures and videos.