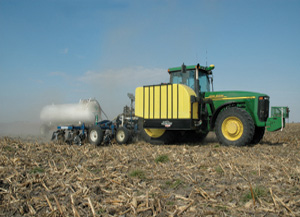 Plan ahead to stabilize your profit margin
Remember the seed and fertilizer days held at local elevators every February? They've gone by the wayside like steam engines.

Before harvest ended this year, farmers were putting pencil to paper to figure out how to come out on top in 2012—and for good reason. With the current global uncertainty driving volatility in the grain markets and continued dry conditions in much of the U.S., smart planning and input purchases might determine your profit potential in the next year.

Most university 2012 crop input guides are already available, so now is the time to focus on input categories and set your grain production goals.

"Costs and land uses are uniquely specific for each farm, so you have to watch how you use those guides," says Chris Barron, director of operations and vice president of Carson & Barron Farms Inc. in Rowley, Iowa.

As a Certified Crop Adviser, Barron is a big believer in getting profit priorities straight.

"Determine what you need to make ahead of time to determine your margins. Look at the cost of your profitability," he advises.

Steve Johnson, farm management specialist with Iowa State University Extension, agrees. "The old adage of 'buy low and sell high' still dominates farmer thinking," he says. "This primarily means buying inputs before their price significantly increases, but often fails to capture the profit margin available in selling 2012 crops at the same time. Producers often wait for even higher futures prices without a profit goal. Having a net profit per acre goal for 2012 is the first step to tying together both potential production costs and output price."

Once production goals are established for each crop and forwarded prices per bushel are set, it's time to fill in the blanks for your variable costs.

Unfortunately, the sum total of producing a crop is trending up. "We're seeing costs approach the $900 per acre range in northeast Iowa," Barron says.

Fertilizer frenzy. According to USDA, the U.S. imports at least 55% of the nitrogen and 81% of the potash farmers use, so any increase in demand will have to be met by imports. That means we are in competition with the rest of the world with a devalued dollar and increased transportation costs. Under the current import model, it's unlikely farmers will ever get a break in the cost of nitrogen forms of fertilizer.
It takes a team to shell corn, haul grain and contract inputs for Carson & Barron Farms in northeast Iowa. From left: Jason Franck, Keith Smith, TJ Matthiesen, Chris Barron and Dave Blin think bulk fertilizer storage might be in their future.
The International Fertilizer Industry Association's (IFA) 2011 global capacity survey says ammonia capacity is projected to grow 19% this year, with 67 new nitrogen fertilizer plants under construction and expected to be in operation by 2015. The increased capacity will be met by more demand.

According to IFA's May forecast, global fertilizer demand is projected to expand at an average annual rate of 2.4% by 2015.

A Farm Journal survey conducted online at AgWeb.com yields some interesting insights. Of the 100 respondents, 28% said they expect to spend up to $50 more per acre this year on their total fertilizer costs and 40% expect to spend $51 to $125 more per acre. For nitrogen-based fertilizer only, 29% expect to pay between $51 and $100 more per ton this year, 20% expect to pay between $100 and $150 more per ton and another 20% expect to pay up to $50 more per ton.

While pricing inputs and preselling grain, some historical perspective can help ground decisions, according to Bruce Erickson, agronomic education manager for the American Society of Agronomy and adjunct assistant professor at Purdue University. "We have a 1:10 ratio of fertilizer price to corn price, which is still in the middle of historic ranges," he notes.

The culprit is not price so much as price volatility, so the timing of fertilizer purchases is important.

A recent Purdue University study that compares fall and spring fertilizer prices states "considerable discounts were observed for the fertilizer products considered [in the fall], with anhydrous ammonia producing the largest average discount." The report concludes that "the extreme price movements of 2008 and 2009 were not new occurrences for the fertilizer industry. On a percentage basis, some of the largest fertilizer price movements occurred in the 1970s."
Cash rents jump. Cash rents are another input category to red-flag. In a midyear snapshot survey of members of the Illinois Society of Professional Farm Managers and Rural Appraisers, respondents said cash-rent levels in 2012 should top 2011 prices. Quality farmland that brought an average of $285 in 2011 is expected to bring an average of $321 in 2012. USDA reported an average of $196 for Iowa cropland valued at around $5,700 an acre. That's an 11.4% jump in cash rent from this past year, even though the ratio of rent as a percentage of land value decreased.

Farm Journal Economist Bob Utterback sees inflation coming, along with higher interest rates. He advises farmers to control their cash-rent costs, which, in turn, will help them plan their grain marketing.

"Farmers will need to get their cash rents locked in where they can have some stability," he says. "I would want to go long-term—two to five years out, if possible, or longer."
The germ of profits. Seed pricing is all about value-added benefits. Based on the responses to the Farm Journal cost input survey, 43% expect to pay $5 to $10 more per acre this year on seed, 25% expect to pay more than $10 per acre and 32% expect to pay the same or less than they did in 2010.

Has dry weather driven price increases? Large seed companies have adequate supplies for the coming year, but, due to advanced technologies, farmers might pay more depending on the crop, genetics and planting rates.

"Our pricing is based on long-term value, and every year we introduce new products with greater value than those they replaced," says Pioneer spokesman Jerry Harrington. As an example, he points to the new refuge-in-a-bag series that is available for the next planting season.

Pesticide challenges. Pesticide inputs for 2012 will cost about $38 per acre on Indiana corn ground, an increase of 3.5%, according to the 2012 Purdue Crop Cost and Return Guide. Southern farmers, however, might see marked increases due to fighting glyphosate-resistant Palmer amaranth.

"In 2010, our cotton growers averaged $63 per acre in herbicides alone, not including adjuvant or application costs," says Stanley Culpepper, an associate professor and Extension agronomist with the University of Georgia. "In addition to the herbicide expense, 92% of our growers hand-weeded 53% of our crop for a total of $16 million."
Plan to profit. Your variable-cost list might include crop yield enhancers, such as fungicides or nitrogen stabilizers, but you won't know how to make good decisions when marketing your grain for next year until you get a handle on your production costs. Know your break-even points. "The higher we can market our grain, the faster the returns from our yield improvement products add up," Barron says.