Via a special arrangement with Informa Economics, Inc.
---
NOTE: This column is copyrighted material, therefore reproduction or retransmission is prohibited under U.S. copyright laws.
---
Corn payouts move past level of premiums paid into program
Indemnities have reached $8 billion under the crop insurance program for 2012 crops, according to data from the Risk Management Agency (RMA), with corn closing in on $5 billion.
As of Dec. 10, payouts for 2012-crop corn have hit $4.727 billion, above the total level of premiums paid into the program and pushing the loss ratio to 1.10 - the first major crop to see payouts exceed premiums for 2012 crops.
Soybean indemnities are also closing in on $1 billion, reaching $972 million as of Dec. 10 with the loss ratio climbing to 0.42.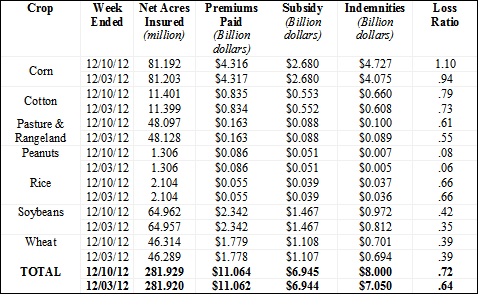 PERSPECTIVE: Payouts under the program at $8 billion still remain below the record set for 2011 crops of $10.8 billion. Projections are that the payouts for 2012 crops will far exceed that level. USDA Chief Economist Joe Glauber has been saying the indemnities are likely to climb to $15 billion to $16 billion for 2012 crops, with some in the crop insurance industry and elsewhere expecting a figure closer to $20 billion.