Indemnities paid on 2011 crops under the federal crop insurance program totaled $10.595 billion as of April 16, according to data from the Risk Management Agency (RMA).
Total indemnities appear likely to keep climbing, as data shows that at this point one year ago, indemnities paid out for 2010 crops were at 98 percent of the total paid out for the crop year. RMA officials last fall predicted that indemnities on 2011 crops could reach $11 billion.
Of totals paid out for 2011 crops, $8.238 billion in indemnities have been paid out for risk protection (RP) policies while $1.108 billion has been paid out under yield protection (YP) policies and $707.8 million has been paid out under actual production history (APH) coverage.

Here's a look at the 2011 indemnities for key crops: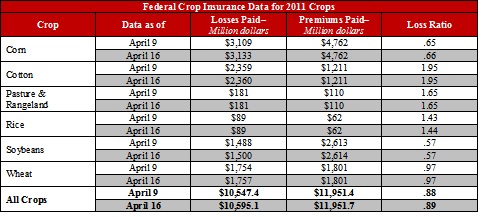 The level of data for 2012 crops continues to rise, with 84.287 million net acres insured, up from 83.917 million the prior week. For 2011 crops, 265.243 million net acres were insured and in 2010 there were 256.244 million net acres insured.