Written by Chris Hurt, Purdue Extension agricultural economist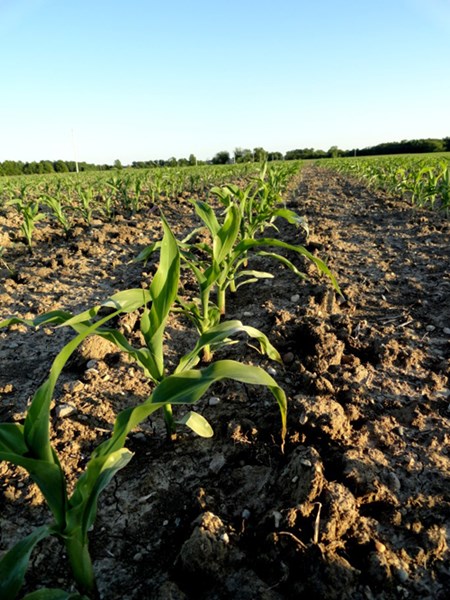 Mother Nature always gets the last word when it comes to determining crop yields. Last year she was unkind as a wet spring caused planting delays and then heat and dryness in mid-summer caused yield losses. Yields for both corn and soybeans were nearly 10% below normal.
Farmers are anxious for the new growing season in 2012 and the weather is giving them an early start. A warm and relatively dry winter means the planting season has started early increasing prospects for a return to favorable yields.
While crop production was down in 2011, prices were at record highs. This meant that revenues for Indiana's major crops of corn, soybeans, and wheat reached a record high level of about $8.3 billion.
A return to more normal crop production in 2012 could also bring lower prices, especially for corn. Increased production at lower prices means that total revenues would not change very much from the $8.3 billion from the 2011 crop.
However, what will change this year are higher production costs. Purdue University estimates suggest that costs of producing these crops will increase by 15 to 20% in 2012 compared to last year. Higher costs are led by fertilizer, fuel, and cash rents. These elevated costs mean the net returns or profits from Indiana cropland are expected to drop from the record levels achieved in the past two years.
While a decline in returns is never welcomed, the decline is coming from record high levels. This means that crop incomes are expected to decline in 2012, but will still be strong relative to average incomes over the past decade.
While prospects are favorable this spring, Mother Nature and market prices will ultimately determine the financial success of Indiana's 2012 crops.
---
Related Video Report :
Farmers in much of the Eastern Corn Belt are just now revving up to plant their 2012 corn crop. As they head to the field, Missy Bauer, Farm Journal associate field agronomist, encourages them to keep an eye on soil temperature, which can fluctuate widely this time of year.

For More Information
View the latest planting progress reports with AgWeb's interactive planting maps.
Read more market news and analysis.
 
---