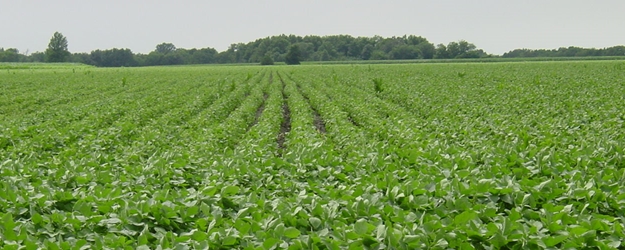 Biological Pest Control
AgBiTech announces that the Environmental Protection Agency has approved its biological-based product, Heligen, to control Helicoverpa, a genus of moths. CEO Anthony Hawes says the company anticipates strong demand for Heligen, particularly among farmers growing soybeans, sweet corn, grain sorghum and tomatoes. Heligen incorporates a natural baculovirus-based technology, Helicoverpa NPV, which kills only Helicoverpa and Heliothis pests such as corn earworm and tobacco budworm. Depending on the situation, farmers can use the product early in the season to suppress pests, later in the season as a stand-alone application or in combination with other pest-control methods to minimize the risk of further sprays. For additional information, visit
www.agbitech.com.
---
Insecticide/Fungicide Premix
Crossover is the first-ever insecticide plus fungicide premix formulated into a convenient and stable emulsifiable concentrate product. The product, developed by Innvictis Crop Care, LLC, combines a triazole fungicide with a pyrethroid insecticide to control a wide pest spectrum, such as rust, leaf blight and powdery mildew, as well as insects such as cutworm, armyworm, earworm, grasshoppers, stink bugs, thrips and aphids. Crossover can be used in soybeans as an early season foliar "recharge" or in the R5 and R7 windows. It can be mixed with strobilurin fungicides to round out disease control in corn and soybeans. It can also serve as an all-in-one in early season wheat with rust and insect pressure. Crossover has been approved by the Environmental Protection Agency and is available for the 2014 season. For more information, visit www.innvictis.com. 
---
Herbicide Has Multiple MOAs
Syngenta announces its corn herbicide premix SYN-A197 will be marketed as Acuron herbicide upon registration by the Environmental Protection Agency. The company expects registration in time for use in 2015. Syngenta developed Acuron in response to weed resistance and the resulting increase in demand for residual herbicide products with multiple modes of action. The herbicide premix combines three complementary modes of action and four active ingredients, including bicyclopyrone, to deliver a multi-targeted approach to weed control. For more details, visit
www.syngentacropprotection.com.
---
Dig for Answers
Sometimes you have to dig a little for answers when your corn crop emerges unevenly, which can hurt ear counts, says Missy Bauer, Farm Journal Associate Field Agronomist. Bauer provides these simple directions to determine the causes of uneven emergence.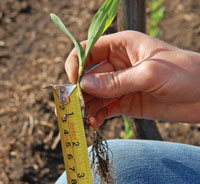 Based on a simple measurement, you can see that the corn plant shown here grew from seed that was planted about 1.5" deep.    
1.
Dig up a corn plant, look at the root system and find the old seed. Note that the mesocotyl extends up to the base of the crown. 
2. Hold the base of the crown at the 3⁄4" line of the measuring tape, as demonstrated in the photo above. Then, measure the length of the mesocotyl down to the bottom of the seed. This measurement is your planting depth for that specific plant. 
3.
Measure the planting depth of neighboring plants. Look for variations in the mesocotyl length 
between plants and compare your findings. Any variations tell you there was a lack of planting-depth uniformity. Plants that vary 1⁄4" or more in planting-depth consistency can reduce ear size or count.  

"When uniformity isn't even from plant to plant that may indicate a planter set-up problem," Bauer notes. Common factors that contribute to uneven planting depth include: the planter not running level, too fast a planting speed, poor adjustment to disk openers or incorrect down pressure.