The swaths of yellow and purple weeds that cover farm fields in early spring provide a splash of color to the landscape, but they can also have nasty consequences. Beyond yield loss, some winter
annuals, such as henbit and field pennycress, are known hosts of soybean cyst nematode (SCN).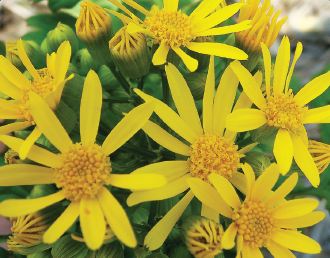 Butterweed may grow into a striking field of yellow, daisylike flowers, but it and other winter annuals can have long-lasting side effects.
Photo: Pam Smith
Winter annual weeds—or early season weed species—begin germinating in early fall and continue to germinate throughout the spring planting season. Most set seed and die back by mid-June or earlier.

"Control of winter annuals is relatively easy in the fall and early spring, but harder once they begin flowering because they are less susceptible to herbicides," says Mark Bernards, a University of Nebraska weed scientist. "The time between the start of flowering and when they have viable seeds can be relatively brief. Henbit produces mature seeds within two weeks of flowering, so plants can be flowering and shedding mature seeds at the same time."

University of Illinois weed specialist Aaron Hager likes to see control of these weeds at least two weeks prior to planting to prevent yield loss and reduce the risk of weeds going to seed and increasing winter annual weed pressure in subsequent years. Some common winter annuals include butterweed (cressleaf groundsel), common chickweed, kochia, Pennsylvania smartweed, prickly lettuce, prostrate knotweed, shepherd's purse, smallflower buttercup, speedwell, Virginia pepperweed and yellow rocket.

"Horseweed [marestail] is the game changer because of resistance issues. Growers dealing with it know they have to get it under control early," Hager says.

Bernards says University of Nebraska research shows consistent yield losses from winter annual weed competition. "Nitrogen sequestration by winter annual weeds is a contributing factor to yield loss," he says.
---
Weeds Aren't a Good Legacy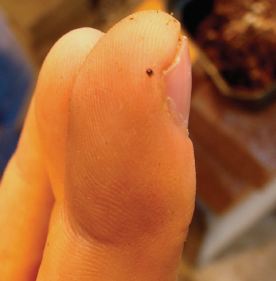 The dot on this finger is a waterhemp seed. It can rest in the soil for a decade or more without germinating. A built-in dormancy is one reason the weed will be such a troublemaker for many years.
Photo: Pam Smith
If you need added motivation to scout for persistent weeds this season, just think of your kids. Bryan Young, a Southern Illinois University weed scientist, says problematic weeds that escape and set seed today can be a looming problem for the next generation.

"Weeds like waterhemp and Palmer amaranth have built-in seed dormancy that allows the weed seed to survive for a decade or more. It's one of the reasons this family of weeds is so difficult to control once it gets a foothold," Young says.
The amaranthus family of weeds has been one of the most troublesome in its ability to develop resistance to herbicides. Young and other weed specialists across the country have been collecting seed and growing it out in greenhouses to determine levels of resistance and what agronomic conditions and actions impact control.

Young encourages all growers to get to the field this year to scout early and often for waterhemp and Palmer amaranth and any other weeds that appear to be resisting chemical controls. The idea is to prevent weed seed production before it happens—even if that requires hand weeding.

Prolific seed production and prolonged emergence are characteristics that make these weed cousins hard to handle.
---
New Soybean Linkup
Rumors that Bayer CropScience might further invest in the soybean seed market have become reality with the company's agreement to purchase Hornbeck Seed Company Inc.

Hornbeck, which is headquartered in DeWitt, Ark., supplies soybean, rice and wheat varieties in the southern U.S. market and has an in-house soybean breeding program and proprietary soybean germplasm. Bayer is poised to acquire the seed business and gain access to Hornbeck's quality
soybean germplasm for future variety and trait development.

Bayer launched LibertyLink soybeans in 2009 and Hornbeck has been a major seed customer. In 2009, Bayer purchased Athenix Corporation, which gave the company a large library of corn and soybean traits.

The addition of Hornbeck will give Bayer a complete package of soybean seed, seed treatment, trait and crop production products. Watch for more information on this strategic move in Farm Journal's 2011 Seed Guide, due in mailboxes this summer.