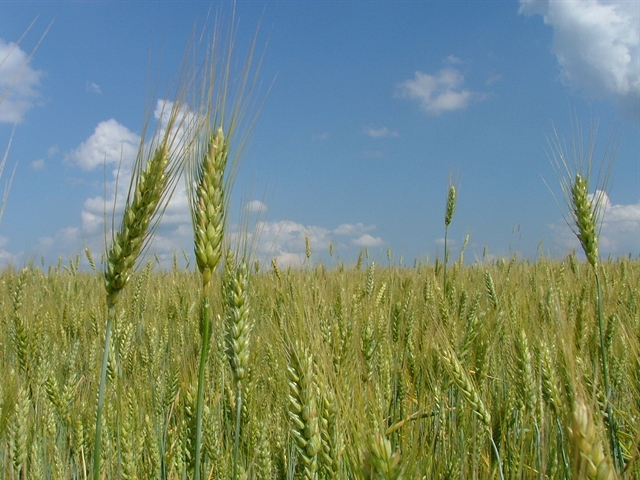 Crops in Russia and Ukraine have been hurt by the dry start to this season, with Russian Agriculture Minister Alexander Tkachev saying a quarter of the country's winter crops are in poor condition as planting nears completion.
In Ukraine, almost a third of winter wheat and triticale, a hybrid of the grain, was weak and thinned, according to data from UkrAgroConsult. That's comparable to conditions in 2011, which resulted in a 29 percent drop in output, according to Paul Gaffet, an analyst at Offre & Demande Agricole in Bourges, France.
The world has become more dependent on output from the Black Sea region in Russia and Ukraine in recent years as buyers shifted from more expensive suppliers such as the U.S. Benchmark prices on the Chicago Board of Trade rose to an almost eight- week high on Oct. 7, partly on concerns drought would damage the harvests in the two countries.
It's too early to draw conclusions about 2016 Black Sea production as poor crops in some areas "could be made up with yields in the other parts," said Abdolreza Abbassian, a senior economist at the United Nations' Food & Agriculture Organization.
Lack of Rain
Farmers in Russia's southern and central regions were affected by a lack of rain during the sowing of winter wheat. Planting was about 92 percent complete as of Oct. 30, according to the Ministry of Agriculture. While rain last week improved the situation a little, farmers may have to replant some of the crop in the spring, Tkachev said.
"The situation was critical," Tkachev said at a government meeting outside Moscow led by Prime Minister Dmitry Medvedev. "The crops didn't emerge."
Most of Ukraine and western Russia received less than 80 percent, and in some cases less than 20 percent, of normal rainfall in the 90 days through Oct. 31, while temperatures were unusually high, according to data compiled by World Ag Weather.
Winter rapeseed in Ukraine is in the worst condition in at least seven years, with 33.6 percent of the crop weak and thinned compared with 18 percent last year, according to UkrAgroConsult. For wheat, 27.2 percent was in good condition, while 32.1 percent of the crop was in the worst condition, the researcher's figures show.
The state of the wheat is similar to 2011, when 29.9 percent was rated good as of Nov. 11 and 31.3 percent poor, according to Gaffet. Winter wheat and rapeseed crops planted this year will be harvested in 2016.
Ukraine's wheat crop slumped to 15.8 million metric tons in 2012 from 22.3 million tons the previous year, while Russia's production fell 33 percent to 41.5 million tons, according to data from the U.S. Department of Agriculture.