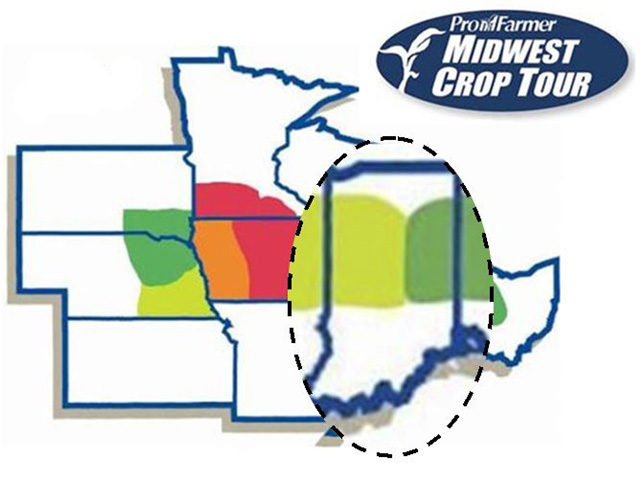 Indiana is a state that's expecting a different growing season than last, when the state set a record for rainfall in the month of June in 2015, creating some issues in water-logged pockets of the state. We talked to farmers in the Hoosier state about this year's crop. Some say it's good while others aren't sold. 
As expected, the corn crop is coming along in Arcadia, Ind. However, a harvest surprise may be standing in these fields. 
"No one is going to argue that it looks good from the road," said George Kaksauleff, a farmer from Arcadia. "As you get in it, I think there are some things you can find that it's not a bin buster."
Kakasuleff is talking about stress hiding within his rows, including stalk rot, tip-back, and the threat of lighter test weights.
"Standability might become an issue," said Kakasuleff. "It may be knit-picking, but I've had two really good years. We've been so hot the first half of August compared to a year or two years ago. My concern is the kernel depth and test weight."
Despite stress from dry conditions, Kakasuleff believes he'll achieve close to his average yield. He surpassed it last year during a time when most farmers struggled. 
"We actually are not expecting a better crop than last. We actually were just south of the heavy rains last year in Indiana and had a very good crop," said Kakasuleff.
He has higher expectations for beans, but fears the area got too dry and the rains are too late. 
"I think our soybeans have a chance of being better than they were a year ago," said Kakasuleff.
Eighty miles North, George Krom III is having a good year. 
"I'm looking for us at least to be with the national crop report average or better," said Krom. "That would be above our county average historically."
Krom admits dry conditions also put some stress on the crop, but it's not showing too much of an impact just yet. August rains have helped. 
"There's no tip-back on any ears. Our corn has filled out well," said Krom. 
He is watching what's happening with test weights. 
"Test weight will probably be average," said Krom. "Just with past experience, that's the way it usually is."
Like Kakasuleff, Krom believes beans have a lot of potential. 
"It looks like there will be about 55 to 60 good pods on it," said Krom. "Most of them have three beans in it." 
With a year with high production expectations and good yields, is it enough to meet USDA's expectations? 
"Considering everything, it looks like we'll have a good yield," said Krom. 
Kakasuleff said the stress due to dry weather is pretty wide-spread, especially as you travel east. A tornado touched down just miles away from his farm. He said his crops are not damaged. 
Crops Show Mixed Results on Eastern Leg