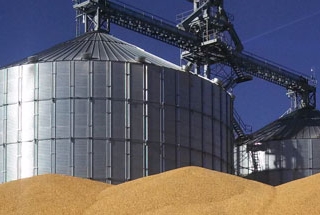 An expanding global grain glut drove crop prices to the lowest since 2010, with wheat futures off to the worst start to a year in four decades.
Farmers collected a record global wheat harvest, U.S. government data show, and the International Grains Council last week raised its outlook for the world's corn crop. Thailand is preparing unload a mountain of rice to an already oversupplied market, and rains are aiding Brazil's soybeans.
Most raw materials are mired in bear markets, with the Bloomberg Commodity Index heading for a seventh straight monthly loss, the longest streak since 2009. A collapse in oil is cutting production costs, and encouraging more output even amid global surpluses. The gluts are helping to keep a lid on global food inflation, and the United Nations reported that prices dropped in eight of the past nine months.
"The reality is there's a lot of grain and a lot of oilseeds around," Greg Grow, director of agribusiness at Archer Financial Services in Chicago, said in telephone interview. "You've got a major 'down 'commodity cycle under way."
The Bloomberg Agriculture Index of seven farm products, excluding livestock, fell 0.4 percent to 59.2145 at 2:51 p.m. in New York, after touching 58.81, the lowest since July 2010. Wheat futures for March delivery fell 1 percent to close at $5.0275 a bushel in Chicago, capping a 15 percent drop in January, the most for the month since 1975.
Wheat Inventories
With ample wheat inventories, buyers including China, Brazil and Nigeria are getting less from the U.S., the world's largest exporter. Demand, including overseas sales, is the weakest in almost two decades, while a surging dollar makes U.S. grain less appealing than supplies from other countries. Compounding the slump are domestic cattle producers who have gone back to using more corn in feed rations.
Rice futures in Chicago touched $10.525 per 100 pounds, the lowest since August 2010. Global production will be near last year's record, and Thailand will export the most ever, U.S. Department of Agriculture data show.
Cocoa prices fell to a one-year low and futures in New York entered a bear market this week. Slowing global economies mean that consumers are looking for ways to trim disposable spending, and that could leave chocolate off the menu, according to Jack Scoville, a vice president of Price Futures Group. Cocoa-bean processing, a gauge of demand, fell in Asia, Europe and North America in the fourth quarter, industry reports showed this month.
"The world is struggling to prevent deflation," Helen Pound, a senior commodity specialist at Wedbush Securities in Minneapolis, said in a telephone interview. "That's generally a negative story for all things, but especially for raw materials."
How are you dealing with the 2015 markets so far? Share your thoughts on the AgWeb discussion boards.