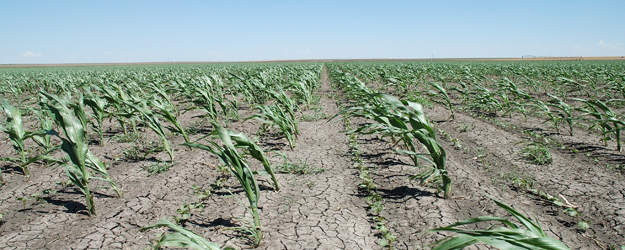 With the nation's corn and soybean crops thirsting for moisture, June's long-awaited Acreage and Grain Stocks reports fell flat compared with concerns over drought conditions and scorching temperatures across the Corn Belt.
"The market is reacting in an extreme way to what I view as mostly neutral reports," says Jack Scoville, vice president for the Price Futures Group, Chicago. Scoville was the commentator an MGEX press briefing following the release of the reports. "People had been fearing a bearish Acreage report," he says, which in itself could help support markets, but the real issue moving forward will be weather.
USDA's Acreage report put planted acreage for corn at 96.4 million acres, up 5% from last year and up 0.5% from the 95.86 million acres projected in USDA's Prospective Plantings report released in March. USDA's latest estimate, if realized, would be the highest U.S. acreage since 1937 when an estimated 97.2 million acres were planted. Of the estimated 96.4 million acres, producers expect to harvest 88.9 million acres for grain, a 6-percent increase from last year.
In the Acreage report, USDA put soybean planted acreage at 76.1 million acres, up 1% from last year and 3% higher than its March estimate of 73.9 million acres. The estimate makes this year's bean crop the third highest on record. Of those acres, producers are expected to harvest 75.3 million, 2% more than last year. Planted soybean acreage in New York, North Dakota, and Pennsylvania is estimated at record highs, while South Dakota's acreage ties its previous record.
Scoville called the initial bullish market reaction to the reports the combination of a weather rally and a relief rally. "This remains a weather market," he says. "We need a drink from Chicago to the South."
 
Stocks Remain Tight, Getting Tighter
Stocks of corn and soybeans are also helping to support markets. According to USDA's quarterly Grain Stocks report, corn stocks as of June 1 totaled 3.15 billion bushels, down 14% from a year earlier. Of those stocks, 1.48 billion bushels were stored on farms, down 12% from a year ago. Second-quarter disappearance of corn at 2.87 billion bushels was stronger than use for the comparable period a year ago of 2.85 billion bushels.
Soybeans stocks as of June 1 totaled 667 million bushels, up 8% from last year. On-farm stocks of 179 million bushels were 18% smaller than a year ago. Second quarter disappearance of 707 million bushels was 12% higher than second quarter use last year.
"We knew bean stocks were building," says Chad Hart, Iowa State University economist. "But we saw more disappearance this last quarter. Demand has been pushing up." Last year at this time, soybean exports began to slide, moving lower into the fall. Since then, exports have been coming back.
"I view soybeans in particular as very bullish through the end of this year into next," says Scoville. South American growers are expected to plant a huge soybean crop later this year, which would loosen supply when they harvest next spring.
"Keep an eye on the weather, which is very bullish for corn as well. Both the bean and corn markets could get very interesting as we look forward. Corn is trying to pollinate in the Ohio River Valley and it is not getting very far," Scoville says. "We really, really need to get rain or we will lose yield. We are already losing yield on corn."
With timely rains, though, harvest pressure could send prices significantly lower, and rains were expected to fall across most of Iowa, Illinois, and Indiana over the weekend. "If the corn gets moisture, it could still do incredibly well," says Hart. "But it's on the edge."
Scoville is advising his customers to be cautious about being long. "You might not be able to get out," he says. He suggests using put options to protect end user or speculative long positions and as a hedging tool.
"Weather will dominate but there will be days, wet get panicky about demand and the general economy," says Hart. On days when neutral reports send markets substantially higher, it becomes obvious just how much uncertainty—thus price volatility—the 2012 corn and soybean crops face.
……………………………………
See the data, read the biggest news and listen to analysis of today's Acreage and Grain Stocks reports.
 
---