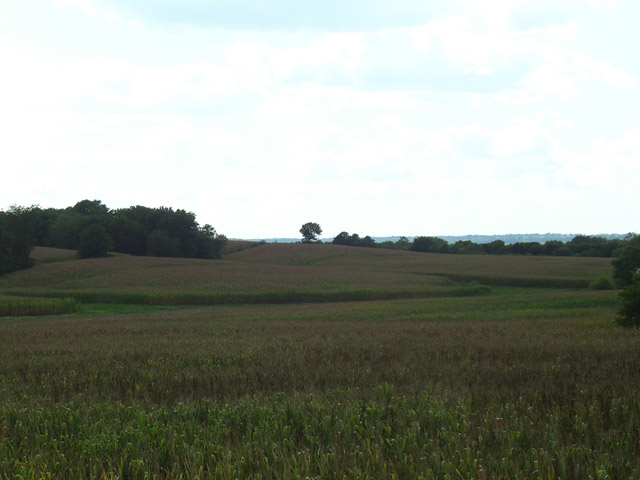 Some farmers around the Corn Belt are not planting all of their land this year. Instead, they are converting cropland into conservation acres, popularly known as CRP, under USDA's Conservation Reserve Program, which pays farmers to remove "environmentally sensitive land from agricultural production," according to the agency. 
Iowa farmer Mark Happel is keeping busy during planting.
"If these conditions consist, I think we're going to start some planting here," says Happel, who farms in Sumner, Iowa.
But he won't be running the planter on all of his acres. He is trying to transition some ground into the CRP this year. "It will be 15% of my corn acres going into CRP this year," says Happel.
He says the switch is all economic, due to cash rents, lower commodity prices and CRP payouts.
"Low commodity prices are probably the main reason we got into this," he explains. "There are payouts between $275 and $330 an acre for these CRP programs, whereas the cash rent is probably $200 to $250 on that type of ground anyway," says Happel.
He's not alone in his thinking. Analysts say there is a movement to enroll farmland into CRP ground in the northern and western Corn Belt.
"I think there are some regional areas going into CRP. We're hearing more of the pockets of the Dakotas and Minnesota. It's really a function of what the county is willing to pay for it. I've heard of some exceptionally high prices," says Farm Journal Economist Bob Utterback of Utterback Marketing Services.
CRP Payouts Entice Farmers to Leave Land Fallow
Those prices--and the decision--all depends on that state and county payouts, which can vary. 
"There are a lot of acres going into CRP. It's just in a different watershed than mine," says Brent Judisch, who farms in Cedar Falls, Iowa. "The watershed east of us has more money budgeted for it. A lot of farmers take advantage of it. If you can get as much government on the land to not produce it, then why have to go through the work and the hassle to spray and harvest it to make the same kind of money? For the farmers who own the land, it's a great opportunity."
A representative with Iowa's state Farm Service Administration office says it's too early to determine how many acres will be awarded a contract in the state of this fiscal year, but from October 2015 until March 2016, roughly 293,000 acres were enrolled in Iowa.
The farm bill has a national cap of 24 million acres per fiscal year, and there are currently 23.8 million acres enrolled. Some of those will expire at the end of September.  Farmers willhave to wait to see how many contracts may be approved from the general sign-up period.
Happel says it wasn't a hard decision putting some of his marginal land into the program.
"With this creek right here, a two-inch rain or more that goes north at least five miles will bring the water level up above the banks," he says. 
It also offers him a reliable source of income in a roller-coaster year for commodities. 
"Most years we get a good crop, but there are a lot of years that we don't," Happel says. "This guarantee of income every year off this type of ground? Well, that's a good income for us."
While the farming is his profession, he's comfortable knowing land is in CRP, especially with a new farm bill on the horizon, a different leader moving into White House in January 2017 and uncertainty of crop prices.
INTERACTIVE: CRP Vs. Cash Rent
Data from USDA shows counties where CRP rates are higher than cash rent rates in green, while counties with higher cash rents are represented in yellow. Zoom in to see how your county compares to others across the country.
How have you used--or not used--CRP on your farm? How has it worked out? Let us know in the comments.