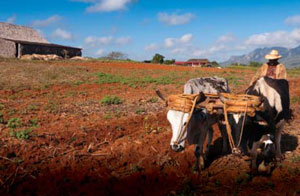 Expansion of agricultural trade could open doors to U.S. producers
Cuba is only 90 miles from Florida, but its food is a lifetime away from the U.S., both in terms of supply and quality. The island nation imports about 60% of its domestic food requirements, making it vulnerable.

To address those supply needs, stakeholders have formed the Illinois Cuba Working Group to expand the state's agricultural and food exports. 

"We need to be at the table," says Duane Dahlman, Illinois Soybean Growers marketing committee chair and a soybean farmer from Marengo, Ill. "It's important for farmers to have access to a market that is so close to us with potential growth."

The working group, whose members include the Illinois Farm Bureau and the Illinois Chamber of Commerce, is pushing to amend the Trade Sanctions Reform and Export Enhancement Act of 2000 to establish an ag trade office in Cuba. It also seeks U.S. export promotion and the opportunity for American food companies to negotiate trade terms with Cuba.
To Trade Or Not? The market potential of Cuba is sizeable, but feelings on easing trade are mixed. Cuba spent more than $1.6 billion on food imports in 2013, and the Trade-and-Export Act already permits one-year export licenses for selling agricultural commodities to Cuba. 

Since 2001, the country has purchased about $4.7 billion worth of U.S. products, most of them agricultural, according to the U.S. Congressional Research Service. 

Although some think smaller American companies could more rapidly increase exports to Cuba if restrictions are eased, others fear American farmers can't capitalize on a market so close to the U.S.

Already, Cuba has deepened trade relationships with other countries, according to the Council on Foreign Affairs. U.S. exports peaked at $710 million in 2008 but fell to about half that amount in 2012. Brazil and China are Cuba's largest trading partners after Venezuela. 

Cuba's president, Raúl Castro, has made agriculture his No. 1 priority. He has decentralized the agricultural sector by offering individuals and cooperatives leases with which to cultivate state-owned farmland
Moving Forward. To date, economic sanctions have largely driven U.S. policy toward Cuba. A second strategy has involved support measures for the people of Cuba, including U.S. government-sponsored broadcasting and support for human rights and democracy projects. 

Today, the Obama administration is revisiting issues of agriculture and trade with the country. Among other challenges is Cuba's inclusion on the U.S. State Department's list of state sponsors of terrorism.

"I think 55 years of this relationship is probably enough, and it's time to now transition to a different relationship," said Sen. Heidi Heitkamp (D-N.D.) in a recent interview with The Associated Press. "We'll have to see what we can get consensus on so that we can actually move this forward." 

North Dakota is a leading producer of several crops prominent in the Cuban diet such as beans, dry edible peas and lentils.