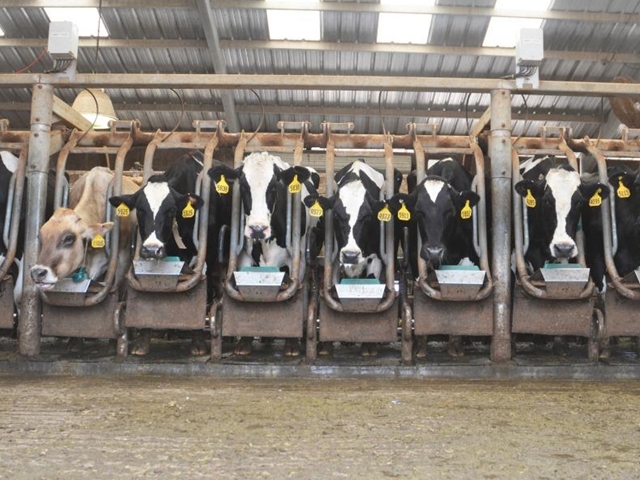 2014 is proving to be a very good year for dairy farmers across the country. The question is: Can it last?
Michael Swanson, vice president and agricultural economist for Wells Fargo, will offer his perspective this afternoon as the keynote speaker at the 13th annual Elite Producer Business Conference sponsored by Dairy Today magazine here in Las Vegas.
Swanson points out that dairy profitability has ebbed and flowed in a three-year cycle pretty much on cue over the past 20 years. "But it still varies," he says. "The cycle is regular enough to be a pattern, but not regular enough so that you can bank on it."
Right now, dairy profitability is at a 3-year high. Most economists are still predicting a marginally profitable year for dairy in 2015, based on $3 corn and $19 to $20 milk. But a weather event—or fewer acres planted to corn because of poor profitability—could conceivably push corn prices next fall to $5, even $6/bu., he says. The same is true for milk prices. While futures prices suggest a $17 Class III bottom next year and All-Milk prices between $19 and 20, it is conceivable that prices could fall to $15.
China will be a key factor, Swanson says, since it drives so much of the world dairy markets. It is a fickle importer. In September, China imported 63% less whole milk powder than it did in September 2013. Chinese skim milk imports were down by nearly half, and lactose imports were down 54%.
A similar thing happened with almond exports this year. In 2013, China imported $520 million worth of almonds. This year, it will likely import just $360 million, a 30% drop off.  
China did the same thing with distillers' grains. A year ago, when China was importing heavily, distillers' were worth about 134% of the value of corn. Then China announced it was suspending imports due to GMO issues. Now distillers' is priced at 84% of the value of corn.
Given the uncertainty of China's buying patterns and other world events, grain markets can move $1/bu pretty easily, says Swanson. And with U.S. milk production now growing at 3 and 4% year over year, milk prices could drop if world markets get swamped. Domestically, the U.S. population is growing less than 1% annually, and no amount of Greek yogurt sales could absorb the increasing milk supply.
"Markets can flip on you so quickly, and the consequences are even bigger now than in the past," he says.
Another wild card is the drought situation in California. While dairy farmers there have sufficient feed through this winter, a continued lack of rain and snowpack this winter will place feed production in dire straits. What impact that could have on feed prices and milk production is hugely uncertain.
Risk management and strong working capital will be key for farmers nationwide, he says. The good news is that most dairy producers have recovered from 2009 and have very strong balance sheets. While no one enjoys tapping cash reserves or working capital, most dairy farmers are much better prepared to withstand a downturn in cash flow this time around, Swanson says.
Look for a complete report on Swanson's presentation in the Wednesday Dairy Today eUpdate.