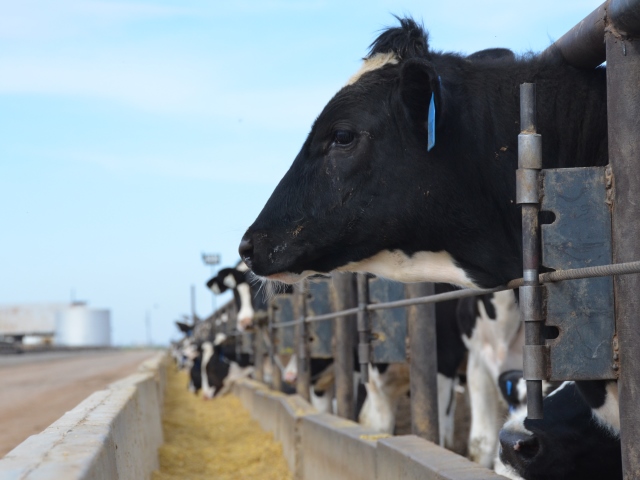 While dairy producers are seeing profitability from milk checks there is also a tremendous opportunity to market cattle into the beef supply thanks to record high beef prices.
According to Lance Zimmerman, an analyst with CattleFax, dairy cattle account for 1 in 5 pounds of beef production in the U.S., so they are vital part of the beef supply chain. Zimmerman gave a presentation on the topic of marketing cull cows and dairy calves at Dairy Today's Elite Producer Business Conference in Las Vegas.
The cattle industry has seen a drop in total numbers from a peak in 1982 at 50 million cows to this year's low of approximately 38 million cows. Some of those losses can be attributed to drought experienced. In 2012, drought affected 80% of the beef cow herd and 85% of corn production. Dry periods from 2008 to 2014 caused 3 million cows to leave beef operations.
While drought is still affecting dairy producing regions like California it is not as widespread. Currently only 12% of beef cow herd and 5% of corn production is being affected by drought.
As we've transitioned from the dry period of 2012 to a wetter 2014 we're seeing beef cow slaughter drop off Zimmerman says.
Many beef producers are holding back more cows to capitalize on record high calf prices. In the past 4 years 550 lb. feeder calf prices have increased 83%.
Other animal protein sectors have also seen record high prices thanks to demand and a drop off in production.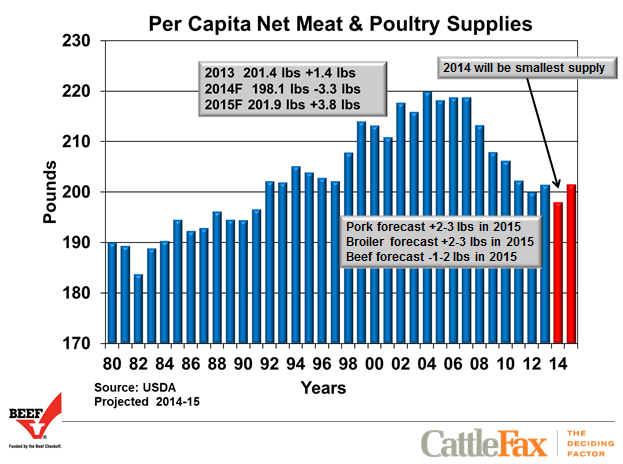 Pork producers had to deal with PEDV and broilers had fertility issues. However, both of those industries can rebound much quicker because it takes weeks to hatch more chickens and months to farrow more piglets. Beef and dairy producers need 3 years to develop a heifer into a cow.
"We're going to have larger protein supplies next year by just a couple of pounds, but it is all going to be due to the other proteins, not beef," Zimmerman adds.
Zimmerman believes it is likely that fed cattle and cull cow prices will still be in the same area next year for the highs, with maybe a $5/cwt increase. It will still be nothing like the $20 to $30/cwt increase from this year.
"Where we're going to get the depreciation is the lows. I think $1/lb. is going to be pretty normal for the low in the cull cow market," Zimmer says. "The high on those cull cows is going to be right in that $1.20-$1.30/lb. range."
Looking forward the beef industry will be in a supply driven environment.
"Anytime we're in a supply driven environment, it doesn't matter if it is beef, chicken or Mercedes Benz, the leverage situation changes where the guys down the food chain hand leverage to the guys up the food chain," Zimmerman says.
Retailers can't stand open shelf space so they will bid more on a product to keep their stores full. In the case of the beef industry that price gets handed down to the packer.
Zimmerman relates packers will have to bid more for cattle to help cover the fixed cost of keeping plants open and hopefully make a profit.
"The guys holding the supply, whether it's day-old Holstein calves, cull cows or a cow-calf producer in central Kansas, you guys hold the chips for a little while longer," Zimmerman says.
These tight supplies should last for another year to 2 years before it will transition towards the retailer and packer.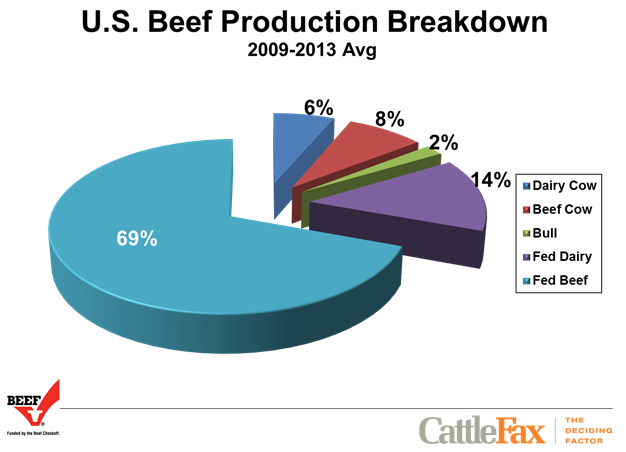 Dairy cows account for 6% of beef production, while fed dairy calves account for 14%. Even though the beef cow herd has declined in the past few years, the dairy herd has remained relatively stable.
The drought forced the majority of beef cows out of the traditional feedlot region south of Interstate 70 in the High Plains of Texas, Kansas, Colorado and Oklahoma. To help fill those pens and keep packers near capacity feedyards had to buy an increasing number of dairy calves, driving up prices. Additionally, more grower yards and heifer development facilities have been taken on at feedlots in the region.
The biggest driver in all of this will be consumer demand.
International markets will help drive the boat more and more as countries like China continue to eat increasing amounts of protein. Domestic demand will be the primary market, particularly for grinding meat.
"I think you could easily say 55-60% of U.S. consumption this year is ground beef," Zimmerman says. "For years the beef industry cried 'we need our own chicken nugget or chicken breast.' My message to everyone in the beef industry that will listen is you have it. It's called a hamburger."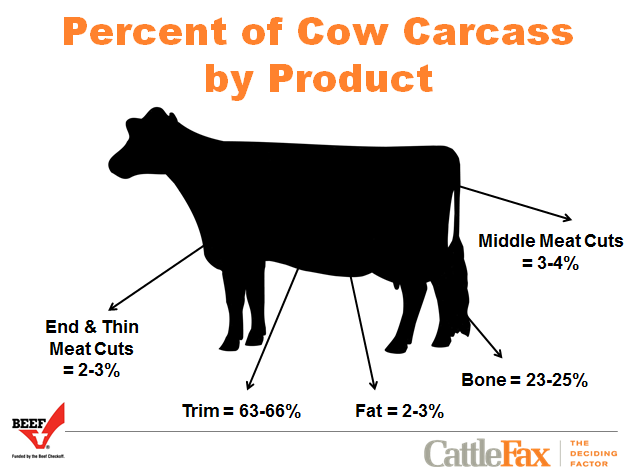 Trim accounts for approximately 65% of a cow carcass, and it accounts for a lot of value. At one point in 2014 trim was worth 75% of the total value of a cow carcass.
"Dairy-influenced beef will continue to be a bigger part of the beef story. Dairy cull cows are increasingly important to beef production," Zimmerman adds. "Feedlot overcapacity has made dairy-influenced calves attractive and veal isn't the only market."