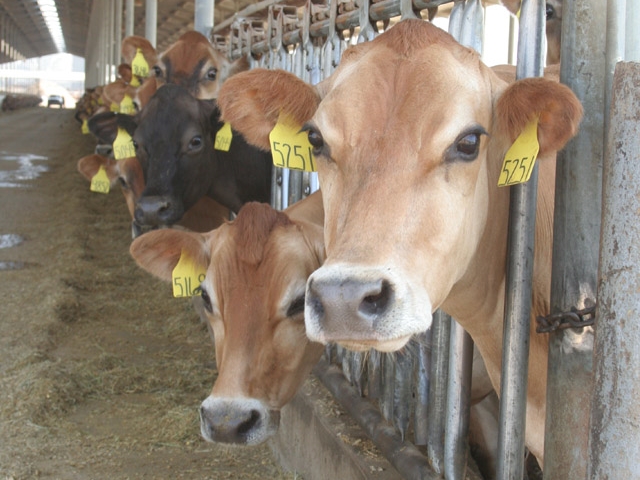 Culling still lags last year's pace as producers take advantage of delayed pay prices.
Market signals have been slow to make their way to the farm level. World and U.S. dairy product prices have been tumbling, but the U.S. dairy herd is still building as producers hang on to cows to make the most of the last vestiges of the record or near-record high milk prices. And that means producers are still making more milk even though dairy product prices are indicating that it is time to cut back on production
Over the past two years, U.S. dairy producers culled about one-third of the national milking herd each year; dairy cow slaughter surpassed 3 million head in both 2012 and 2013, according to USDA's Livestock Slaughter reports.
"Through the first three quarters of this year, dairy producers have retired more than 10 percent fewer cows than they did in the past two years," notes Mary Ledman, dairy economist with the Daily Dairy Report and president of Keough Ledman Associates Inc., Libertyville, Ill.
According to USDA's Agricultural Marketing Service, weekly dairy cow slaughter under Federal Inspection fell to 54,700 head for the week ending Nov. 1, a 2.5 percent drop in the slaughter rate, compared to the previous week, and 7.3 percent fewer cows than the prior year.
"Year-to-date culling in Federal Inspection region 9, which includes Arizona, California, and Nevada, trailed last year by 100,000 head," notes Ledman. "And the combined regions of 5, 7, and 8—comprised of key Midwest and Central Plains dairy states—culled 88,000 fewer head. Dairy cow retirements in the Midwest and Central Plains are off last year's pace by 20 percent." In recent weeks, dairy slaughter in the Pacific Northwest has bucked trend, and is running slightly ahead of last year, she adds.
At the same time, barns are full and U.S. producers are trying to maximize output to take advantage of the last few months of near-record high prices, both world and U.S. spot prices are tumbling. At this week's Global Dairy Trade (GDT) auction, the weighted average price for all products dropped 3.1 percent to $2,561/metric ton, the lowest index level since May 2012.
While last year's high milk powder prices both here and abroad have encouraged producers to keep their barns full, they have also slowed demand, particularly from China and other developing countries, which has put more powder on the world market, says Ledman.
The average GDT skim milk powder price at $2,299/MT hit a record low this week, and whole milk powder prices at $2,400/MT hit a low not seen since August 2009. CME spot Grade A nonfat dry milk prices have been steadily dropping for most of the year and are now trading near $1.18/lb., down from $2.05 from late March 2014.
GDT butter prices, released this week, at $2,656/MT equate to $1.18/lb. at 80% butterfat. That's 81 cents lower than Wednesday's CME spot market settlement price.
"With U.S. butter and cheese prices still higher than world prices, it is unlikely that any significant volume of these products will be exported anytime soon without assistance from the Cooperatives Working Together program," says Ledman.
To subscribe to the Daily Dairy Report, go to: http://www.dailydairyreport.com/default.aspx and click register.