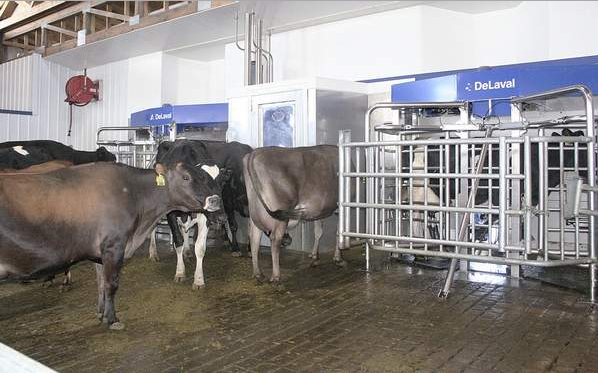 Robotic dairy systems offer reduced labor, happy cows.
By: Mateusz Perkowski, Capital Press

The cows at the Averill family's dairy seem unimpressed by the high-tech gadgetry surrounding them.
They calmly pass through an automated gate that sorts the cows based on how recently they've been milked, which is monitored using radio-frequency identification devices on their ears.
Those who have been milked too recently are returned to their stalls, while those who are ready to be milked are ushered toward one of six robotic milkers.
After waiting their turn in line, each cow steps into a pen and enjoys some grain while the giant robotic arm does its business.
To many, this scenario represents the future of farming. As labor costs increase and the labor pool shrinks, farmers such as the Averills are turning to robotics and other technology to provide better care for their animals and increase efficiency.
Adoption of robotic systems has been growing at about 25 percent a year, and has particularly "taken off" during the past decade, said Larry Tranel, an extension dairy specialist at Iowa State University who has studied the economics of automation.
"We don't see it slowing down," he said.
At the Averills' dairy, the robot first sprays the entire udder with an iodine formula, then washes and dries each teat before attaching suction cups to harvest the milk. Each robot can handle 60 cows.
Once the task is complete, the cow is again set loose among its peers, free to enjoy a comforting session with the robotic touch-activated spinning brushes that clean off manure and remove loose hair.
Occasionally, the cows indifferently step over the mechanical manure scraper that slowly and continuously cleans the barn alleys. They are fed by an automated feed pusher that maintains their rations in orderly rows.
"They adapt quite well to technology. Probably easier than people," said Mark Brown, a general manager for DeLaval Dairy Service, which builds and installs the equipment.
The cows certainly seemed less intrigued by the automated dairy system than the farmers who visited the Averills' dairy during a recent open house organized by DeLaval.
While DeLaval first patented the idea for robotic milkers in 1978 and made them commercially available in the late 1990s, the technology didn't really hit its stride until the mid-2000s, said Brown.
Several other manufacturers also produce robotic systems, including Lely, GEA, BouMatic and Insentec.
With the growing strength of computer power and the increased familiarity of dairymen with the technology, such milkers are now catching on, Brown said.
"It's become really reliable and accepted," he said.
The robotic systems have gained in popularity even though they're a more expensive option over the lowest-cost milking parlors, said Tranel of Iowa State University.
The lowest-cost milking parlor systems equate to 25 cents to $1 per hundredweight in milking costs, compared to $2 to $3 per hundredweight with robots, he said.
Maintenance and repairs can also be expensive for robotic systems, running about $7,000 to $9,000 per year, he estimated.
"It's definitely not the cheapest way to milk a cow, but there are other factors encouraging producers to put in robots," Tranel said. "The bottom line is cows like them and people like them."
Aside from labor concerns, there are "quality of life factors," since dairymen are less physically tied to the facility, he said. "Someone doesn't always have to be there."
Don Averill, whose family owns the dairy, said he decided to invest in the robotic milkers and other machinery when undertaking an expansion of the operation.
The primary motivation was reducing the need for labor, which has grown more scarce in recent years, he said.
With automated equipment performing many of the duties in the dairy barns, management of the operation is easier for Averill, who can attend to other tasks.
Averill also sees the system as less stressful for the cows, as they're able to set their own routine without frequent interactions with humans.
For example, the automated brushes provide the perk of entertaining the cows while they're being cleaned, he said. "It gives them something to do. That's cow TV."
Apart from improving the health and longevity of his cows, the system is expected to increase their productivity, Averill said.
Before the system's installation, the cows were only milked twice a day. Once their bodies are at full holding capacity, they stop producing milk. Now, the herd is milked three times a day, so they don't hit that limit.
A major advantage of robotic milkers is information about the health and production of individual cows, since the systems provide "instantaneous data," Tranel said.
Yield is measured on a per-cow and per quarter-udder basis, so a farmer can quickly notice if a cow may be getting sick or if there's an infection on one of its teats.
If there are changes to the herd's feed rations, the impact on production also quickly becomes evident, he said.
By informing farmers whether new techniques are helpful or detrimental, the system allows for "day by day management," Tranel said. "They can gauge that pretty quickly."
Each robotic milker costs roughly $200,000, but the total cost will depend on how much a dairy must be retrofitted to accommodate the units and which type of gate system the farmer prefers, Brown said.
Manure scrapers cost about $30,000 per unit, feed pushers cost about $20,000 and touch-activated brushes cost about $2,600 each, he said.
Robotic systems are best suited for dairies with about 260 or fewer cows, as larger operations can achieve greater profits with low-cost milking parlors, said Tranel. "For me, it's more of a smaller-farmer technology."
Robotic systems that involve a major upfront investment are often more difficult for dairies to manage than traditional milking parlors, in which the labor costs are more spread out, said Mathew Haan, a dairy educator at Pennsylvania State University who has studied the systems.
That challenge is mitigated by dealers who can lease the equipment or banks that agree to finance it, Haan said. "It makes it much more attractive from a financial standpoint."