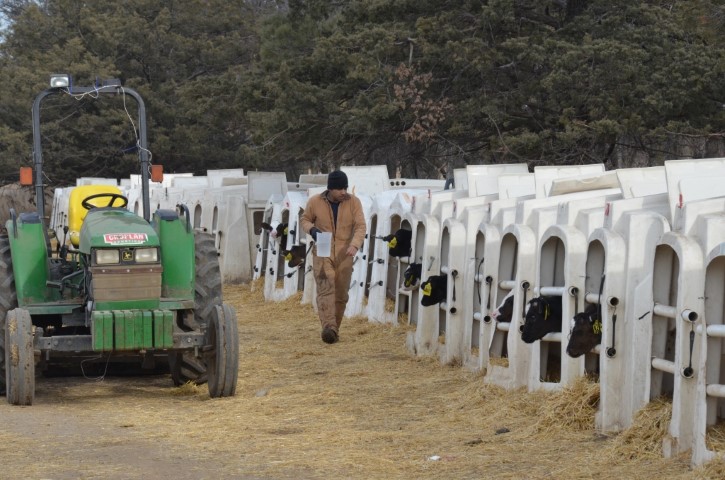 Raising good heifers helps ensure the success of the milking herd.
The I-29 Dairy Outreach Consortium is holding a one-day Raising Your Best Calf Ever workshop for dairy producers and heifer growers on Jan. 8, 2015, at the Baymont Inn (formerly Best Western) Seven Seas in Mandan.
"Heifer calves are the future of the herd," says J.W. Schroeder, North Dakota State University Extension Service dairy specialist and consortium member. "Whether you raise your own or contract with others, raising the best heifer ever will go a long way toward ensuring success of the milking herd."
The consortium is a partnership of the Extension Service dairy specialists from North Dakota, South Dakota, Minnesota and Iowa.
The workshop will run from 10 a.m. to 3 p.m. Topics and presenters are:
The pros and cons of automatic calf feeders - Jim Paulson and Jim Salfer, University of Minnesota
When tube ventilation does and does not work - Kevin Janni, University of Minnesota
Milk replacers: accelerated vs. nonaccelerated growth feeding - Hugh Chester Jones, University of Minnesota
Heifer diets and dried distillers grains with solubles feeding considerations - Jill Anderson, South Dakota State University
Calf health, including respiratory issues, scours, recommendations for raising a healthy calf and an update on the veterinary feed directive - Russ Daly, South Dakota State University
The cost is $50 per person if registering by Dec. 30 and $65 after that. Special student rates are $20 if registering by Dec. 30 and $25 after that. Online registration is available at http://igrow.org or contact Tracey Erickson, South Dakota State University dairy field specialist at the Watertown Regional Extension Center, at (605) 882-5140 or tracey.erickson@sdstate.edu.
For more information about the workshop, contact Schroeder at (701) 231-7663 or jw.schroeder@ndsu.edu.

Source: North Dakota State University Extension Service