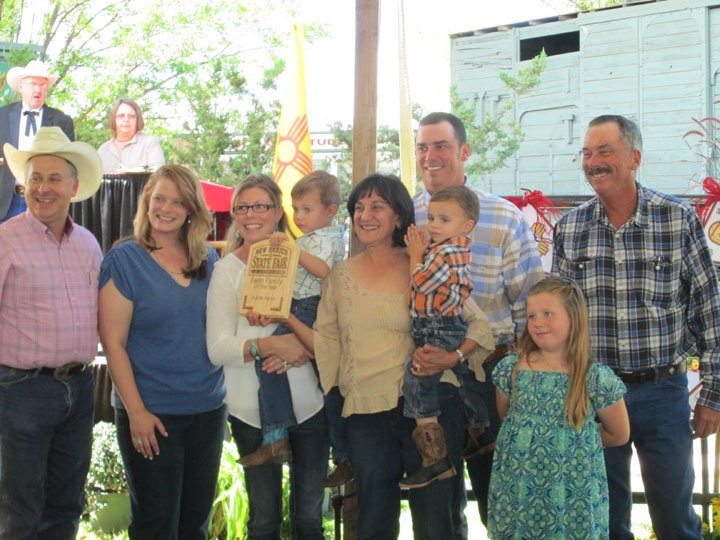 "To be picked out of 23,000 farm families in New Mexico is quite the honor," says one family member.
An already good year just got even better for one New Mexico dairy family.
The Woelber family and its H.A.W. Farms were honored Sept. 19 as New Mexico's 2014 Farm Family of the Year.
They were recognized by Jeff Witte, the state's Secretary of Agriculture, during the New Mexico State Fair in Albuquerque.
Holly Woelber said family members were "thrilled" with the award's "wonderful recognition."
"To be picked out of 23,000 farm families in New Mexico is quite the honor," Holly told Dairy Today.
Joining Holly in the Woelber dairy are husband John and their son, Luke, and his wife, Rebecca, and daughter, Katy. The dairy milks 2,500 cows near Belen, south of Albuquerque. The family began the dry-lot dairy in 2000 after partnering in a dairy in Texas. Today, the Woelbers' New Mexico dairy also is home to 2,500 replacement heifers. The family farms 700 acres of corn silage.
"We take great pride in caring for our animals with proper nutrition, cow comfort in our corrals and milking barn, our heifer operation and calf operation," Holly said. "We also are proud of our employees and the job they do every day, rain or shine, in caring for and milking our cows."
That attention to cow care helped catch the eye of the New Mexico Department of Agriculture when it sought this year's award winner. "A big reason the Woelbers have been so successful in the dairy business is because they take great care of their cows," Witte said. "Their dairy is a great example of other family-owned, family-involved dairies."
The dairy also makes sure it provides its 22 employees with proper training "to make sure they know how we want our animals treated," Holly added.
That philosophy is particularly relevant following the recent release of a video showing dairy cow abuse at a New Mexico dairy. 
"It's very tragic and unfortunate," Holly said. "The vast majority of dairymen don't treat their animals inhumanely. We don't approve of or condone that treatment."
New Mexico is home to 140 family-owned dairies. The state ranks among the top 10 U.S. milk-producing states and among the top five for cheese production.
The Woelbers' award tops a year that brought high milk prices and moderating input costs for them and many U.S. dairies. "It's been a good year," Holly said.
Still, Mother Nature has sent some challenges their way. The state has seen four consecutive years of drought, followed recently by record rain. This year, Holly noted, rainfall stands at about 15", nearly double the 8.5" annual average. But the Woelbers' dairy has escaped flooding. In fact, when the Woelbers built their dairy in 2000, they graded their open lots so water would run out of the pens. They stack hay to block winter's cold winds and protect the herd. They also constructed the dairy to allow plenty of square footage so their animals have plenty of room to move about.
Luke just finished three years as president of Dairy Producers of New Mexico, (DPNM), a grassroots organization of dairy farmers in New Mexico and West Texas. He continues to serve on the board as past president. He has served as the Resolution delegate for Dairy Farmers of America (DFA) and also on the New Mexico Beef Council Board.
John also served on the DPNM board for a number of years, serving as secretary and vice president. He now is a director for the Southwest Agency of DFA, serving as secretary.
Holly has served as a delegate for GENEX, is a past officer of the Belen Chamber of Commerce and member and past president for the New Mexico State University Extension Support Council.
"I was raised in the city, and I can't think of a better life than farming," Holly said. "It's difficult, and it's 365 days a year, but it's one of the most satisfying ways to make a living. We're blessed being with the animals and producing a good-quality food product we can provide for people."