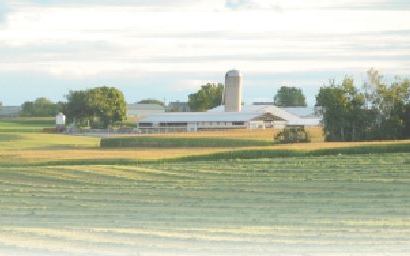 The theme of this month's issue is environmental sustainability, which can take on many forms. That point struck me as I attended the virtual farm tour of Alfred Wanner and sons Matt and John in Narvon, Pa., at World Dairy Expo this past month.

Perhaps no other dairy farmers in the country have faced as much environmental scrutiny and pressure as those in the Chesapeake Bay watershed in Pennsylvania and Maryland.

The Wanners have geared much of their dairy and farm management efforts in the past decade to stay in compliance with environmental regulations and nutrient load limits. But in another sense, Wanner's Pride-N-Joy has worked to be sustainable since the family bought the land 174 years ago.

Seven generations later, the farm has grown to 750 acres feeding nearly 1,500 head of cattle. It supports three family farm owners plus nine full-time employees. If that's not sustainable, I'm not sure what is.

But farming and milking cows in the Chesapeake Bay watershed means the Wanners must do everything they can to reduce their environmental load. Their first serious efforts began a decade ago, when they expanded into a second freestall barn.
"When we built that barn, we were looking for what we could do to be more environmentally friendly. We knew we needed to be proactive," Alfred says.

After a lot of research, they decided to install a methane digester in 2006. The
digester is an 80'-diameter, 16'-deep covered vessel. Methane produced is then piped to a Cat engine to produce electricity.

The entire installation approached $1 million in capital outlay. Through various grants, the out-of-pocket costs to the Wanners were about $400,000, with an estimated payback of eight to 10 years. The Wanners are generating about $5,000 in electrical cost offsets per month. And because they use the produced manure solids for bedding, they're saving nearly $40,000 a year in bedding costs.

Because the solids have been removed, the nutrients in the liquid effluent are typically available to crops in the year of application. Wanners have also gone to double cropping rye and triticale on a portion of their land. That allows them to apply double the amount of liquid effluent from the digester, gaining them better nutrient use and more feed.
The system hasn't been without hiccups. In 2013, the Wanners were on pace to get a full return on their capital investment. But then the genset started showing its age. Along with other repairs, the engine had to be rebuilt and the radiator had to be replaced.

But there's been another benefit to the system. The bedding solids, even though they are not composted and are only 30% dry matter, have less than a third of the bacterial load of the kiln dried wood shavings the Wanners had been using. "We also have much less Klebsiella bacteria," Matt says.

At Wanner's Pride-N-Joy, it's clear environmental sustainability comes in many
forms—some never expected nor anticipated.

JIM DICKRELL is the editor of Dairy Today. You can contact him at: