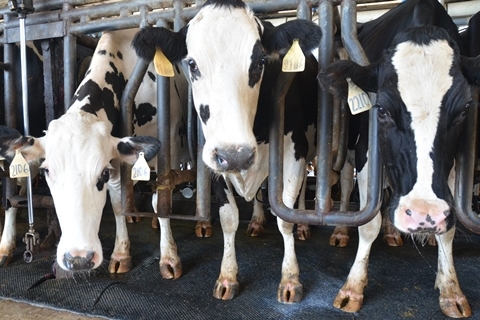 After yet another release of an animal abuse video this fall, it became all too clear that the dairy industry needed to take a stand.
The Animal Care Reference Manual provides best practices for nutrition, animal health, environment, facilities, handling, movement and transportation.
While co-ops and proprietary handlers representing more than 80% of the nation's milk supply are participating in the National FARM program, only about 12,000 farms (out of some 48,000) have had a second-party evaluation done.

FARM stands for Famers Assuring Respon-sible Management. It includes some 50 checkpoints on animal care and management that represent industry best practices to ensure animal welfare.

In November, the National Milk Producers Federation (NMPF) board of directors voted to make participation mandatory, with a compliance date of Dec. 31, 2016. Farms will now have to have a FARM audit done once every three years.

The audits do take time and effort. But, of the farms that have gone through the program, there has been a greater than 90% compliance on the checkpoints.
The program's vulnerability has been that it is optional. Retailers and fluid milk buyers look at the voluntary FARM program and rightly argue that if not all farms are audited, it's difficult to argue all are in 90% compliance.

"Those farms that were not participating were undermining the entire program," says Jim Mulhern, NMPF president and CEO.

"Rather than let animal care be an industry vulnerability, dairy farms should be recognized for the quality care they do provide," he says.

Some farmers, however, criticize the FARM program because there are no guarantees that if a farm participates, it won't be shut off from the market if an animal abuse incident occurs. NMPF is currently working to change that.

Mulhern and others from NMPF are meeting with processors, dairy brands and food retailers to further explain the FARM program. "Our goal is to prevent those situations (of farm milk shipment shutoff) from occurring," Mulhern says.
Full participation in the program should help calm milk buyer angst. In addition, should an incident occur on a farm, it will immediately trigger a third-party audit of the farm. The audit would determine if animal abuse occurred, and if it did, develop an action plan to correct any deficiencies.

The action plan could include recommending disciplinary action or termination of offending employees, increased training and other corrective actions. A follow-up audit would then be done to ensure the corrective actions were taken before reinstating the operation in "good standing" with the FARM program.
Mulhern recognizes that most farmers are not enamored with yet another audit of their operation. But "animal welfare is a real issue, and consumers are concerned about it. As small businesses, we have to
answer to our customers," he says.

"The FARM Program tells a great story: That the level of animal care on dairy farms is exemplary," he adds. "We need to tell that story, and this program allows us to."

Jim Dickrell is the editor of Dairy Today. You can contact him at: