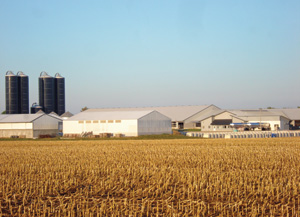 How long will it last?
2014 is proving to be a very good year for dairy farmers across the country but attendees at Elite Producer Business Conference this past November were quick to ask: Can it last?

Michael Swanson, an agricultural economist for Wells Fargo, says dairy profitability has ebbed and flowed in a three-year cycle pretty much on cue for the past 20 years. "But it still varies," he says. "The cycle is regular enough to be a pattern, but not regular enough you can bank on it."

Right now, dairy profitability is at a three-year high. Most economists are still predicting a marginally profitable year for dairy in 2015, based on $3 corn and $19 to $20 milk.

China will be a key factor on the demand side, Swanson says, since it drives so much of world dairy markets. But it is a fickle importer. In September, China imported 63% less whole milk powder than it did in September 2013. Chinese skim milk imports were down by nearly half, and lactose imports were down 54%.
With U.S. milk production now growing at 3% to 4% a year, milk prices could drop if world markets get swamped.

"Markets can flip on you so quickly, and the consequences are even bigger now than in the past," he says.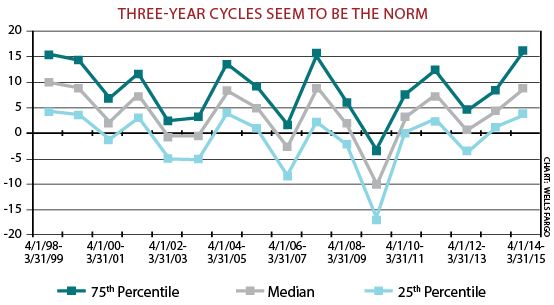 Though profits seem to cycle every three years, well-managed dairy farms tend to be profitable every year, according to Wells Fargo customer data.

Risk management and strong working capital will be key, Swanson says. The good news is that most dairy producers have recovered from 2009 and now have very strong balance sheets. This time around, they are more prepared to withstand a downturn in cash flow.  
Feed Prices Should Moderate
Soybean meal will likely come back down to the $300 per ton level this winter as soybean crushers catch up on back inventory.  

"Crushers are operating 24 hours a day, and the only way they could crush more beans right now is if they could operate 28 hours a day," says Chip Flory, editorial director of Pro Farmer newsletter.

Corn prices should also remain reasonable moving into 2015. Even though harvested corn acres will be down by some 4.5 million acres in 2014, yields are extremely strong and could average 175 bu. per acre. That's a 15 bu. per acre bump.

As a result, USDA is projecting corn prices to range from $3.10 to $3.70 per bushel in the 2014/2015 marketing year, down from $4.46 this past year.

Pro Farmer analysis, which looks at planted acres from the previous year and then adds or subtracts
1 million acres, shows corn prices could range $3.10 to $3.75 per bushel in the 2015-2016 marketing year.

Under the same scenario, soybean prices could range from $9.50 to as low as $8.25 per bushel. A $9 price equates to about $300 per ton soybean meal prices.