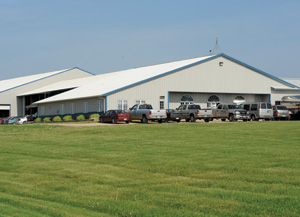 Proposals will reduce volatility and farm incomes, study claims
In what could well be a springboard for increased opposition to dairy reform, a new study suggests reforms could lower the All-Milk price by 92¢ per cwt., trigger supply management programs 40% to 45% of the time and shrink cumulative net farm operating income 32% to 48%.

The study, by economists Charles Nicholson of Cal Poly and Mark Stephenson of the University of Wisconsin, concludes that the proposed reforms would substantially lessen milk price volatility, but at a price: lower highs that will reduce milk prices and the value of U.S. dairy exports.

A model was used to analyze the dairy plans proposed by the House and Senate, which mirror the Foundation for the Future proposals of the National Milk Producers Federation (NMPF). The plans would eliminate dairy price supports and the Milk Income Loss Contract and replace them with a margin insurance program and a market stabilization (supply management) program.
The study projects stunning losses: 24% for participating farms with fewer than 250 cows; 61% for farms with 250 to 499 cows; 44% for 500 to 1,999 cows; and 34% for 2,000 cows or more. Nonparticipating farms would fare slightly better because they would not be required to take part in the market stabilization component of the plans.

The plans would save taxpayers nearly $1.5 billion if only 5% of producers participated and $690 million if 50% of producers participated, the study says.

The authors note that the current volatility "imposes costs on farms and can result in substantial equity loss and…business failure. These costs and risks are not directly included in our analysis, so it is not possible to conclude on the basis of reduced average net farm operating income that [dairies] would be worse off under the proposed legislation."

Stephenson adds that the model cannot be used to forecast milk prices. "But in the past four or five years, it has correctly predicted the downturns in time, if not magnitude," he says.
NMPF questions the validity of the study. "We don't think it reflects what will happen in the real world," says Jim Tillison, senior vice president for marketing and research. In the previous five years, he says, the market stabilization program would have been in place just 9% of the time, not 40% to 45% of the time.

The Congressional Budget Office projects the reforms would generate 20% government budget savings and leave producers better off, Tillison says. It also projects 60% of dairy farmers would participate in the margin insurance and market stabilization programs, far higher than the 5% and even 50% levels that the study assumes will participate.