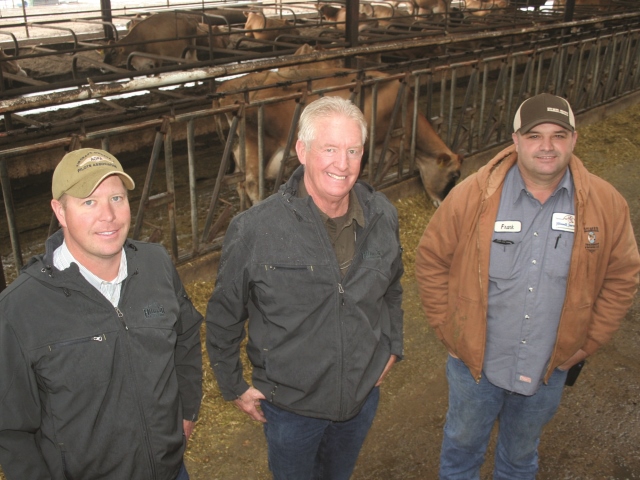 California's Chuck and Mark Ahlem have taken their cow-care culture to a whole new level—not just for their dairies but dozens of others too.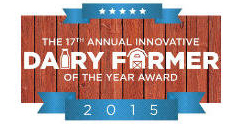 How much of a difference can one family-owned dairy operation make in advocating for animal care? In the case of California's Chuck and Mark Ahlem, far more than they ever expected.

The father-and-son team never intended to become animal welfare leaders. They simply wanted to do the right thing, plus boost their milk marketing profile, with their commitment to responsible animal care and handling at their 6,000-cow dairy operation near Hilmar, Calif.

But when their employee training program on animal care and stockmanship produced dramatic improvements on their five dairies, the Ahlems felt compelled to share the outcomes with their milk processor.

And once Hilmar Cheese Company, Inc. saw the results, the cheese manufacturer committed itself to partnering with the Ahlems and their herd manager, Frank Dinis. Hilmar Cheese also joined with industry groups and animal health companies to bring those best management practices to the dairies that supply its milk.

For their success in developing and sharing their animal care program, the Ahlems have received the
2015 Innovative Dairy Farmer of the Year Award. They will be honored at the 2015 Dairy Forum, Jan. 25 to 28, in Boca Raton, Fla.

"International Dairy Foods Association (IDFA) and Dairy Today selected Hilmar Jerseys because of its dedicated focus on animal care—which the owners call 'stockmanship,'" says Connie Tipton, IDFA's president and CEO.
Animal well-being and respect have always been important at Hilmar Jerseys, formed in 1982 by second-generation dairy producer Chuck Ahlem.

"At a time when animal care is gaining headlines and sound bites, we thought it was important to honor and highlight a dairy farm that is doing all the right things and spreading the knowledge to the broader dairy community," Tipton adds.

The Ahlems' operation has grown significantly in the past 23 years. Now comprised of four dairy facilities near Hilmar and one in nearby Livingston, it milks 6,000 Jersey cows, employs 85 workers, markets 143.8 million pounds of milk a year and covers 4,000 acres in the northern San Joaquin Valley.

As Hilmar Jerseys grew, a new trend of increased consumer interest in on-farm practices emerged across the marketing spectrum. Four years ago, that led the Ahlems and Dinis to identify the need to partner with employees to convey their culture of cow care.

In 2011, the Ahlems invited veterinarian Don Hoglund to perform animal stockmanship training for their employees. Hoglund, who lives in North Carolina, specializes in humane dairy cow handling. Sponsored by Pfizer Animal Health Company (now Zoetis) and Atwater-Merced Veterinary Clinic, Hoglund's one-day training included a morning lecture, followed by a hands-on session to help 10 Hilmar Jersey employees understand cow behavior.

Working closely with the employees were Dinis, who joined Hilmar Jerseys in 2004, and long-time herdsman Joe Silva. A certified trainer under Hogland, Dinis' goal has been to teach employees how to handle animals properly from the start, not through the typical trial-and-error process.
As their employee training progressed, the Ahlem team quickly noticed positive changes. Employees took more pride and ownership in their jobs. They began identifying areas of improvement for cow care and comfort. They dialogued more with management on cow comfort and well-being.

Moreover, employee injuries related to cattle fell by 50%. Not only did Hilmar Jerseys see fewer overall employee injuries related to cattle, but the severity of injuries decreased substantially. All new employees are now required to participate in a stockmanship training program and sign a contract about their role in the cows' well-being.
Learn more about Don Hoglund's dairy stockmanship program

here

.
"Given the passion Hilmar Jerseys has to help the dairy industry, these results were too exciting to keep internal, so they shared them with their milk processor," says McKenzie Klein, Hilmar Cheese Company's producer relations manager, who nominated the Ahlems for the Innovative Dairy Farmer award.
In 2013, Hilmar Cheese partnered with Elanco to promote the animal care and employee engagement concepts that the Ahlems and Dinis were using. Hoglund returned to Hilmar to deliver a lecture to the owners and employees of dairies that supply milk to Hilmar Cheese.

"The turnout rate was phenomenal," Klein says.
More than 200 people representing 50 dairies participated in Hoglund's lecture or the 25 on-farm trainings that followed over several weeks. Dinis and Elanco's Luis Briones instructed dairy workers on cow flight zones, ear movements, the volume of voices, the stability the animals find in an everyday routine and what motivates them to act and react.

The training also addressed how human behavior, including personal frustrations, can influence an employee's reaction to animals. Employees learned they're not just animal caretakers but must become expert cattle handlers. The multi-lingual Dinis and Briones conducted the sessions in English, Spanish and Portuguese.

Later in the summer, Hoglund led three-week sessions with five local dairies. Each dairy took away tools to initiate its own animal-handling training for employees, with templates to help document its progress and to promote a culture of animal care among its employee base.

"Changing a culture is a slow process," says Chuck, who served as an undersecretary with California Department of Food and Agriculture (CDFA) in 2003 to 2004. "It takes a lot of patience. We're all learning. You can't do it all at once. I can't say, 'I want this done now,' and then walk away. You have to get the right people involved."
Several industry businesses and organizations have stepped up to sponsor more animal-care training. These are the industry partnerships Chuck Ahlem is fond of endorsing, and they include Zoetis, Merck, Elanco, CDFA, Eli Lilly, Sustainable Conservation, Dairy CARES, the University of California Cooperative Extension and the California Dairy Quality Assurance (CDQA) program.

"The Ahlems do not simply talk about embracing animal care," says CDQA's Denise Mullinax. "They take active steps on their dairy and train employees to do this every day."
The Ahlems willingly conduct 50 consumer and industry tours each year. They also host industry meetings and seminars, not just about animal care but on genetic progress, animal identification for accurate record-keeping and traceability, dairy beef quality assurance and more.

That exposure has made Hilmar Jerseys an open book, and the Ahlems don't shrink from it.

"It's a responsibility, and the consumer expects it," Chuck says. "The minute you start hiding things, whether it's about the environment or animal welfare, your operation becomes mysterious. And the message that sends is that here's big business once again doing wrong."

The Ahlems are working to change that view. "We all know bad things can happen," he adds. "But when people see your honest goals, you're less likely to get beat up. If we do the right thing, how can that hurt?" 
 
Thinking Outside the Box
Chuck and Mark Ahlem, owners of Hilmar Jerseys, have done much more than raise the bar for animal care and training in California dairy circles.

"Hilmar Jerseys has a track record of thinking outside the box, stepping up to the plate and getting things done," says McKenzie Klein of Hilmar Cheese Company. For example:
 
Twenty years ago, the Ahlems pioneered and piloted the Radio Frequency Identification (RFID) technology that's now broadly recognized as the U.S. dairy industry's premier animal identification system.
Six years ago, Hilmar Jerseys was the first dairy operation to implement a robotic post-dipping system in its carousel milking parlor. That same year, the dairy operation installed a stationary total mixed
ration mixer.
In 2014, the farming side of the operation installed center pivot irrigation that can distribute manure water through its precision system.
This year, Hilmar Jerseys wants to expand its acreage to grow more alfalfa. "Our goal is to have 25% of our ground in alfalfa," says Mark Ahlem.
The Ahlems are a founding owner of Hilmar Cheese, which has headquarters in Hilmar, Calif., and another cheese plant in Dalhart, Texas. Chuck and Mark are also partners in two dairies and a heifer-raising facility near Dalhart.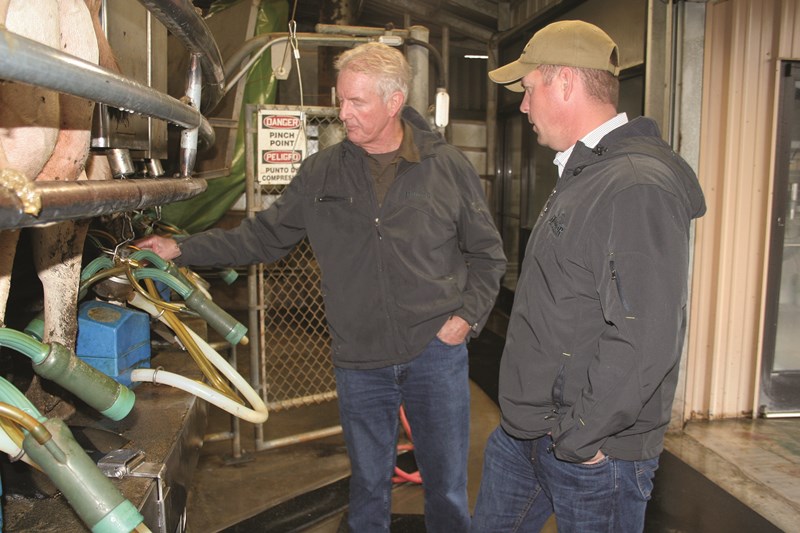 Chuck (left) and Mark Ahlem check to see that the robotic post-dipping system in their carousel milking parlor is running smoothly.

In Good Company
The Innovative Dairy Farmer of the Year Award is co-sponsored annually by the International Dairy Foods Association and Dairy Today magazine. Hilmar Jerseys will be honored at the 2015 Dairy Forum, Jan. 25 to 28, at the Boca Rotan Beach and Club Resort in Boca Raton, Fla.

The 2014 winner was Milk Source, Kaukauna, Wis. Previous winners were: McCarty Family Farms, Rexford, Kan., Sweetwater Valley Dairy Farm, Philadelphia, Tenn.; Brubaker Farms, Mount Joy, Pa.; Haubenschild Dairy Farm, Princeton, Minn., Mason Dixon Farms, Gettysburg, Pa.; Clauss Dairy Farms, Hilmar, Calif.; Baldwin Dairy/Emerald Dairy, Emerald, Wis.; Si-Ellen Farms, Jerome, Idaho; Pagel's Ponderosa Dairy, Kewaunee, Wis.; C Bar M Dairy, Jerome, Idaho; North Florida Holsteins of Bell, Fla.; KF Dairy of El Centro, Calif; Joseph Gallo Farms of Atwater, Calif.; KBC Farms, Purdy, Mo.; and High Plains Dairy of Friona, Texas.
For more on the Innovative Dairy Farmer of the Year Program, visit
www.DairyToday.com/innovative_dairy_farmer