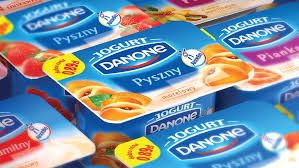 Danone said all business units will play a part in future strategy following a board review of the world's largest dairy maker's prospects that was said to include weighing offers for the medical-nutrition division.
"Each of our core businesses -- Fresh Dairy Products, Waters, Early Life Nutrition and Medical Nutrition -- has a role to play in living up to our mission and achieving the profitable, sustainable growth that is an integral part of our strategy," Chief Executive Officer Emmanuel Faber said in a statement today.
People familiar with the matter said that Paris-based Danone was meeting this week to discuss whether to sell the medical-nutrition operation. It has also been said to be considering a sale of its stake in Japan's Yakult Honsha Co. The dairy producer, which has been seeking growth after reporting its first annual loss in more than a decade last year, will continue to expand "rapidly" in Asia and Africa, it said.
"These comments are tactical," said Patrik Lang, an analyst at Julius Baer Group Ltd. in Zurich. "They want to signal to interested buyers that they don't have to sell the medical-nutrition unit, that they have time to wait for a good offer."
Danone fell as much as 1.3 percent to 54.67 euros, the lowest intraday price since Nov. 20, and was trading down 0.9 percent as of 9:20 a.m. in Paris.
The company named Cecile Cabanis as chief financial officer. Cabanis, who joined Danone in 2004, will take over on Feb. 20 after previously acting as vice president of finance for its fresh dairy products unit, Danone said.
Danone reiterated a target for organic sales growth, which excludes acquisitions, disposals and currency shifts, to exceed 4.5 percent in 2014 and predicted free cash flow within a range of 1.3 billion euros ($1.6 billion) to 1.4 billion euros ($1.7 billion).