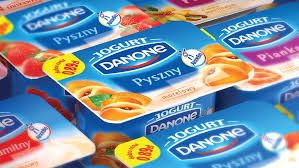 The yogurt manufacturer becomes the latest Western company to clash with Russia's regulators.
Ilya Khrennikov and Anatoly Medetsky
Danone this week asked Russia's agriculture minister to retract a statement that global dairy companies are using plant oils in milk products, becoming the latest Western company to clash with the nation's regulators.
Nikolai Fedorov said on Nov. 28 that international dairy producers in Russia have been using nondairy fats when making their products instead of local raw milk, hurting local farmers. That statement is false, Danone's Russian unit responded.
"We make our products from pure, raw milk only," the company said in the statement posted on its website. Danone said it only makes one product with vegetable fats, which is produced by a third party and represents less than 0.4 percent of its sales in the country. The company is "deeply insulted" by the minister's comments, it said.
Danone took control of Russian dairy producer Unimilk in 2010, becoming the biggest company in the market. As tensions have flared between Russia and Western countries, companies such as McDonald's Corp. have faced mounting scrutiny from local officials. McDonald's had its largest restaurant in Moscow shut for three months this year amid inspections into alleged violations of local sanitation rules.
Danone and PepsiCo Inc. are the largest purchasers of raw milk from farmers in Russia, according to the National Milk Producers' Union. Danone has closed three Russian plants this year, Vedomosti has reported.
PepsiCo's Response
PepsiCo said in a separate statement that it uses cows' milk in its products.
"We produce a broad range of high-quality dairy products in Russia, using milk from farmers across the country," the company said. "Our products and practices fully comply with Russian legislation."
Russia's Agriculture Ministry, meanwhile, stood by the criticism. Since Danone and PepsiCo acquired Russia's largest dairy producers, raw milk purchases have fallen in several regions where the companies operate, the agency said.
"Criticism of global dairy producers is justified," the Agriculture Ministry's press office said in an e-mailed statement that cited deputy minister Vladimir Labinov.
--With assistance from Duane D. Stanford in Atlanta.