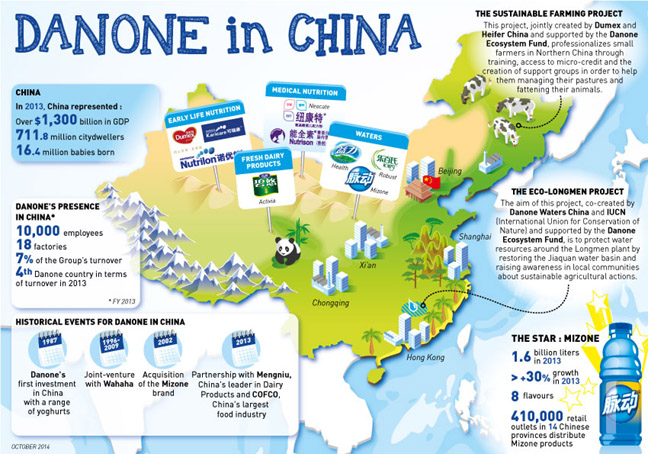 The investment broadens Danone's role in China's baby formula market, which is projected to more than double by 2017.
Danone agreed to pay HK$4.39 billion ($566 million) for a 25 percent stake in Yashili International Holdings Ltd. under a plan to improve technology and boost production at the Chinese infant milk formula maker.
The Paris-based maker of Dumex baby milk powder offered HK$3.70 per share, 17 percent more than the last closing price, according to a Hong Kong stock exchange statement.
The investment broadens Danone's role in China's baby formula market, which is projected to more than double to 191 billion yuan ($31 billion) in the four years ending 2017, according to Euromonitor International. That growth outlook has led to intensifying competition, with analysts predicting a 13 percent drop in annual sales this year at Yashili, a unit of China Mengniu Dairy Co., according to data compiled by Bloomberg.
"Mengniu will be able to get help from Danone to accelerate the pace of turning around Yashili," said Charlie Chen, a Hong Kong-based analyst at BNP Paribas Securities Asia.
Mengniu bought a 75 percent stake in the baby-milk maker last year and has sought to strengthen foreign partnerships after a melamine-tainted milk it and Chinese companies sold in 2008 left Chinese buyers wary about domestic dairy products.
Yashili shares fell 9.2 percent to close at HK$2.88 in Hong Kong, after trading was suspended for two days. That widened the share's decline to 39 percent year to date, compared with the benchmark Hang Seng Index's 3 percent gain in the same period.
Mengniu rose 2.2 percent and Danone gained 1.8 percent to 53.66 euros as of 9:34 a.m. in Paris.
Stake Buyout Speculation
Yashili fell today because traders who'd purchased the shares on speculation of a stake purchase sold them to lock in gains, Nicolas Wang, an analyst at Haitong International Securities Group Ltd., said in an interview today. The stock jumped by 50 percent this month as of Oct. 28.
Yashili is considering making a minority investment in Dumex China, Danone's infant milk business, the companies said in today's statement. Dumex's business in China was fined last year in a government price-fixing probe.
Such an investment would give the Yashili-Dumex-Mengniu alliance a bigger range of products to sell, and this robust product portfolio would help them attract more franchisees and improve distribution, said Jeremy Yeo, a Hong Kong-based analyst at Mizuho Securities.
Danone, which also owns Activia yogurt and Evian water, earlier this year agreed to raise its stake in Mengniu, the country's second-largest listed dairy producer, to 9.9 percent through a joint venture.
Following the deal announced today, Mengniu's stake will be diluted to 51.04 percent from 68.05 percent in Yashili, which will remain a unit, the Chinese companies said in a joint statement today.