Farming is a number-crunching career to manage production and risk. The Farmers Business Network (FBN) is dialed in to providing a software platform that provides unbiased, independent data so farmers can make more informed agronomic decisions.  
Bringing together Midwest agriculture and Silicon Valley engineering, FBN quickly took root, filling a void for farmers to pool data, anonymously share, benchmark performance and provide localized, customized insights on inputs and management practices.
"Enabling farmers to share data with FBN's data science platform gives them access to more information than before," says Amol Deshpande, co-founder and CEO.
FBN collects farm data from hundreds of farmers primarily in the Midwest for insight on 13 crops, including corn, soybeans, wheat and cotton. The software currently includes more than 4 million acres of data from calibrated yield maps, as-applied maps, existing zones and soil, weather and more. FBN has built quality assurance algorithms to ensure only valid data is used in its analysis. The system will work with data generated from any brand of precision equipment or software. 
Once in the system, FBN provides a variety of tools and benchmarking capabilities to compare fields inside and outside an operation. The FBN Field Profile benchmarks a field's performance by the exact products and field conditions. The FBN Field Potential tool matches the best performing hybrids to each field based on performance from the farmer network. 
By anonymously aggregating data from fellow farmers, the FBN Intelligence feature analyzes how production practices such as planting populations and speed affect yield. The FBN Seed Finder app, available in the Apple app store, also provides real-world seed performance and optimization analysis on hundreds of hybrids.
Ken Dalenberg, a corn and soybean farmer near Mansfield, Ill., has tested FBN for more than a year. He finds value in benchmarking the performance of his hybrids, which gives him the opportunity to make adjustments. 
"In FBN, if I see my hybrid is only performing up to 85% on my soils, I may re-evaluate my management practices," Dalenberg says. "The FBN Seed Finder allows me to search the database for better performing hybrids.
Dean and John Werries, corn and soybean farmers in Chapin, Ill., used FBN to adjust their seed order for the 2015 growing season. "We found that a certain variety was not performing as high in our soils so we used FBN and found similar results," Werries says. "We were able to use FBN to work with our seed dealer to change our order to a more highly productive variety for our soils."  
FBN costs $500 for a one-year subscription. For more details, visit 
www.farmersbusinessnetwork.com. 
Dial In To Farmers Business Network Features
Using Farmers Business Network's (FBN) toolset, including FBN Intelligence, Yield Benchmark, Field Potential, Seed Finder and Yield Factors, farmers can evaluate the following:
Benchmark field performance on dozens of dimensions.
Integrate precision data with unprecedented analytics.
Access real world performance of hundreds of hybrids. 
Find the best hybrids for unique soil and weather conditions.
Assess the true yield potential for all fields.
See yield factors from across the data network.
See field-level weather, updated hourly.
Manage data online with secure and unlimited storage.
Collaborate with employees and crop advisers.
FBN Intelligence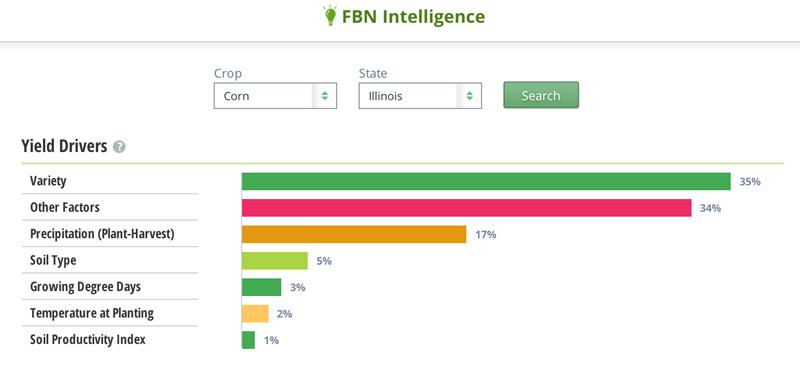 FBN Change in Yield

FBN Seed Finder