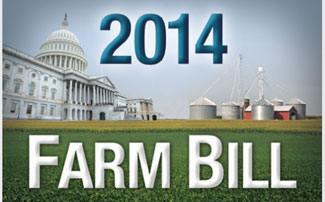 Lower commodity prices means the tides are changing in agriculture, but Farm CPA Paul Neiffer says the new Federal Crop Insurance programs could provide needed relief.
 "That's going to be the difference this year for a lot of our farmers between breaking even or losing a small amount of money to actually having a little bit of a profit," says Neiffer or CliftonLarsonAllen.
Navigating the new programs has proven to be complex, but experts say there are a few key steps and deadlines farmers need to keep in mind. The first step is updating base acres and counter cyclical yields. That deadline is February 27, and for some farmers, this is an adjustment that could really play to their favor in the future.
"Because they've had major changes in what they plant relative to what their historical base acres are," says Carl Zulauf, Economist with Ohio State University. "For other people the decision won't be that important, because there aren't major changes or differences between what they historically planted and what they currently plant."
Gulke Group's Jamie Wasemillar says one frustrating piece is farmers can't increase base acres, only reallocate.
 "so, essentially what you do is you can get more of those base acres to pay on a corn price or a soybean price, as opposed to edible beans or wheat whatever it might be," he says. "So it's a  truer safety net for your farm."
In addition to acres, updating yield is also important. In some cases, that information is 30 years out of date.
 "The decisions are pretty straight forward," says Zulauf. "If the updated yields are higher, you take those, if they don't, keep the current yields."
Zulauf says being able to verify those yields is key, because updating that information opens the possibility of being audited by Farm Service Agency (FSA). This step has been a complicated step for some farmers who rent their land, as the landlord is responsible for making any of those changes with FSA.
The next key step is deciding which program best fits your farm: Price Loss Coverage (PLC), Agricultural Risk Coverage- County (ARC-County) or Agricultural Risk Coverage- Individual (ARC-Individual). Wasemiller says PLC will cover catastrophic events, and is a better fit for those farmers bearish on prices.
"It's almost like buying a put," he explains. "There's a reference price, and that price, like for corn it's $3.70., for beans it's $8.40. That price will stay the same the duration of the Farm Bill, and basically all it says is if the marketing year average price gets below that number, then I will get paid the difference. So, once you get paid that difference, and let's just say it's 20 cents, for example, then you'll take that 20 cents, you'll times that by your deductible, then times that by your base acres. "
According to Oklahoma State, it doesn't look like PLC will trigger a payment for wheat the 2014 marketing year.
"So, for wheat, the reference price is $5.50," explains Jody Campiche, with Oklahoma State. "If the marketing year average price is below $5.50, there would be a PLC payment."
ARC-County is the second option, where the guarantee is determined by bushels and by price
"It's determined by a 5-year Olympic average for both yields and for both price," says Wasemillar. "So you take out the high and the low and it generates a revenue guarantee."
With this program, commodity prices don't have to get as low as PLC to get a  payment, but payments are limited to only 10 percent of the benchmark.
"It can never be a very high payment, no matter how low the price drops or how low the yield drops," says Campiche.
Despite that, for many experts, it looks like ARC-County seems to be the best option for most corn and soybean farmers.
"Even in states where you had record crops this year, you might not get a payment for ARC this year, but over the five-year life of the Farm Bill, I still think ARC- County is going to make larger payments than PLC will," says Neiffer.
But there's still another option, ARC-Individual.
"One of the reasons they have arc individual is more for those farmers in the fringe states that are very different than county yields or that are specialty crops," says Wasemillar.
It's all about managing risk, and that's why Iowa State's Roger McEowen suggests electing to use multiple programs.
"If you have multiple farms, you might want to put PLC with one farm and ARC with another to kind of minimize your risk," he says.
Whatever farmers choose, there's no right or easy answer, b ut many farmers hope these programs will help protect their bottom-line.