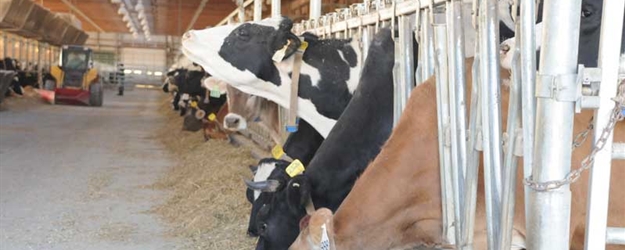 Final provisions clarify the farm bill's dairy margin program 
USDA finally released details of the dairy margin protection program (MPP) on Aug. 28, clarifying the rules for government support of the dairy industry through 2018.

Undoubtedly, the new program will generate dozens of questions for producers. A Dairy Today online survey, taken in early August, showed 40% of dairy farmers didn't know if they would participate due to a lack of information. 

Now, with these final details, farmers can make informed decisions. With a $100 premium for $4-per-cwt catastrophic coverage, every producer should consider his or her options.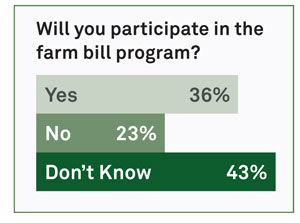 Dairy Today's online survey from early August shows 40% of dairy farmers hadn't decided if they would sign up for the program.  

Three key provisions will make the program more effective:
There was some ambiguity in the farm bill language regarding dairy farmers who produce more than 4 million pounds of milk annually. The farm bill stipulates two sets of premiums—one set for production below 4 million pounds and another for production above. 

In the final rule, USDA clarifies all farms will be eligible for the lower premiums on the first 4 million pounds of production, regardless of total milk production. For example, a farm with a yearly milk production base of 8 million pounds that elects to cover 50% of its production history will pay the lower rate on all 4 million pounds.

If USDA required the premiums be pro-rated, it would have added confusion and placed producers with 4 to 8 million pounds of production at a disadvantage. 
Since USDA was up against the Sept. 1 deadline in the farm bill, it opted for a 90-day sign-up period from Sept. 2 to Nov. 28 for 2014 and 2015.

In subsequent years, the sign-up will be July 1 through Sept. 30. Some farmers and co-ops wanted later sign-up periods, but this might let farmers "game the system." By closing the sign-up on Sept. 30, dairy farmers must look at the program as a risk management tool rather than as a cash cow.  
Originally, USDA wanted farmers to pay at least 50% of the premiums by Feb. 1 with the balance due June 1. The National Milk Producers Federation (NMPF) objected, saying it might prohibit some farms from choosing higher protection levels. NMPF urged USDA to allow producers to have premiums deducted monthly from milk checks.

USDA was unable to accommodate their request for 2015, but relented on how much is due. Now, 25% of the premiums must be paid by Feb. 1 with the balance due June 1.