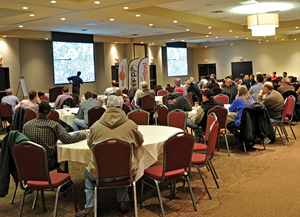 Pay attention to the details to increase yields
Snow doesn't seem to scare wheat farmers. In February, more than 15" blanketed the ground in Newton, Kan., but that didn't prevent 70 farmers from attending the Farm Journal Wheat College. A couple weeks later, despite blowing snow, more than 100 farmers gathered in Jamestown, N.D.

A spin-off event from Farm Journal Corn College, Wheat College strives to arm farmers with information they can take home to increase yields. Building on the Systems Approach, Farm Journal High-Yield Wheat Columnist Phil Needham and Farm Journal Associate Field Agronomist Missy Bauer encouraged farmers to think through their current approach to wheat management. Both have done extensive in-field work on various facets of wheat production.

"Understanding the growth and development stages of any crop is key to knowing how to increase your yields," Bauer says. "It's no different with wheat. You have to know, is my wheat at the tillering, the jointing or the flag leaf stage? What should I be looking for at each stage, and how is that having an effect on my yield? Can I increase the number of heads of wheat per square yard, or is there a way I can get a bigger head with more spikes per head on each plant?"
Identify the weak links. "Sometimes it's a matter of eliminating the weak links in your wheat program," Needham says. "That's why I spend a lot of time at each meeting going through the fundamentals that can take your wheat to the next level."

Soil and tissue testing lets you make informed decisions as to what inputs to use, such as fertilizers and fungicides, and when. If you can measure it, you can manage it, Needham says.

Water is definitely a limiting factor when it comes to high-yielding wheat. That's why many farmers are learning that no-till wheat typically yields the same or higher than conventional tillage systems, especially in regions with lower rainfall, Needham adds. Input costs are less because of lower labor, fuel and equipment costs.

Seed genetics and seed quality—as well as seed conditioning, seed treatments and seed size—have an enormous impact on final stand counts. Planting by population instead of by the pound will reduce stand variability. Depending on your region's rainfall and planting date, the final stand count should be between 200 to 300 plants per square yard for winter wheat or 250 to 350 plants per square yard in spring wheat country.

Achieving consistent planting depths and uniform plants is key to higher yields, but you must make sure that the condition of seeding equipment is in tiptop shape with no worn disk blades, bearings or boots.

When it comes to disease management, timing can be the difference between average and high yields. "Remember, disease won't wait until your custom sprayer gets down to your name on the list," Needham says.

To maximize yield potential at each stage of development, growers should habitually monitor their crop. As rains fall and yield potential increases, especially in dry areas, additional nitrogen might be necessary to bridge the gap between what growers fertilized based on early yield potential and what is the current potential."

As a second time Wheat College attendee, Jack Nielsen from Alliance, Neb., is convinced that the lessons he's learned at the meetings has increased his wheat yields by 10 bu., if not 20 bu., per acre. "This won't be my last meeting either; I'll be back," he says.
You can e-mail Pam Fretwell at [email protected].