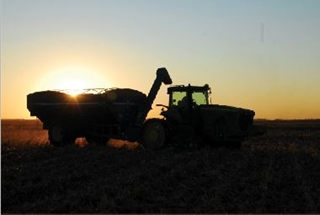 Sales at Deere & Co. and other agricultural-machinery makers will continue to come under pressure from crop prices, despite the rally seen in recent weeks, Bloomberg Intelligence said.
While corn has gained 25 percent since mid-June, it's still 48 percent below its 2012 peak of $8.49 a bushel. Corn is the largest U.S. crop and farmer sales and income are key indicators for machinery purchases.
"Farm machinery sales should remain pressured," Karen Ubelhart, a Bloomberg Intelligence analyst, said in a report Monday.
The U.S. soybean outlook also lacks a "bright spot for farm equipment," she said, after the U.S. Department of Agriculture last week forecast that average soybean prices in the 2015-2016 crop year will fall 8 percent.
The seven straight years of growth in equipment sales through 2013 was the longest period of expansion on record, according to Ubelhart, but farmers can now defer purchases after replacing a lot of equipment.
Shares of Deere, the world's largest maker of farm equipment, have gained 8.8 percent this year. Agco Corp. is up 21 percent. The stocks have climbed partly on investor expectation that 2015 will be a trough year and the industry will rebound in 2016 as crop prices rise, said Brett Wong, a Boston-based analyst for Piper Jaffray Cos.
Wong said he's skeptical about how long grain prices will rally next year, citing large corn stockpiles and upcoming harvests. Larry De Maria, a New York-based analyst for William Blair & Co., said in a July 10 report the biggest problem in the North American machinery market continues to be the glut of used equipment.
Sales at Agco and Deere will decline next year, according to the average estimates compiled by Bloomberg.
Ken Golden, a spokesman for Moline, Illinois-based Deere, declined to comment on the outlook for 2016.
Agco is working to reduce inventories this year and there is still a lot of uncertainty about crop harvests, said Greg Peterson, a spokesman for the Duluth, Georgia-based company. Agco is likely to provide 2016 sales forecast in December, he said.