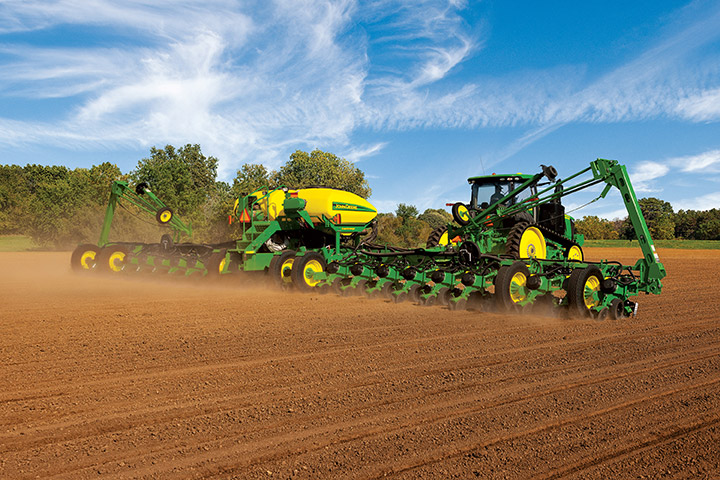 John Deere had a full lineup of farm equipment on display at the 2015 National Farm Machinery Show. One of the hottest attractions was a piece of equipment that won't even be for sale until later this summer – a 24-row 1725 CCS planter in the company's lineup of growing ExactEmerge series that boasts 10 mph planting speeds.
Kelby Krueger, product manager, says the initial testing of these high-speed planters went well. A total of 36 farmers planted about 75,000 acres using 12- and 16-row ExactEmerge planters in 2014.
The question on everyone's mind – would it actually work?
After 142 planting hours, Krueger says initial testing was satisfactory. The farmers averaged 8.8 mph.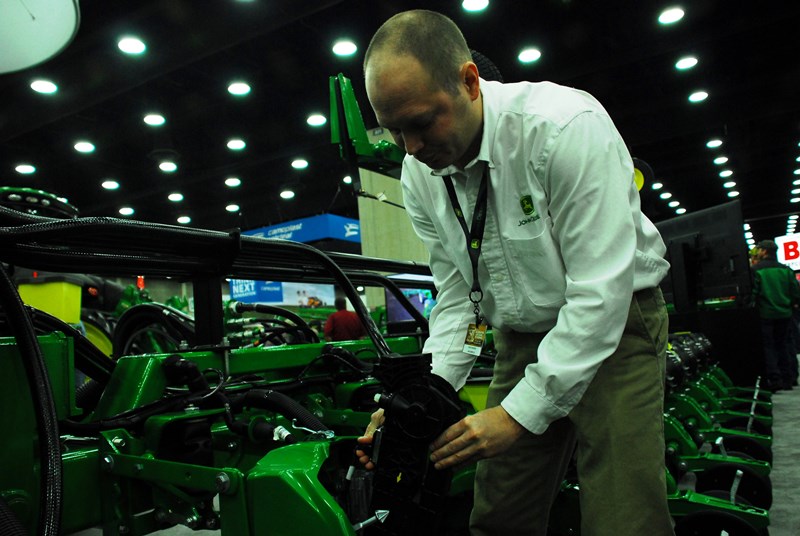 "That shows they really understood the technology and weren't worried about improper seed placement," he says.
The 2014 testing also had  farmers to add "speed plots" consisting of strips planted at 5, 7.5 and 10 mph. The trials measured spacing, emergence and plant population, finding no difference in results at each speed. A 2014 study by Purdue University also found no significant differences in speeds planted up to 10 mph, Krueger says.
John Deere had other new equipment on display at NFMS, including:
R4023 4 Series Sprayer. This model replaces the 4630 model. It has a 4.5L, 173 horsepower Final Tier 4 engine, a new premium cab option, wide and narrow axle configurations and more. Dave Mulder, product line manager at John Deere, says the R4023 has a smaller, more maneuverable, more versatile configuration for covering smaller, odd-shaped fields.
"With ever-increasing demands on producers and service providers to cover fields quickly during short application windows, the R4023 Sprayer was designed to provide improved ride quality, operator comfort and productivity across a wide variety of field conditions and cropping systems," he says.
469 Premium and 569 Premium round balers can now apply B-Wrap, the alternative to indoor storage.
B-Wrap comes in rolls just like net wrap and is rolled onto round bales just like regular netwrap, says Louis Fernandez, senior marketing representative for John Deere Ottumwa works.
"B-Wrap protects bales much better than netwrap," he says. "It significantly reduces storage losses, helping maintain nutrient quality of the bale, especially in bales stored outdoors over winter.
B-Wrap contain a panted material that sheds rain and snow and helps protect bales from ground moisture. This Tama SCM Technology also has microscopic pores that allows water vapor inside the bales to escape.
The NFMS runs Feb. 11-14. Visit http://www.agweb.com/national-farm-machinery-show/ for continuing coverage on AgWeb, or follow along in real-time on Twitter by following hashtag #NFMS15.