For farmers, EPA's proposed changes to the Clean Water Act and the definitions of Waters of the U.S. (WOTUS) are a double-edge sword. On one hand, the proposed rule should clarify issues of when permits are needed. Yet, it's also seen as an overreach of EPA's authority.
EPA Administrator Gina McCarthy has heard plenty from both sides. That's why she's in the Midwest this week, to visit with farmers, ranchers and agribusinesses on the issue. On July 9, she visited Bill Heffernan's corn and soybean farm in Rocheport, Mo.
Heffernan farms a chunk of hilly central Missouri land that is dotted with ponds, and his fields have been shaped with terraces to help drain his fields. He uses no-till farming methods, cover crops and other conservation practices and also raises hogs and cattle. "This is a historic farm and we are trying to keep the legacy of it growing today," he says.
EPA Hopes to Debunk Myths
McCarthy says incorrect and ludicrous information has been surrounding this proposed rule. "The things that bother me the most are the ones that talk about us canceling 4th of July fireworks because of this rule and having to get a permit if your cows wander across a wetland area," she says. "This rule is serious business. I know this rule is important for the farming and ranching community."

Listen to McCarthy discuss the proposed rule with AgriTalk's Mike Adams:


The rule, if passed, will redefine "waters of the United States" to include intermittent and ephemeral streams, along with other non-navigable water bodies. Currently, the Clean Water Act authorizes the federal government to regulate only "navigable" waters.
The ag community has expressed much concern on how the proposed rule will affect ditches. McCarthy says the rule doesn't cover standing water, and the vast majority of ditches are not jurisdictional, as they are just directing runoff.
But, she says, there are some ditches that look, feel and act like streams, because many of them actually were streams. "Those may be important for water quality protection purposes," she says. "They were important under the current rule and they will be important under this one."
If farmers have these specific types of ditches, McCarthy says, they need to be careful that it stays healthy. "It doesn't mean you need to change anything you are doing," she says. "We're not making you get a permit. We are making sure you realize that unique ditch is a vital part of a drinking water supply and needs to be protected."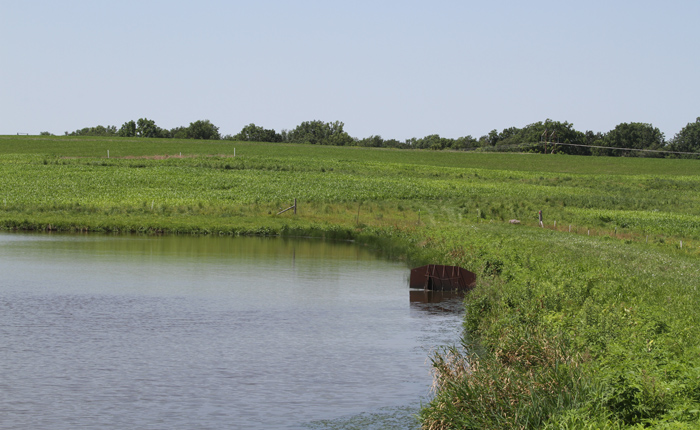 What this proposed rule doesn't do is just as important as what it does, McCarthy says. She says the proposed rule:
Does not change the definition of "navigable water."
Retains all of the farming exemptions and exclusions from the Clean Water Act permitting requirements that are currently in the rule.
Does not expanded the jurisdiction of the Clean Water Act.
On Heffernan's farm, the water standing in the terrace channel and the ponds without tributaries going in our out are not jurisdictional, McCarthy says. There was one pond that McCarthy says is jurisdictional, but it doesn't mean Heffernan will need a permit. "He wasn't doing anything to damage that pond," she says.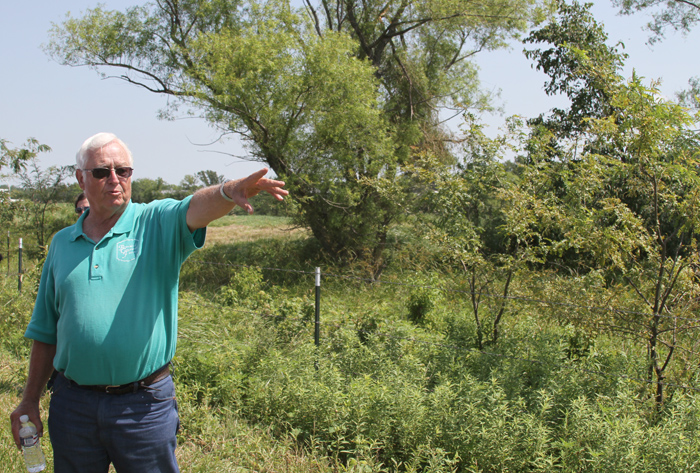 Many in the ag community are worried about how the proposed rule will broaden jurisdiction in a way that may negatively affect agricultural practices. "By expanding jurisdiction to intermittent streams and similar bodies of water that are not considered navigable, some are concerned that application of manure on lands near these water bodies could be considered a discharge and require a Clean Water Act permit," says Amy Millmier Schmidt, University of Nebraska-Lincoln, Livestock Bioenvironmental Engineer.

American Farm Bureau recently launched a campaign called "Ditch the Rule." The goal is to prevent EPA from implementing what the group fears is too much overreach with proposed changes to the Clean Water Act.

McCarthy's response: "We're not trying to regulate more. We are trying to do our own business, which is to protect public health clearly.
"EPA and the agricultural community do not have the most trusting relationship," she says. "We can't allow this rule to tear us apart as opposed of bringing us together. We really need everyone's input."
The proposed rule was published in the Federal Register on April 21, 2014. The public comment period will close on October 20, 2014.