New Syngenta seed trait gets a limited launch in 2014 
This spring, farmers are planting between 250,000 and 300,000 acres using a new corn hybrid called Agrisure Duracade. The hybrid contains the new Syngenta trait, Event 5307, which expresses a new Bt protein, eCry3.1Ab, for corn rootworm control. 

Syngenta opted to move forward with the limited launch in the U.S. despite opposition from the National Grain and Feed Association and the North American Export Grain Association. The associations are at odds with the company due to the lack of import approvals for the technology. 

Agrisure Duracade has received import approvals from Japan, Korea, Mexico, Taiwan, Australia and New Zealand. At press time, the trait has not been approved by China, the European Union, Switzerland, Brazil, Egypt, India, the Philippines, the Russian Federation and Turkey.

Know your options. To support its 2014 launch of the Agrisure Duracade trait, Syngenta has struck an agreement with Gavilon Grain, LLC. Gavilon says it will accept grain with the trait at local market price as well as provide stewardship and distribution services for producers.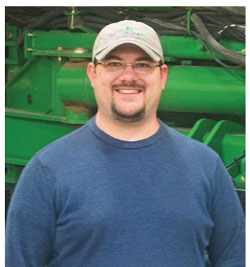 Cole Anderson is planting hybrids with the new Bt protein for corn rootworm control on 80 acres. 

Cole Anderson says he is "glad Syngenta has been able to work out a deal" with Gavilon. 

"As a corn grower there is a concern that these regulatory processes could hamper us, not just with Agrisure Duracade, but with other traits in the future," notes Anderson, who farms near Beaver Crossing, Neb. He will  plant 80 acres to the trait this season. 

The National Corn Grower Association (NCGA) supports the limited launch of Agrisure Duracade. The association cites that, while China is the third largest global buyer of corn, U.S. corn exports to the country in the 2012/13 marketing year represented only 0.8% of the total U.S. corn supply.

The lack of import approvals for the new trait has stalled the interest of some grain traders. Consolidated Grain and Barge Co., Archer Daniels Midland, Cargill Inc. and Bunge Ltd. have said they will not take any commodity with the new Syngenta trait for domestic processing or export.

The lack of import approvals played a role in Syngenta's decision to place hybrids with the trait in only the U.S. this season. In Canada, the company made arrangements for seed farmers who ordered the product to return it.

NCGA has issued a statement encouraging farmers to read their grower agreements and communicate with their grain buyers before planting. The association has also revised its "Know Before You Grow" website for up-to-date information on trait approval developments.