Farm Journal Foundation expands programs and makes a true difference
Four years after its formation, Farm Journal Foundation is making its mark. Thanks to support from our readers, agribusiness and our partners, the Foundation is helping fight hunger, advocate for nutritional security and stand up for the use of modern technology in agriculture.

"An important factor in feeding the world is empowering the farmers who work hard to produce our food to engage in hunger issues," says Tricia Bentley Beal, newly appointed CEO of the Farm Journal Foundation. "The Foundation produces measurable results for farmers and agribusiness by increasing awareness and support for the agriculture community."

Key activities and progress in 2014 included the following platforms:
The Farm Team: Launched in March, The Farm Team program empowers farmers to advocate for policies that support U.S. leadership on global food security and agricultural development.

Lead farmers from 13 states traveled to Washington, D.C., for advocacy training and to participate in more 
than 75 policy and educational meetings with leaders on Capitol Hill. Those farmers then returned home to form their own statewide teams of farmer advocates to continue the big-picture conversation. 
HungerU: Launched in 2012, the HungerU Tour continued rolling across the country—and has now visited 60 campuses in 42 states. The high-energy interactive exhibit educates college students about the important role agriculture plays in meeting the global demand for stronger nutrition. A campus favorite, HungerU is on track to engage 1 million students by 2017.
Students are encouraged to give back by taking an education quiz at www.hungeruchallenge.org. For each student who completed the quiz, HungerU donated a meal on their behalf to partners such as the Food Recovery Network and others. In just two months, students were able to contribute more than 10,000 meals. 
HungerU was also a charter partner along with Universities Fighting World Hunger and the United Nations Food and Agriculture Organization on the Presidents United to Solve Hunger (PUSH) initiative. The campaign unites universities in the fight against malnutrition. By signing the PUSH petition, university leaders are agreeing to make food and nutrition security a priority on campus. 
Food Forums: The Foundation  hosted eight high-profile Food Forum discussions amongst farmers, college students and other stakeholders. Topics included careers in farming and hunger, communicating about controversial agricultural topics in the media and modern agriculture's commitment to environmental conservation. 
Heifer International: The Foundation continued its robust support of Heifer International's well-known ag development programs designed to increase sustainable agriculture and fight hunger in the U.S. and abroad.
Farm Journal Forum: The annual Farm Journal Forum will be in Washington, D.C., Dec. 10 to 11. The theme is "Globally Positioned Agriculture" and takes a pragmatic approach to farming in the face of new challenges and opportunities. Secretary of Agriculture Tom Vilsack will keynote the event. 

Key Foundation partners include farmers like yourself, DuPont Crop Protection, Bill & Melinda Gates Foundation, Verdesian, Monsanto, Great Plains and Growmark.

Visit www.FarmJournalFoundation.org to learn more.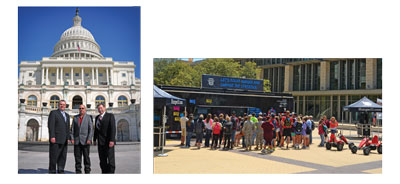 Two powerful new programs of the Farm Journal Foundation include The Farm Team advocacy program in Washington, D.C., and 13 states, and the HungerU Tour, a traveling interactive exhibit that resonates with college students. 
---
Early Order Opportunity for Collectible Truck
Farm Journal Foundation is excited to roll out this special die-cast toy semi as a unique way to honor the farmers and ranchers who literally feed the world—and help fight hunger at the same time. The side pictured here celebrates row-crop farmers while the other side recognizes ranchers and livestock producers. Order by the end of the year and take advantage of the special holiday price of $40.99 (versus $49.99). A special card will be provided for those who would like to give the truck as a gift. You can expect delivery by April 15. All proceeds go to Foundation's Farmers Feeding the World program.