Fifteen years ago, Ron Rabou took a hard look at his farming operation. It was bleeding money. He knew if he didn't make some gut-wrenching decisions and changes, it would not support his growing family. And he would be the one who ended the run of his fifth-generation farm. 
With a critical eye, Rabou evaluated his southeastern Wyoming ranch. His business assets included 800 acres of owned farm ground, 
3½ sections of pastureland, a 1981 John Deere 4440, a plow, a harrow, a rod weeder, a drill, a truck and a few other pieces of old equipment.
"If an asset didn't produce, it had to go," Rabou says. "Instead of looking at the emotional side of things and holding on to things for the sake of holding on to them, I needed to look at this farm as an actual business."
Unproductive pastureland: sold. Inefficient and outdated machinery: sold. Old farmhouses: fixed up then sold. 
"We liquidated 85% of everything we owned and began to start over," Rabou says. "We did a lot of 1031 exchanges and put those assets into ones that would produce more cash flow for our operation." 
Next, Rabou drilled into the profitability of his crop mix. Winter wheat was a staple for the area, but the margins were barely in the black. He knew it was time to shift his thinking and be creative.
"When I grew up, we raised a couple of crops and cattle," Rabou says. "Then we took them to market, and we got what we got. We were not price makers; we were price takers. We've tried to change that model here on our farm."
---
"There's no moving ahead without a little bit of calculated risk."
---
Rabou saw an opportunity in organic production, not only wheat but other pulse crops. He connected with grain buyers and has built numerous long-standing relationships. Today, Rabou Farms includes 8,000 acres of organic wheat, buckwheat, sorghum, lentils, millet, corn, chickpeas and yellow peas. 
The decisions made on this Albin, Wyo., farm revolve around one thing: consumer demand. 
"I won't even grow a crop unless I have a contract for it," Rabou says. "If someone wants us to grow a crop we've never grown before, we'll figure it out—but it has to be economical for our operation. There's no moving ahead without a little bit of calculated risk."
Brave thinking, intentional decision-making and business savvy earned Rabou and his family, which includes wife, Julie, and sons Carson, Spencer and Mason, recognition as a 2019 Top Producer of the Year finalist.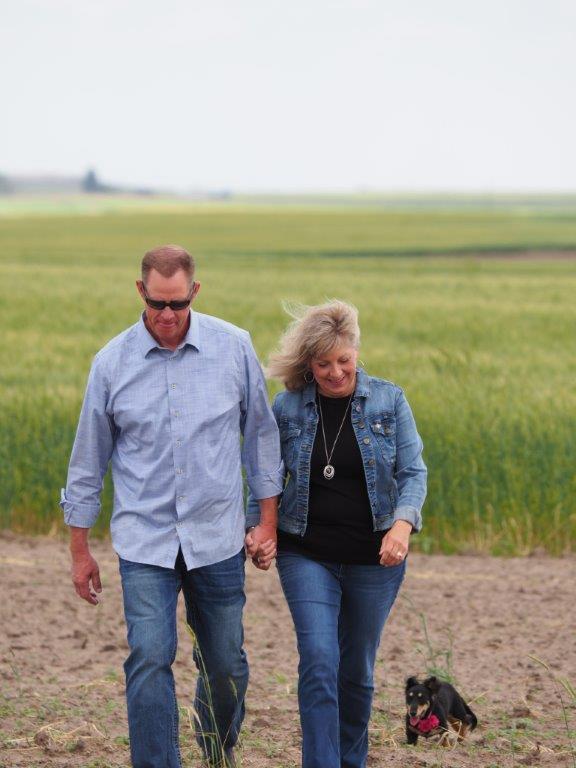 The Ultimate Sin. Rabou's journey to be a farm CEO was far from a straight path. While he wanted to follow in his family's footsteps, Rabou knew he'd have to first make a career outside of farming.
Rabou was doing just that, when he returned home to help his family on the ranch. While weaning calves on Nov. 4, 1999, Rabou found himself administering CPR to his father, who passed away the next day. 
"He was 58 and I was 26," Rabou recalls. "That was a turning point in my life, as I was incredibly close to my dad. He was my confidant and my mentor."
At that time, the operation included Rabou's parents, his grandparents and two cousins' families. As intended, Rabou used his father's life insurance policy to purchase shares of the family ranch. While that fixed the immediate financial hurdle, Rabou faced a bigger challenge: family conflict.
"My dad was the hub that made the wheel turn in the operation," Rabou explains. "He primarily made all the business decisions. When I was growing up, I watched the struggles my dad had dealing with family members. It became significantly worse when he was not there."
After four years of weighing his options and facing unrelenting stress, Rabou committed what he calls the ultimate sin in agriculture. "I broke up the family ranch," he says.
Rabou signed over many of the ranch's assets to the other family members. "When I left the ranch, I lost a significant portion of what I owned," he says. "I didn't have any idea what I was going to do. I just knew that anything was better than staying in that toxic environment."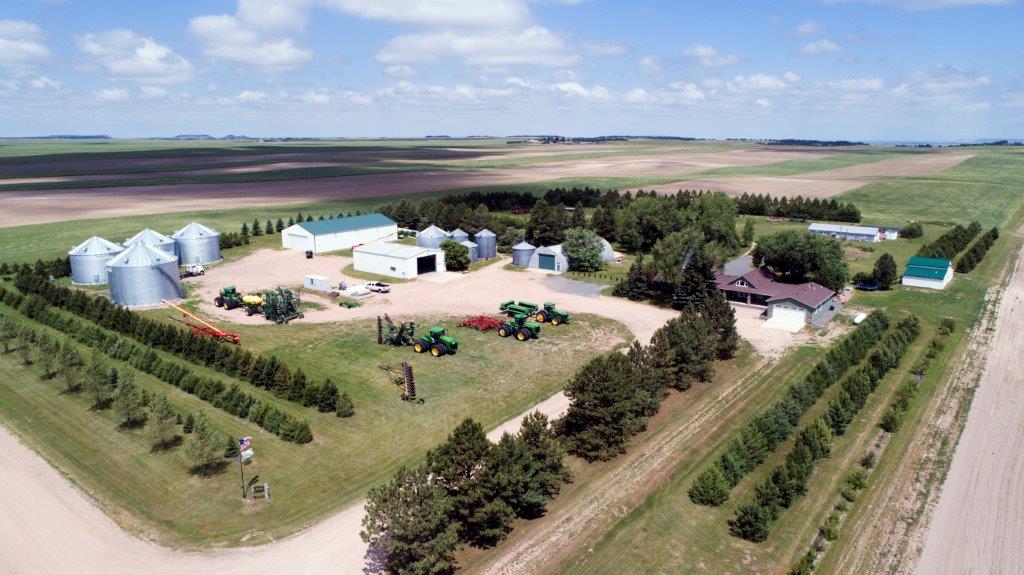 Fresh Start. While he did receive the 800 acres of farmland and some machinery, he soon realized the major challenge was his lack of farming knowledge. "My dad was never the kind of guy that said, 'I'm going to show you how to do everything,' because he thought there would be a time when I could learn," Rabou recalls. 
The extent of Rabou's farming experience included harrowing 80 acres of fallow ground when he was in high school. "I had never planted an acre of anything," he says. "I just decided I would have to get past being embarrassed and get good at asking questions." 
Rabou called on friends and area crop consultants. He learned by a lot of trial and error. "We farm on the high desert, at 5,300', and only receive 14" to 16" of precipitation per year," he says. "Our soils are not forgiving, so we must pay particular attention to how we care for it."
While he would have given anything to have learned these skills from his dad, Rabou realizes he also was granted with a great gift—the freedom to make his own decisions and pursue out-of-the-box ideas.
Path Forward. To grow from those original 800 acres to today's 8,000 acres took purposeful planning and strict focus. The Rabous drew a five-mile circle around their farm and learned who owned the ground. They introduced themselves to landowners and shared their family and farm goals. Before long, landlords were coming to them.
To supplement income in those early years, Rabou had several side hustles. He generated cash by doing public speaking and leading guided hunts. The family also invested in real estate projects in Cheyenne, Wyo., which is 50 miles from the farm. Through flipping houses and buying rentals, they were able to strategically invest in the farm.
As the operation gained financial stability, the Rabous have sold off some non-farm assets to invest in new machinery and grain storage.
"My philosophy has always been we pay cash for depreciable assets as much as we can," Rabou says. "Anything that is an appreciable asset, I don't have a problem borrowing money on it. I think over the long term, that formula wins." 
Efficiency is a key focus for the Rabous. The land they farm, of which half is rented, is in a 50-mile radius of their home.  
To avoid hour-long trips due to breakdowns, the Rabou team never leaves the shop without a fully equipped service truck, spare tires, fuel tanks and a labeled box for the equipment they are using for the day. In the box are the parts that most likely will break.
Rabou is always on the lookout for land closer to his home. "If we have opportunities come up nearby, we'll see if we can justify getting rid of something that's a further distance," he says. "The more consolidated we can be, the more efficient we can be. When we become more efficient, a lot of times we can increase profits, even though we're not bigger."
---
"My philosophy has always been we pay cash for depreciable assets as much as we can."
---
Business Evolution. For the past decade, Kelly Downer, financial officer with Farm Credit Services of America, has seen the transformation of Rabou's business.
"Ron is willing to take a calculated risk," Downer says. "He runs scenarios and researches opportunities, and he finds relationships that help him grow."
The farm team includes two full-time and two part-time employees. Rabou's goal is to create a flexible and inviting work environment that encourages input and new ideas from everyone.
"We run starting hours, but we don't run set hours," Rabou say. "My guys know that when it's time to roll, it's time to roll. But they also know if they ever need to get away, they have the liberty to do that."
Rabou is a natural leader, says Doug Miyamoto, director of the Wyoming Department of Agriculture. "He is multi-faceted with an uncanny ability to connect with people. I personally admire his approach to collaborative leadership."
That collaborative approach is evident in how Rabou manages his team. He encourages them to think and act like they own the place. "Just because I own this doesn't mean I have all the answers," he says. "I tell them, 'This is your farm as much as it is mine. Your input, time and commitment do matter.'"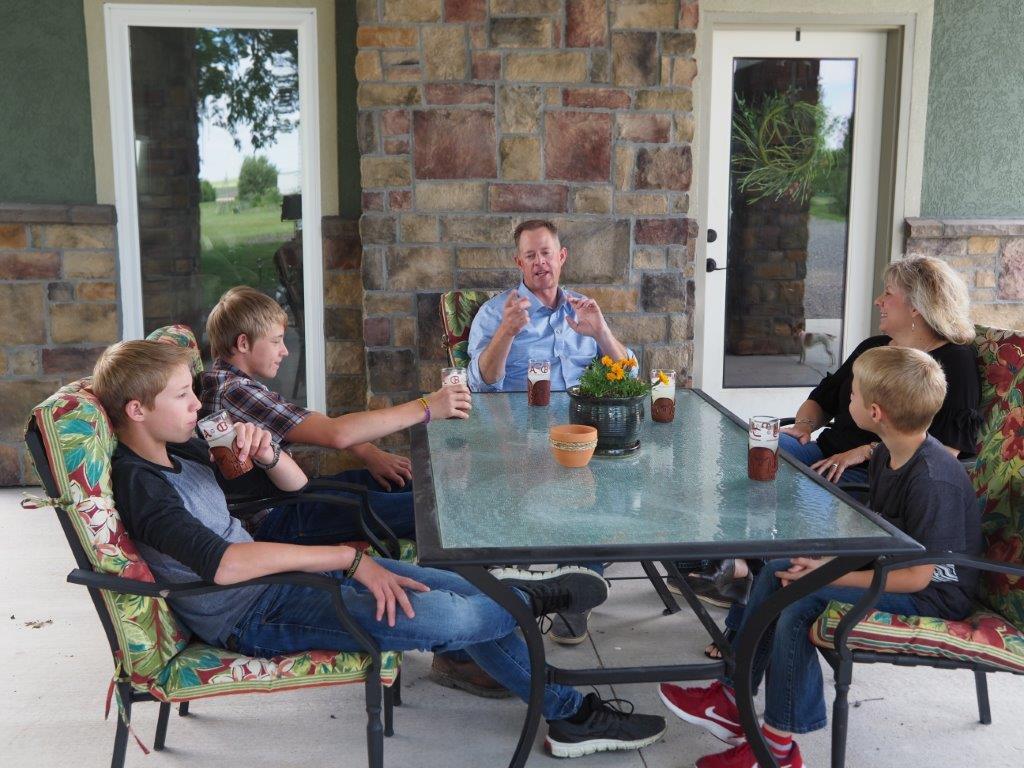 Time and Focus. The Rabous provide competitive wages and home-cooked meals. Instead of bonuses, employees receive experiences. Last year, Rabou took an employee tuna and wahoo fishing. 
"I'm a believer that it's really important to not just work all the time, but to remember to live," Rabou says. 
For Rabou, every person in life is important and every relationship deserves time and attention. He regularly hosts grain buyers at his farm so they can be confident in the quality of the farm's products. Every year, each of his sons picks an activity for a "dad day." That includes going to rock concerts with Carson, restoring antique tractors with Spencer and earning impressive fishing tales with Mason.
That next generation is Rabou's No. 1 priority. His goals don't revolve around more crops, land or equipment. Instead, his focus is on his family, faith, freedom and the time to enjoy them all. 

About Rabou Farms
FAMILY AND TEAM: Ron and Julie Rabou, and their three sons, Carson, 15; Spencer, 13; and Mason, 8, farm in Albin, Wyo. Ron is the fifth generation of his family to farm, but he broke away from the family operation 15 years ago. Today, the team also includes two full-time and two part-time employees. Julie is a part-time elementary school teacher.
CROP MIX: Rabou Farms includes 8,000 acres of organic winter wheat and small grains. Rabou has a contract in place before any crop is planted and his buyers span from the Midwest to the West Coast. In addition to crops, Rabou has partial ownership in a cow-calf herd and pastureland. 
OUTFITTING: For 20 years, Rabou has led guided hunts. He saw this as a way to add supplemental income to the farm. Several years ago, he converted an old farm building to a nine-bed, two-bathroom hunting lodge. Every October, he welcomes guests to hunt antelope, mule deer and elk. 
LEADERSHIP: For nearly 15 years, Rabou has been a public speaker. In 2012, he co-wrote the book, "Keep It Simple" and is working on another one. He has held volunteer and leadership roles with the Laramie County Community College, Wyoming Ag in the Classroom, Wyoming Wheat Growers Association and his local rotary club. The Rabous have endowed five scholarships at their local community college.
Watch a video and listen to a podcast interview to learn more about Rabou Farms at AgWeb.com/rabou
Are You the Next Top Producer of the Year?
The Top Producer of the Year award honors producers from whom our readers can learn business concepts. The deadline for the 2020 contest is Sept. 1. Learn more and download the application at TopProducer-Online.com.