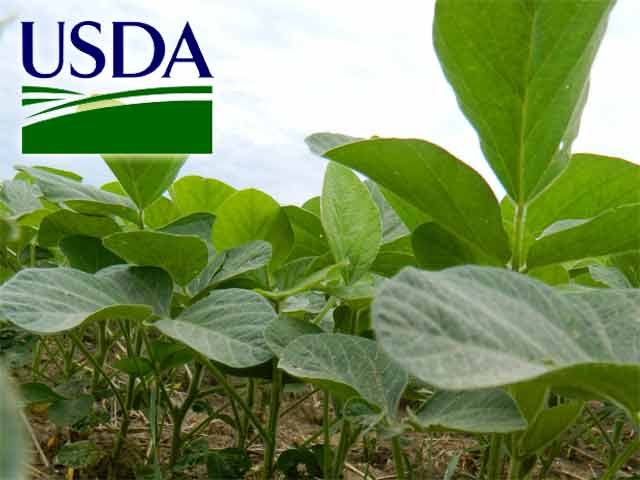 USDA lowered its old-crop carryout projections for both corn and soybeans due to higher demand for both commodities, according to the July World Agricultural Supply and Demand Estimates, released July 10.
"The report is bullish for corn and soybeans, given the pre-report expectations," said Brian Hoops of Midwest Market Solutions in Springfield, Missouri. Hoops was the commentator on a post-report MGEX press call.
"The carryover numbers are the key to price discovery," said Hoops. He expects to see December corn futures over $4 per bushel and November soybeans over $10 or $10.20, but he doubts that corn will break $5 per bushel and soybean prices above $11 are also unlikely.
"There's plenty of corn around,' he said. "Rallies will be sold into."
Corn Conditions a Concern
Looking at corn first, USDA projects beginning stocks for 2015-16 at 1.779 billion bu., down 97 million bu. from last month's estimate due to increases in feed and ethanol use and higher exports. The estimate was well below the average trade estimate of 1.811 billion bu. and below the range of estimates of 1.726 billion to 1.88 billion bu.
USDA reduced its new-crop corn production estimate to 13.53 billion bu. for 2015-16, down 100 million bu. from June's estimate, reflecting reductions in the June 30 Acreage report. The department left its yield forecast for corn unchanged at 166.8 bu. per acre.
"We are concerned about corn conditions in Indiana and Ohio," said Hoops. "The trade mentality going into this report is that these will be the biggest yield numbers we'll see."
USDA lowered its projected 2015-16 corn use for both feed and residual use and exports, which more than offset higher than expected corn use in ethanol production. The department lowered estimated feed and residual use by 25 million bu. and reduced new-crop exports by 25 million bu. due to increased competition expected from larger supplies out of Brazil. Corn used in ethanol was raised 25 million bu. due to higher forecasts for gasoline consumption in the second half of 2015 and in 2016.
USDA lowered its corn ending stocks forecast for 2015-16 by 172 million bu. from June's report to 1.599 billion bu. Projected season-average new-crop prices are up 25 cents to $3.45 to $4.05 per bushel. USDA also raised the forecast for old-crop prices by 5 cents to $3.60 to $3.80 per bushel.
Stocks Drop for Soybeans
USDA raised projected new-crop soybean production to 3.885 billion bu., up 35 million bu. from June's estimate due to an expected increase in harvested area. USDA puts the projected soybean yield at 46 bu. per acre, unchanged from last month. Despite the expected increase in production, USDA reduced soybean supplies by 40 million bu. due to a reduction in beginning stocks.
USDA puts new-crop soybean ending stocks at 425 million bu., down 50 million bu. from last month's estimate. Beginning stocks of 255 million bu. are 75 million bu. lower than last month's estimate and lower than the average trade estimate of 287 million bu. Beginning stocks, however, were in the range of estimates, 251 million bu. to 330 million bu.
USDA's U.S. season-average new-crop soybean price is projected at $8.50 to $10 per bushel, up 25 cents on both ends of the range.