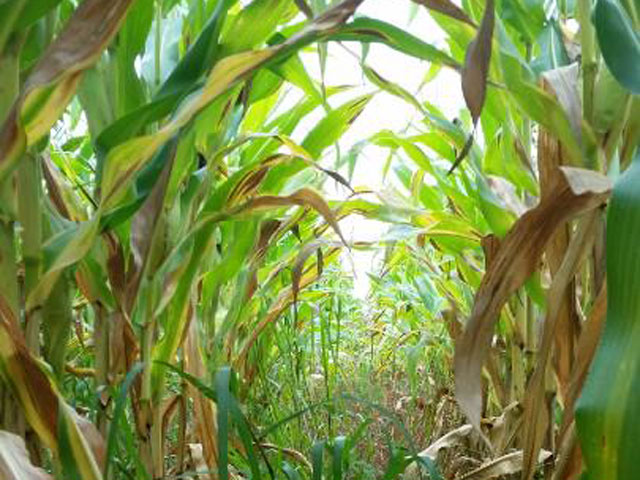 From an analysis of more than 1 million corn fields daily, Descartes Labs' infrared satellite images showed U.S. production is 2.8 percent smaller than the government estimates.
Output will be 13.3 billion bushels, the Los Alamos, New Mexico-based company said. That compares with 13.34 billion estimated last month by Descartes and 13.686 billion forecast by the U.S. Department of Agriculture on Aug. 12. The average estimate of 33 analysts in a Bloomberg survey last week projected 13.484 billion bushels.
Lower yields and acreage caused by excessive rain from Missouri to Ohio in June and July are "clearly visible" on computer-generated maps from the previous 30 days, Descartes Chief Technology Officer Steven Brumby said Sept. 3 in a telephone interview. The biggest declines from 2014 were in Howard County, Indiana, and Hardin and Logan counties in Illinois.
"The crop ran out of gas and turned toward maturity more quickly, and that will lead to a poor outcome," Brumby said. "USDA August predictions for corn yield and production are significantly overestimating conditions on the ground."
Lower Yields
National yields will be 164.8 bushels an acre, Descartes said. That's down from the company's estimates of 164.9 bushels last month and 168 bushels in July, On Aug. 12, the USDA projected 168.8 bushels. The company said that harvested acreage is 80.68 million, down from the 81.1 million forecast by the government.
To make crop forecasts, Descartes studies 30 million pixels of agricultural fields a day, and its computer programs compare the results with 10 trillion pixels of satellite imagery from the past 10 years.
The company is named after the 17th century French mathematician and philosopher Rene Descartes, who discovered that the position of a point can be determined by coordinates. The firm started as a project at the Los Alamos National Laboratory in 2007. Brumby said the labs are developing programs to forecast all major crops in the U.S. and plan to make projections for global crops. New satellite images available next year will enhance the view from space.
"We are on the cusp of more data," which can double or triple the number of observations, Brumby said.
On Friday, the USDA will issue its second estimate of this year's crop, based on farmer surveys from 32 states and field- based observations from 1,900 locations in 10 states.
Final output will be determined by weather as the harvest moves into the heart of the Midwest this month. Excessive rain and strong winds may damage weakened plants.
Corn prices have slumped 18 percent from this year's high on July 13, even as some analysts reduced forecasts for output. On Tuesday, futures for December delivery rose 1.4 percent to $3.6825 a bushel on the Chicago Board of Trade.
Allendale Inc. said on Sept. 2 that the USDA will reduce its forecast by 1 percent. INTL FCStone Inc. on Sept. 1 said its estimate trailed the government's Aug. 11 projection by 1.7 percent. On Aug. 27, Planalytics Inc. said its yield forecast was 1.2 percent below the agency's outlook.
Informa Economics Inc. on Sept. 3 boosted its forecast by 1.7 percent from its Aug. 5 estimate.