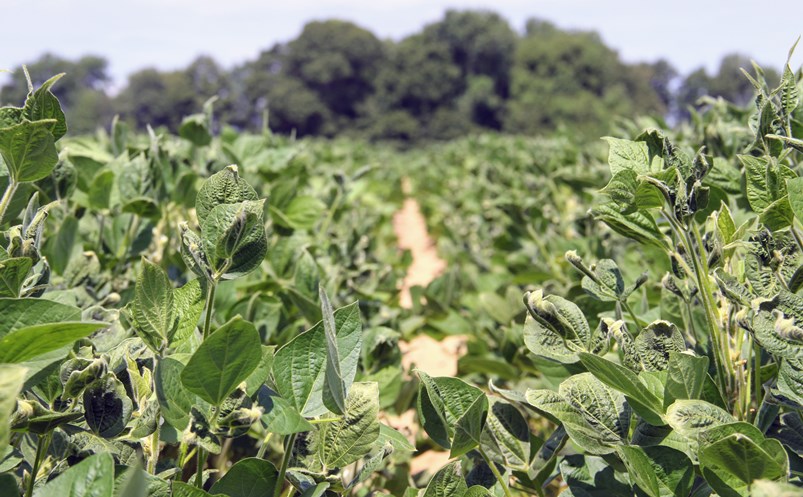 Strolling through shin-high soybeans, Ed Vitko has a refreshing view this summer. He planted 1,200 acres of dicamba-tolerant soybeans, and after spraying the new formulation of dicamba herbicide over the top of the soybeans this summer, he says the field is weed-free for the first time in years.

"I'm very ecstatic with the weed control I've gotten," said Vitko who farms in Gardner, Ill. "I had zero issues with dicamba injury, zero."
100 miles south in Homer, Ill., farmer Jeremy Wolf has a different view. He started seeing injury from dicamba in early June. 

"We were the only ones spraying beans that day—they had a load of dicamba went out earlier that day, multiple loads between us, but we still got it," said Wolf.

After days of doing their own investigation into the issue, the verdict turned out to be tank contamination.

"It was consistent across all the fields that we sprayed, so it was pretty clear," said Wolf.

From early June through mid-July, Wolf says the issue only heated up. 

"This last Friday, which would have marked 10 days, we were in spraying for Japanese beetle, and we noticed the cupping in the field," he said.
Wolf isn't alone. It's possible damage from dicamba showing up in fields across Illinois.  
"This is something that's not new for us in Illinois," said Aaron Hager, weed specialist and professor at the University of Illinois. "We've actually seen dicamba symptoms virtually every year we've used this product in the state, which is now close to 50 years."

Hagar says despite the product's history in the state, he's had more calls and questions about dicamba in the last 30 days than ever before. 

"I think there's just a lot of general ignorance about dicamba," said Hager. "Not a lot of people that are using it now have used this product for many years."

 "A lot of people are looking for it [damage], because they've never looked for it before," said Farm Journal agronomist Ken Ferrie, who's based in Heyworth, Illinois.

Ferrie says some soybean leaves are curling this year due to weather stress, not dicamba. However, when it's injury from dicamba, it's obvious signs that can show up anywhere from 7 to 21 days after exposure. Hagar says there are multiple reasons behind the damage this year, including both drift and volatility of products, making it difficult to rule out a single cause.
"We are seeing things that are probably encompassing virtually all off-target factors: those would include physical drift, those would include movement by vapors—whether it be through volatility—maybe it also could occur and be moving through the process of the inversion conditions when applications are made during very still conditions in the air," said Hager.

It's not just Mother Nature this year. Another culprit of dicamba damage is farmers using off-label products, or older formulations of dicamba. It's also moving from fields planted with more than just soybeans.
"We've had a lot of instances so far where a lot of the investigations clearly point to movement from a dicamba product that was applied in corn," said Hager.

While the new dicamba formulations may not always be to blame, Hagar says even the products approved for use in-season this year aren't accident proof. 
"Low volatility and no volatility are distinctly different, and when you have products that are low volatility and you couple that with an extremely sensitive species like soybeans, it's not a matter of if you're going to see symptoms of exposure, it's typically how extensive and what the magnitude is going to be," he said.

For farmers like Wolf, the extent of the damage won't be known until harvest. 
"You have no idea what the dose of exposure was, you have no idea what the growth stage was when that exposure took place," said Hagar.

However, in Ferrie's experience, damage is minimal on soybeans still in the vegetative stage, before flowering begins. 
"There are a lot of fields I've seen that it will have no effect on, other than the nerves of the farmer that saw the cupping," said Ferrie.
It's glyphosate-resistant weeds that are a nightmare for farmers in more than just Illinois. Ferrie says the issue is becoming so bad, that farmers now craft their yearly game plan around what's going to control those weeds. 
"When I look at these fields and the products, there are probably only two that can bring down some of these foot-tall water hemp and mares tail," said Ferrie. "And our dicamba mixed with glyphosate is one of them that's doing it."

"My fields are a clean as they've ever been, and the last couple years I could not say that," said Vitko. "I had a lot of trouble killing weeds last year and the year before."

Knowing that need and aware the number of dicamba damage complaints is on the rise, companies like Monsanto and BASF are taking note. 

"We're looking at drift retardant agents, nozzles and clean out procedures for growers," said Robb Fraley, Chief Technology Officer, Monsanto. "We're going to be working with states to make sure the off-label products aren't used, and that's going to be key. Then, we're going to look at what we can do to help growers be more aware of temperature conditions and inversion. A lot to do, but I'm absolutely convinced these are going to be great tools and going to be  important to farmers."

BASF says it's also aware of issues in the field, already deploying more than 400 field reps to answer questions and concerns, as well as putting money behind getting the right tools in farmers' hands.

One of the key ingredients of that good experience from a proper application standpoint, is utilizing the right nozzle," said Scott Kay, business director, BASF. "We've invested heavily and have distributed those nozzles to our customers. Over 600,000 nozzles to date that BASF has purchased and given to our customers."

While experts say using the correct nozzles will help with what companies call on target application, Hagar still foresees possible issues in the future. . 

"Dicamba is dicamba," he said. "We can change the salts, we can change the additives to it, but dicamba is still dicamba, and you cannot formulate around the fact that soybeans are extremely sensitive."

It's that underlying issue challenging whether both dicamba-tolerant and non dicamba-tolerant technologies can co-exist in the future. Both BASF and Monsanto are confident the products can work together, and with boots on the ground, both are working to find solutions for next year.
While Wolf is frustrated with dicamba drift issues this year, he doesn't want to see the weed- fighting tool go away. 

"We need this technology going forward," said Wolf. "Let's address the issues head-on and figure out what we need to do, what's causing these problems."

While the answer to that question isn't clear today, farmers like Vitko hope the products' good outweigh the bad, making dicamba a viable option for years to come.