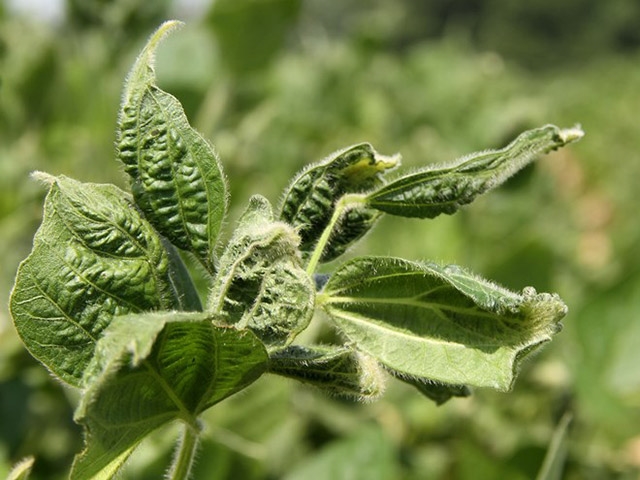 Are new labels and old troubles set to clash in 2017?
A dicamba cloud rolled across U.S. agriculture in 2016 and turned the crop season into a high-stakes waiting game as producers wondered whose soybean crop would cup and when more symptoms would appear. Illegal use of dicamba in 2016 begs the question: With Environmental Protection Agency (EPA) labeling approvals on new dicamba formulations, how might the off-target scenario play out in 2017?

In April and May of 2016, as producers drove away from supply stores hauling totes of dicamba, no laws were broken. Oddly-timed purchases got tongues wagging, but were not illegal. By the end of June 2016, the dicamba volatility and drift incident rate was too fast to track. 

The epicenter was in Arkansas and Missouri, but complaints were lodged from North Carolina to Texas to Minnesota. As harvest progressed, a tense farming atmosphere heavy with off-target fallout, ag meetings and threats of legal action was punctuated with the October death of Arkansas producer Mike Wallace in a dicamba related-shooting. Less than a month later, on Nov. 23, Missouri producer Bill Bader filed a multi-million-dollar suit against Monsanto, seeking compensation for peach orchard damage caused by dicamba in 2015 and 2016. In the midst of it all, on Nov. 9, Monsanto announced EPA approval of XtendiMax, a dicamba herbicide, for the 2017 crop season.

The tangled web grew even tighter in December as Arkansas Gov. Asa Hutchinson began wrestling with a glaring question: Accept the Arkansas State Plant Board's (ASPB) unanimous recommendation and place restrictions on dicamba use or punch the green light of approval? The end of 2016's long legal chain arrived Dec. 21, when BASF announced EPA approval of Engenia herbicide, another new dicamba-based formulation. Hutchinson's verdict came Jan. 4, 2017, essentially blocking the use of XtendiMax in Arkansas (see "The Details of the Arkansas Verdict" below). 
---
Volatility and Drift Top Weed Control Concerns
Tom Barber, Extension weed scientist with the University of Arkansas (UA), has often heard blame for the dicamba off-target injuries of 2016 attributed to old formulations. However, he's quick to knock down the inference that new formulations and reductions in volatility will end problems. This past year, in addition to acreage affected by volatility, Barber also walked crop fields injured by old-school, physical dicamba drift: Grapes, peaches, peanuts, potatoes, soybeans, tomatoes and watermelons are all highly susceptible. "Some people have an impression that new formulations will be a silver bullet," he says. "If an applicator sprays too far above the canopy in a 15 mph wind, we're heading for serious physical drift regardless of volatility."
Despite the off-target troubles of 2016, Ty Witten, North America Crop Protection Systems lead for Monsanto, says XtendiMax will keep drift incidents at a minimum: "If a grower follows the label, goes through appropriate training and revisits what's important for off-target applications, they're going to have great success in 2017," he says.

EPA is in the process of adding tank mix extensions, according to Witten, but he's unsure if multiple modes of action will be legally permissible prior to the 2017 planting season. 

Regarding the ramifications of Hutchinson's decision, Witten is disappointed with what he describes as a "denial of grower choice," but says Monsanto recognizes state authority and best management practices. "We don't know how other states will react, but we've provided strong data for our registration. This is a product with multiple years of testing by third parties and evaluation from federal agencies."
Old or new, all dicamba is dicamba. The difference centers on volatility factors, Barber says. XtendiMax is essentially the same make-up as Clarity, he explains. The difference? XtendiMax has VaporGrip technology to reduce volatility. Barber and other Extension personnel haven't had the opportunity to test XtendiMax for reduction of volatility. Monsanto allowed land-grant universities to test XtendiMax weed control efficacy but not volatility. 

BASF's Engenia is a new dicamba salt with inherently less volatility. The University of Arkansas was given access to Engenia to test volatility for three years. The volatility reduction in Engenia is indeed a big improvement compared with Clarity, and an even greater improvement over Banvel, according to Barber.

He says the dicamba debacle in 2016 pulled down morale in the Mid-South to the lowest point of his career: "When Mike Wallace got killed, we all had to step back. Last year, money was tight with commodities tanking and feelings were on edge, but that dynamic doesn't appear to be changing. I dread 2017 more than I've ever dreaded any season," Barber says.

Even with major improvements in volatility, application diligence is paramount. "Boom height, wind, surrounding fields and more variables stay in play. Even with chemical improvements, I don't know what will happen in 2017," he adds. "That's the problem; no one else knows either."

Jason Norsworthy, also an Extension weed scientist with UA, echoes Barber's concerns. "The dicamba situation was bad in 2015 and worse in 2016. Lots of people are worried about a big dicamba collision in 2017," Norsworthy says. 

The labels for XtendiMax and Engenia don't allow for tank mixes, a major resistance red flag for Norsworthy. When a sprayer rolls across a field with the boom releasing dicamba and no other chemical partner, the scenario is ripe for herbicide resistance. "Weed control requires multiple effective modes of action. The sole use of any chemical, regardless of its potency, leaves the gate wide open for resistance development," he says.

In greenhouse testing during 2014 and 2015, Norsworthy exposed three consecutive generations of Palmer amaranth to sub-lethal doses of dicamba. By the third generation, the Palmer was resistant to a full-blown, commercially labeled dicamba rate. "Resistance is always waiting for a window, and it doesn't care what chemical a farmer sprays," he says.
Soybeans hit by dicamba during reproductive stages (particularly R3, R4 and R5) basically ingest and hold the chemical in the seed sink. The following year, those same seeds will fail to germinate or suffer reduced vigor. Essentially, the debilitating potency of dicamba is passed to the next generation. "If a producer getting a seed premium gets a drift event, his quality is finished," Norsworthy says.

Right or wrong, as 2017 unfolds, Arkansas is the unenviable bell cow of dicamba policy. In addition to dicamba use restrictions, ASPB proposed increasing the maximum $1,000 civil penalty cap to $25,000, to be applied in "egregious" use cases. "My personal definition of egregious use is deliberately and knowingly applying a pesticide in an unlabeled manner that injures your neighbor's crop, but it will be up to the entire board to decide on the definition," explains Otis Howe, chairman of ASPB. 

If the Arkansas legislature approves the $25,000 penalty, the proposal would go back to ASPB for committee work to define the penalty matrix. If the full ASPB board approves the committee work, the proposed penalty guidelines would be subject to public comment for 30 days, and then shift back to ASPB, eventually subject to gubernatorial and legislative council approvals. I appreciate the governor for his support of the plant board," Howe says, "but getting a bigger monetary penalty in place for 2017 has to go through the whole legislature, and I'm not sure how long it may take."
Monsanto and BASF place heavy emphasis for success in 2017 on grower education and instruction. Monsanto has given XtendiMax application training courses to more than 8,000 producers and industry professionals. BASF has trained 13,000 farmers and applicators since 2012, according to Chad Asmus, BASF technical marketing manager. "Engenia's innovative formulation and our continuous opportunities to educate growers and applicators on stewardship will help to minimize drift issues," he says. 

Monsanto expects 15 million soybean acres and 3 million cotton acres for the Xtend crop system in 2017. BASF projects 10 to 15 million crop acres in the Engenia crop system. The herbicide genie is out of the bottle and whether viewed with dread or hope, all eyes are fixed on dicamba in 2017.
---
The Details of the Arkansas Verdict
In early 2017, Arkansas governor Gov. Asa Hutchinson essentially blocked the use of XtendiMax in that state. More specifically, Arkansas farmers can't use dicamba DMA salts except on pastureland a mile or farther away from susceptible crops. However, XtendiMax is a DGA salt; DGAs are prohibited from use April to September except on pasture a mile or farther away from crops. Banvel is a DMA and Clarity is a DGA—both of which fall under the ban. Engenia is allowed for two reasons: It was given to public researchers for volatility testing several years ago (as opposed to XtendiMax, which had no public testing) and Engenia is a new salt formulation called BAPMA.
---
One Man's View: We're Headed for Trouble
Steve Smith, chairman of the Save Our Crops Coalition (SOCC), says education and instruction won't stop off-label applications. "Going off-label is not a concern to some farmers, particularly when fines are low enough to be meaningless," he explains. "What about contamination? Dicamba is notorious for hanging around in tanks."

His concerns over dicamba injury to row and specialty crops have increased, particularly with the advent of new labels. Smith, who also serves as director of agriculture for Red Gold, a canned tomato processor in Elwood, Ind., believes some producers will tank mix to reduce spray passes. A label might expressly forbid mixing with AMS, but who will be watching when a producer pours in other chemicals? 

And buffers? Whether 110' or 220', Smith says the distance is irrelevant to specialty crops. Wind speed? At 15 mph, buffers, direction, distance and vehicle speed make for a cauldron of error. 

Additionally, if weeds are supposed to be sprayed at 4" or less, a single incoming rain event could force applicators to push wind limits. Spray in winds before a rain or wait and watch weeds jump well above 4"?

Despite the rash of off-target incidents, Monsanto acknowledges no grower licenses were pulled due to illegal applications of dicamba in 2016. "I was hopeful off-label use would be met by the cancellation of the technical use agreement," Smith says. "How many technical use agreements were cancelled in 2016, even with thousands of acres damaged by dicamba? Zero."

When the dicamba dye was cast in 2016, every farm became its own island, protected by little more than token fines. Smith remains wary of the coming crop season and fearful about new label ramifications. "Some growers think they hear the cavalry coming around the bend in 2017," he adds, "but I'm very afraid it could be the sound of a train wreck."