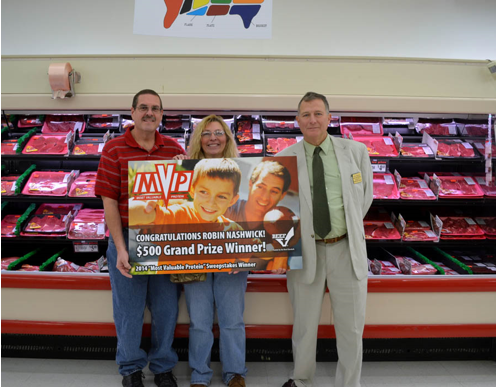 Northeast shoppers have a passion for tailgating, and thanks to a fall promotion, they also have a passion for beef! As part of its Northeast Beef Promotion Initiative (NEBPI), the beef checkoff coordinated the 2014 Fall Tailgating retail promotion. That included reminding consumers to Invite the MVP (Most Valuable Protein) to their tailgating parties and enjoy the value of protein-packed beef.
The checkoff partnered with 146 retail locations throughout the Northeast to participate in the promotion Sept. 8 - Oct. 31, 2014. Point-of-sale materials displayed in the retail meat case included on-pack recipe labels and shelf wobblers featuring quick and convenient tailgating recipes and information about beef's nutrition and value. Retailers featured the promotion in their weekly ad circulars and on their websites to encourage shoppers to enter-to-win the grand prize by visiting the contest website housed on the "Northeast Loves Beef" Facebook page.
The grand prize of $500 in free groceries was awarded to Robin Nashwick of Joppa, Maryland., a shopper from Redner's Warehouse Markets headquartered in Reading, Pennsylvania. Nashwick chooses to shop at the Redner's Warehouse Markets location in Joppa because finds the atmosphere of the store to be friendly and inviting. Nashwich and her husband, Robert, share the cooking responsibilities at home as both enjoy cooking and serving their spouse when they are able. Robert admits that his wife is the better griller of the pair, but when it comes to spicing up and seasoning the beef, Robin says her husband wins. The Nashwicks eat beef about three times a week and love it for the taste and nutritional benefits it has to offer.
"Beef is a nutritious source of protein that keeps me going," Robin said.
Redner's Warehouse Markets Meat Department Supervisor Rick Merkel said Redner's partnership with the beef checkoff on seasonal beef promotions helps draw younger shoppers to the beef case.
"Younger shoppers are more apprehensive of the different cuts and recipes and point-of-sale beef support helps those generally less experienced individuals." Merkel said, adding that beef is the cornerstone of Redner's meat program, around which Redner's merchandising decisions revolve.

Source: Cattlemen's Beef Board