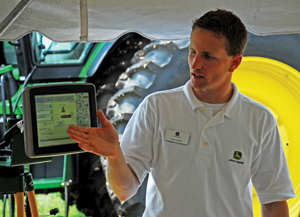 You don't hear a lot of 175-year-old companies described as "agile," but that's exactly the direction John Deere has taken with its latest round of online and mobile advancements. Big iron, meet Silicon Valley.

Company officials are pointing to MyJohnDeere.com as the centerpiece of these new digital tools. The site is a central online portal to access, view, archive and manage a wide variety of business information. Users can access applications such as JDLink for real-time information about their farm operations, field locations and equipment performance data.

Also on the password-secured website are applications such as AgLogic, JDParts, John Deere Financial, StellarSupport and My Equipment. The portal can be accessed via computer, smartphone or other handheld mobile device.
Data access. "This will be a new suite of technology to help producers plan, run and analyze their operations through the entire farming cycle," says Nathan Greuel, product manager with the company's Intelligent Solutions Group (ISG), the driving force behind John Deere displays, receivers, guidance systems and information systems. "Users can access their MyJohnDeere site to view the information that is most important to them, as well as allow access to their dealer, farm manager or third-party individuals."

David Everitt, president of John Deere's agriculture and turf division, says the company understands the sensitivity of data management and has joined the ranks of AgGateway,
a consortium of agribusinesses that want to "promote, enable and expand eBusiness in agriculture."

"One of our big issues is data privacy," Everitt says. "The combine at some point becomes a rolling data collector. Whose data is that? We think it's only the farmer's."

John Deere extends the theme of "access" with its new Remote Display Access technology, which allows users to view the operator's GreenStar 3 Display 2630 screen from any computer or mobile device. Once the display is synced, the remote user can help the equipment operator identify problems and navigate the steps needed to resolve any issues.

"Having remote access to this real-time information saves unnecessary trips to the field, improves your service from dealers and increases the productivity of the equipment and field operations," says ISG product manager Dave Mulder.
Unique opportunities. Other recent changes include accuracy improvements to the StarFire 3000 receiver and greater scope of analysis possible with the HarvestLab silage tool. These tools help address several farmer challenges, says ISG technical product manager Tyler Hogrefe. "We're in a unique situation. We're the manufacturer of the tractor, the planter and the precision components as well. That allows us an opportunity to provide a green-on-green advantage unlike anyone else in the industry."

ISG development manager Aaron Senneff says that embracing the concept of "agile development" is a distinct competitive advantage.

Agile development is a term you might expect to hear in Los Altos, Calif., not Moline, Ill. It is a system of continual adjustments, where goals are re-evaluated from every few weeks to every several months. John Deere operates its agile development processes in two-month cycles.

A two-month cycle simply "felt right to us," Senneff says. "We looked to Silicon Valley to see different ways it was being done. Two months fits our cadence, but it's also fast enough to respond to markets. As a result, our engineers have a better opportunity to plan and respond to what's happening in the marketplace today." He adds that the process is helping everyone in the company to embrace the changes in agriculture.