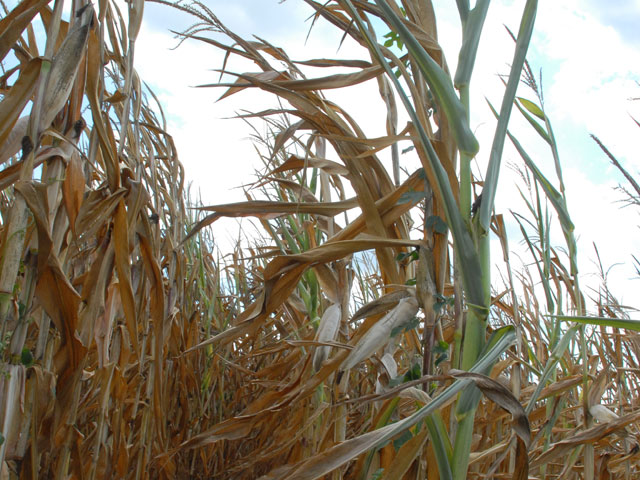 Corn stalks on Dale Pitstick's Illinois farm are yellowing, and leaves are starting to shrivel. After too much rain damaged plants in May and June, the dry spell that followed is draining the ground of moisture.
 
"It's almost like concrete out there," said Pitstick, 30, a fourth-generation farmer who grows corn and soybeans on about 8,000 acres (3,237 hectares) near Maple Park. "If we don't get any rains in the next 10 days, we're looking at 15 to 25 percent total crop loss."
After two straight years of record harvests in the U.S., the world's biggest grower and exporter, output is dropping more than forecast as conditions deteriorate. Prices that plunged in July are rebounding, and the government on Wednesday probably will cut its crop forecast for a second straight month. Output in 2015 will drop 6.2 percent from last year to 13.332 billion bushels, the smallest since the drought of 2012, a Bloomberg News survey showed.
"Supplies are not as abundant as expected," said Dale Durchholz, senior market analyst at AgriVisor LLC. "Rain makes grain until it doesn't. Too much rain hides the yield losses much longer than a drought because the crops still look green."
Moisture Deficits
The season began with twice the normal moisture from Nebraska to Ohio, washing away newly sown crops. Since then, parts of the Midwest were mostly dry. Commodity Weather Group LLC said a lack of rain over the next two weeks may increase soil-moisture deficits to 25 percent in the main growing region, from 10 percent now.
In Illinois, the largest grower after Iowa, rainfall in the northernmost part of the state was 10 percent of normal in the two weeks ended Aug. 10, National Weather Service data show. About 56 percent of the Illinois corn crop was in good or excellent condition as of Aug. 9, the lowest for this time of year since 2012, according to the U.S. Department of Agriculture.
The compacted soil on Pitstick's farm, where heavy rains in May and June washed out 10 percent to 15 percent of his crop, mean shallow-rooted plants are struggling for the nutrients they need to fill kernels with sugar and starch, he said.
Lower Yields
Yields across the U.S. are headed lower, according to Descartes Labs, which tracks crop conditions using daily infrared images. The Los Alamos, New Mexico-based company, founded by a theoretical physicist, predicted output of 13.34 billion bushels, compared with the USDA's estimate last month of 13.53 billion.
The government's forecast, scheduled for noon Wednesday in Washington, will be the first this year based on farmer surveys and field observations from the top producing states.
Conditions aren't uniformly worse. In western Midwest states, weather has helped boost potential yields. In Iowa, 83 percent of the crop was in good or excellent condition, the highest since 1994 for this time of year.
Nutrient Losses
"Even if Iowa is really good this year, it will not be enough to make up for the nutrient losses in the eastern Midwest," said John Cory, the chief executive officer of Prairie Mills Products LLC, a grain processor in Rochester, Indiana.
Cash premiums, the surcharge on top of the futures price paid by consumers to secure immediate physical delivery, are rising. That's a sign that buyers are already worried about supply, Cory said. Inventories before the 2016 harvest may fall 19 percent, the most since 2011, the Bloomberg survey showed.
After sliding 9.7 percent last month, corn futures are up 3.9 percent in August, trading at $3.96 a bushel on the Chicago Board of Trade on Tuesday. An index of 73 food prices dropped 1 percent last month to 164.6, the lowest since September 2009, even as grain prices gained 2 percent, the United Nations' Food & Agriculture Organization said in a report Thursday.
$5 Corn
Corn may rise to $5 by the end of the year, reflecting tightening supply, Bloomington, Illinois-based AgriVisor said. The USDA last month raised its forecast of average prices for next year to $3.75 from $3.50 in June.
Falling yields and improved demand may raise costs for producers of ethanol and meat, said Chris Narayanan, the head of agricultural research at Societe Generale SA in New York. That echoes comments last week from grain handler Archer-Daniels- Midland Co., which expects improved demand after the harvest.
After almost 20 inches of June rain drenched his fields in June, Kevin Wilson said crops on his farm near Walton, Indiana, are uneven at best. Some corn plants are 2 feet tall and others are 12 feet (3.7 meters). While about 65 percent are in good condition, 15 percent look "horrible," and 20 percent are somewhere in between.
"With all that rain, a lot of nutrients washed away," Wilson said. "I'm wondering what the top-end potential will be with everything that was left."