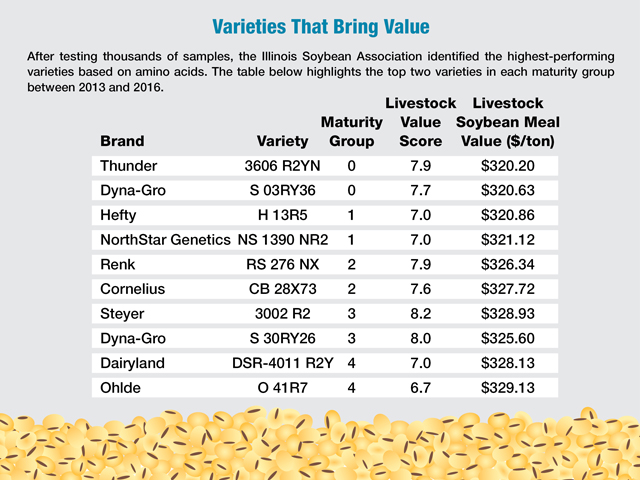 Soybeans used for feed have traditionally been valued for their protein. Some researchers now suggest the value of amino acids in soybeans is worth even more.
"We want to change the approach to focus on end-user value based on amino acids that drive animal productivity," says John Osthus, Illinois Soybean Association (ISA) High Yield Plus Quality program lead. "Our goal is to encourage seed companies to offer varieties that deliver top performance to livestock customers."
When animal nutritionists create feed rations, they look to soybeans for amino acids—not protein. With more synthetic amino acids and DDGS available, soybean meal's share of feed rations is diminishing. However, soybeans high in isoleucine and valine are valuable because there are no cost-effective synthetic alternatives.
In the 1990s feed rations could include about 635 lb. of soybean meal in a ton of feed, but by 2016 it dropped to 340 lb. per ton.
Despite this, "overall demand for protein and amino acids is up, so demand for soybean meal continues to be strong despite competition from other sources," Osthus says. "It's tricky because feed need is increasing because of a larger number of animals overall, so farmers and processors don't necessarily feel the pain of decreased soybean meal per animal."
Still, farmers receive fewer dollars from feed rations, and livestock feeders are missing potential savings—up to $3 per hog and 7¢ per chicken, according to ISA research.
Half the soybean varieties on the market are worth more than they receive credit for. ISA and a team of researchers examined varieties on the market from 2013 to 2017 to determine which ones provide value feed buyers want.
In 2017, farmers submitted more than 1,800 soybean variety samples from across the U.S., and researchers also used information from 2013 to 2016 F.I.R.S.T. trials, which included 710 additional varieties. Any farmer who submitted a sample to the U.S. Soybean Export Council in 2017 can see how their varieties rank in feed value at www.soyvalue.com.
"We've given seed companies this data and have asked them to support farmers' biggest customer needs directly," Osthus says. "We're creating a pilot program now to recruit farmers to grow high-quality [high amino acid] soybeans this year."
By identifying soybeans with high amino acid content and segregating them for shipping, Osthus says farmers can help showcase their quality.
"Producers need to know the outcomes of their variety selections and the impact on customers and markets," adds Linda Kull, research director at ISA. "Seed companies need to know the outcome of offering low-value products. Livestock producers need to know what dollars can be saved by using high-value soybean meal."
---
For the complete list, visit bit.ly/beans-for-feed