By: Kay Ledbetter, Texas A&M AgriLife Research

Salinity, a major threat to groundwater quality, continues to be a problem for domestic and shallow wells in the southern Ogallala Aquifer in Texas, according to a recent Texas A&M AgriLife Research study.
The paper, "Long-term (1960-2000) Trends in Groundwater Contamination and Salinization in the Ogallala Aquifer in Texas" has been accepted for publication in the Journal of Hydrology. It is based on a research study by Dr. Srinivasulu Ale, AgriLife Research geospatial hydrology assistant professor, and Dr. Sriroop Chaudhuri, his post-doctoral research associate, both in Vernon.
"A distinct geographic pattern in groundwater contamination and associated salinization was apparent," Chaudhuri said.
This study indicates that in addition to aquifer depletion, groundwater contamination in this region should be taken into consideration when developing and implementing strategies for sustainable crop production, Ale said.
Ale and Chaudhuri said although numerous studies have expounded on depletion of the Ogallala Aquifer, very few researchers have studied its long-term groundwater quality, which relates to the "usability" of available groundwater resources.
To achieve this goal, both horizontal and vertical spatial variability in common groundwater quality parameters among different water-use classes were investigated per their drinking water quality thresholds in the AgriLife Research study.
"While assessment of groundwater contamination by water-use classes provides indication of human health hazards, understanding depth-distribution of different solutes helps in identification of the sources of contamination along the vertical profile, which is critical to implementing effective wellhead protection measures," Ale said.

"We also made a qualitative attempt to identify major natural and anthropogenic (human) factors and study how they acted in conjunction to cause groundwater salinization and overall water quality degradation."
The Texas Water Development Board maintains a groundwater quality database with data from 1896, however Ale and Chaudhuri chose to compile data only for the past five decades when more data was available and there was increased agricultural activity.
This study distinguished water quality between the southern and northern Ogallala Aquifer regions within Texas, Ale said, categorizing wells according to depth, mostly focusing on irrigation, public supply and domestic wells.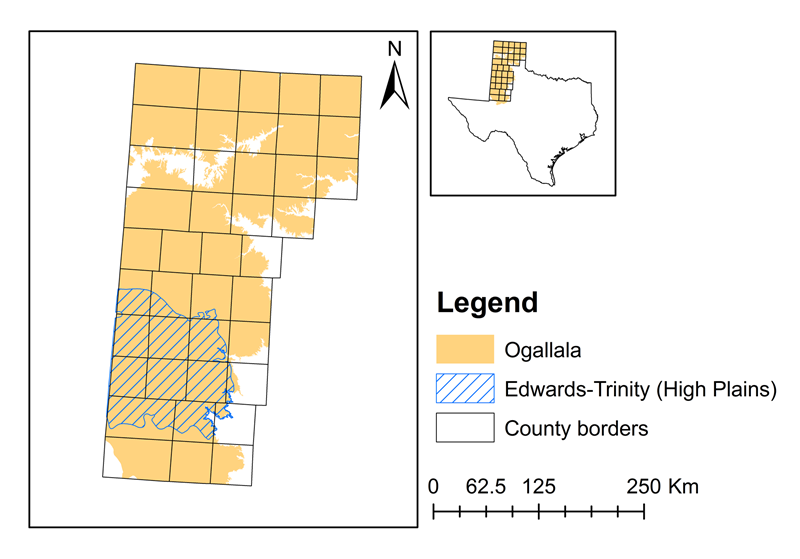 Their objective was to monitor where elevated concentrations of nitrates, sulfates, chlorides and total dissolved solids – a common indicator of salinity – existed in the aquifer, and study how they had changed over time from the 1960s to the 2000s, and how they affected groundwater quality, he said.
The U.S. Environmental Protection Agency sets maximum contaminant levels and secondary contaminant levels, with the secondary level being a non-enforceable threshold limit that deals mainly with aesthetic or odor, cosmetic or color, and technical effects – corrosiveness, staining, scaling and sedimentation – in drinking water quality, Ale said.
EPA's secondary maximum contaminant level for total dissolved solids is 500 parts per million and for chlorides and sulfates, it is 250 parts per million. The maximum contaminant level for nitrates is 44 parts per million.
The southern Ogallala Aquifer region in Texas was characterized by substantially higher salinization, accompanied by sulfate and chloride-dominated groundwater. The northern Ogallala Aquifer in Texas has lower salinization and predominantly bicarbonate type groundwater, he said.
Over 80 percent of the water quality observations in the southern region have exceeded the drinking water quality standards for sulfates, chlorides and/or nitrates since the 1980s, Chaudhuri said.
He said more than 60 percent of the shallow wells exceeded the secondary maximum contaminant levels for total dissolved solids since the 1960s, indicating persistent salinization problems. About 35 percent of those wells exceeded the maximum contaminant levels for nitrates. And, more than 40 percent of the shallow wells exceeded the secondary maximum contaminant levels for both sulfates and chlorides in the 2000s.
Groundwater contamination was more of a concern in shallow wells, which are abundant in southern parts of the Ogallala, and was indicated by significantly higher levels of sulfates, chlorides, nitrates and total dissolved solids compared to deep wells, which mostly exist in the northern parts of the Ogallala.
Groundwater salinization in the Ogallala Aquifer has resulted from a combination of natural and human processes, Chaudhuri said. Interestingly, he said, on several instances, natural processes were triggered by human activities.

Important factors that led to salinization included groundwater mixing due to upwelling of highly mineralized groundwater from the underlying Edwards-Trinity (High Plains) aquifer, seepage from playa lakes and saline plumes, ion-exchange and evaporative enrichment. Movement of groundwater from underlying formations largely resulted from lowering of hydraulic heads in the Ogallala Aquifer due to prolonged groundwater withdrawal for irrigated agriculture.
Human factors that affected groundwater quality included agricultural activities – especially for nitrate contamination – and hydrocarbon exploration, he said.
Overall, this study indicated that rising levels of various chemical species and salinity, frequently exceeding the environmental standards, is a growing concern in the Ogallala Aquifer, especially in the southern parts, Ale and Chaudhuri said in their paper.