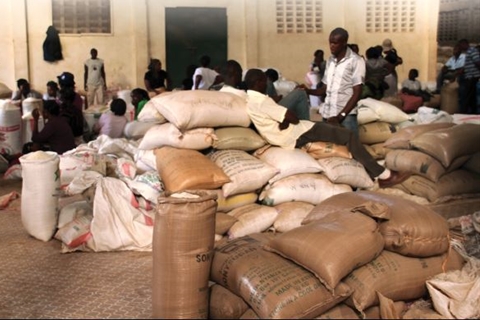 Congress could take a lesson from ag policy group AGree when it comes to having constructive conversations about controversial issues between people of different perspectives.
In a 90-minute panel discussion in Washington, D.C., this week, a conventional farmer, an organic dairy producer, a public school nutrition manager, a food entrepreneur, a magazine editor, and an ag policy expert discussed farming, hunger, climate issues, nutrition and the farm bill—all without coming to blows.
The topic was "The Future of Food," a discussion held in coordination with the National Geographic Society and its special coverage of food and agriculture in its magazine, cable television channels, websites, and D.C. exhibits in 2014. "This year, we decided to tackle the subject of agriculture," said John Fahey, chairman of the National Geographic Society. "We really want to build the level of understanding of agriculture among our readers."
So does AGree, which has spent the past three years working with food and agriculture leaders in an effort to find common ground. This fall, the group released their consensus-based recommendations in a variety of areas on food and nutrition, agricultural land, international development through food and agriculture, and immigration reform as it relates to the agricultural workforce.
For both National Geographic and AGree, the effort represents an ambitious undertaking. Just 2 percent of the U.S. population today lives on farms, which represents a massive shift in the past century. "We do farm tours for kids, and we always ask how many kids live on a farm," panelist Pam Johnson, past president of the National Corn Growers Association, said after the roundtable. "Even in a rural area, it's maybe 4 out of 35 kids."
While those types of demographics can make conversations about food production more difficult, it also underscores the importance of such efforts. "Food and agriculture must be elevated, because it is a concern to every person in the world," said former U.S. Secretary of Agriculture Dan Glickman during the event. "We must take action on food security."
Of course, achieving food security for all is incredibly difficult. "At one level, the global food system is complicated. But really, it's very simple," said Cargill Executive Chairman Gregory Page during the discussion. "At the same time, what we know for sure is that it's also incredibly unforgiving, and if we don't make good collective decisions, that unforgiving nature of the global food system will come back to haunt us."
In his remarks, Page highlighted five specific factors influencing the current food system:
Increasing global consumption;
Changing appetites, especially for protein;
Growing demand for land for renewables;
Government policies inhibiting trade and the sharing of food resources; and
Climate change.
(U.S. Senator Debbie Stabenow (D-Mich.) also acknowledged the impact of climate change on crop production. "Our farmers are on the front line of that, and if we don't do the right thing, they will continue to be on the front lines of it," she said.)
Page mentioned the challenges of agriculture in Africa, where subsistence farming, hunger, and malnutrition are so common. The key to improving conditions for those farmers and their families, according to Page? Property rights, which would give those farmers a reason to invest in their land, and off-farm income, which would bring some financial stability to their families.
Back in the U.S., the food situation can be troubling in a different way.
As executive director for Detroit Public Schools' Office of School Nutrition, Betti Wiggins oversees an operation that serves 85,000 meals daily to children in grades K-12. "Only the Department of Corrections purchases more food than I do," said Wiggins, who also works with farm-to-school programs to supply fruits and veggies to Detroit students. Through those and school garden programs, students also get the chance to learn where food comes from and how to grow their own produce. Nutrition matters to Wiggins, who sometimes winces when she goes grocery shopping herself. "It's not just poor mothers putting empty calories on the checkout line," Wiggins says.
Biotechnology, as touchy as that topic can be in the United States, could help. Feeding the world's 9 billion people will mean "growing the right crop in the right place with the right technology, and then sharing those results across the world," Page said.
That emphasis on science is something that Johnson, a sixth-generation farmer in Iowa, can support. From genetics to agronomy, agricultural scientists are discovering more and more about plants and the soil in which they grow. "That's a whole other world beneath the ground," she noted. "We live in the best of times for farmers."
That type of practical, scientific knowledge will become even more important to farmers around the world as climate change makes weather less predictable and often more extreme. "There is no normal year," Johnson said in response to a question about how farmers can adapt to climate change. "Every year is different."
What do you think of AGree's recommendations? Where do you think farmers, suburbanites, and city folk can find common ground on food and agriculture? Share your thoughts and ideas on the AgWeb discussion boards.