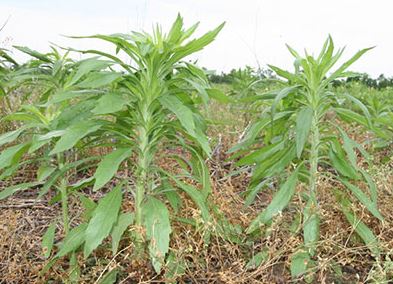 To address issues of reduced weed control with glyphosate, diversification is key.
By Lizabeth Stahl, Extension Educator in Crops
Does glyphosate perform as well today as it did when you first used it? When producers were asked this question at University of Minnesota Private Pesticide Applicator Training sessions, 87% of the respondents said "No". This percentage is up significantly from 2009, when 55% of respondents answered "No" to this question. Increasing issues with resistance to glyphosate is likely, at least in part, behind reported reductions in weed control.
Further complicating weed control is the reality that resistance traits can stack up. For example, resistance to both ALS herbicides and glyphosate has been found in populations of waterhemp, giant ragweed and common ragweed. Also, research demonstrates there is often no "fitness cost" to these resistance traits in weeds. This means that once resistance to a particular herbicide develops in a population, the trait remains in the population regardless of future herbicide use, rendering the particular chemistry ineffective into the foreseeable future. These biological factors can significantly limit the number of tools available to combat weed populations into the future.
Starting with a pre-emergence herbicide is a key step in helping reduce the risk of developing herbicide resistant weed populations. Pre-emergence herbicides can also help in the management of weed populations already resistant to a particular herbicide.
Which pre-emergence herbicide is the best fit for you? The "Corn and Soybean Herbicide Diversification Tools" publication developed by U of MN and North Dakota State University can help determine which pre-emergence herbicide is the best match for your needs. Weed control ratings are listed for key weed species including waterhemp, giant ragweed, common ragweed, lambsquarters and kochia. Rotation restrictions are listed as well. This resource also compares non-glyphosate, postemergence herbicide options in corn and soybean.
Weed scientists across the Corn Belt also worked with the United Soybean Board to develop a number of useful tools to help growers and ag professionals in developing more diversified weed management programs. These tools can be accessed through the "Take Action." Of particular note is the "Site of Action Chart", which lists the site of action for herbicides used in corn and soybean.