It should have been his final year to sow seed, manage fields and harvest crops—to farm. In 2014, Brian Tischler could feel death sitting on his shoulder, but despite the ravages of blood disease, the 50-year-old Canadian farmer washed down the pain with a glass of tears, emerging as a medical marvel. "I was so sick, but somehow the ordeal of surviving fine-tuned my life to an attitude of 'act now and never wait.' I asked myself a question that drives me today: 'Since agriculture gave me a great life and great opportunity, what can I now give back to agriculture?'"
Question answered: Tischler has stepped to the fore and put a shoulder to the door of minimal cost, open-source farm technology. Sidestepping the expense of commercial systems and proprietary hurdles, Tischler designed software for a precision mapping and tractor automation program, and placed the entire project online for free download. The platform, AgOpenGPS, has gained significant traction and global attention, yet Tischler's open-source vision is only just beginning.
Beep in the Night
Raised in farming roughly two hours east of Edmonton, Alberta, Tischler spent a career in medical electronics and returned to the family operation in the late 1990s, growing 2,500 acres of field peas, fava beans, wheat, canola, barley, oats, flax, and sunflowers outside the tiny town of Mannville.
Tischler had an opportunity and snatched it: "This was a chance to come back and be my own boss and have my own business. It never feels like working and I love it. Farming's a great way to live, and I admit it gets stressful, but isn't everything?"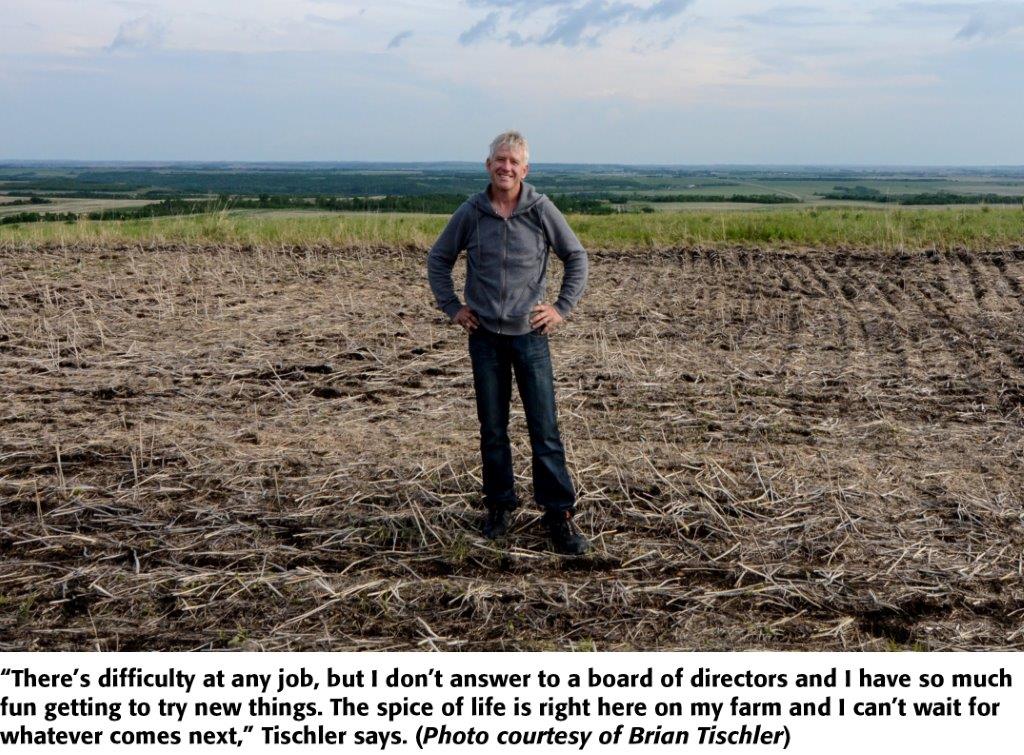 "I went from literally working on hospital machines that go beep in the night, to farming our odd-shaped fields with gray, wooded soil that can be a challenge to harvest and seed," he continues. "It's productive ground, but it's definitely not Kansas."
As a hobby away from field work, Tischler wrote applications and games, and began delving into programming in 2015. At rapid speed, the programming practice dovetailed with his field activity.
"This One is Free"
At harvest, Tischler strips off grain heads, leaving 3'-4' straw standing, and rolls back across with a disk-type seeder into the tall stubble during spring. Consequently, prior to 2016, he consistently found it hard to "see where you went last." In short, Tischler had autosteer, but lacked mapping capability inside the tractor. As a remedy, he created a basic application on a Windows tablet that utilized incoming GPS data and drew a continuous line marking the tractor's path. Boom. Nutshell. A DIY mapping program.
"Agriculture is so proprietary and locked down solid. I thought it was time to go open source. I put the whole thing on GitHub for free download and posted it on The Combine Forum in 2016: 'Hey, here is a link and it does mapping.' There are lots of commercial systems that do all of this, but they are expensive. This one is free."
Next, Tischler was spurred by a nagging question: If the program tracks where a tractor has/hasn't been, why can't it turn the air seeder on/off accordingly? In short time, the app included mapping and section control. As he continued sanding the edges, the program expanded to "steering in crooked lines, contours, auto headland control, and turning around on the turnrow."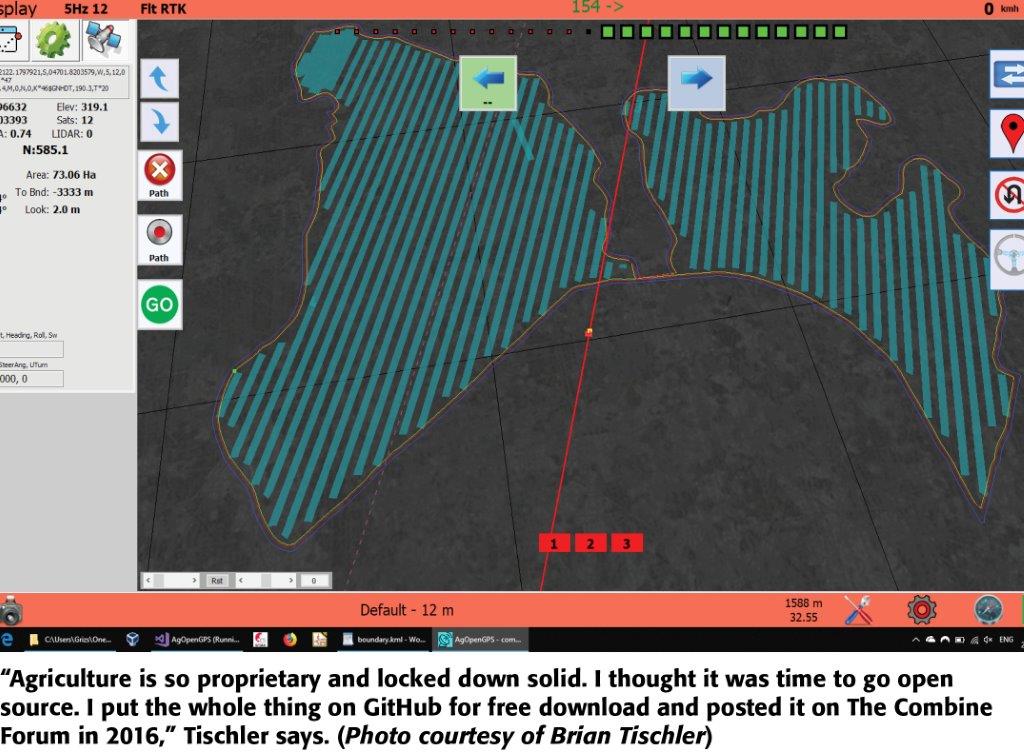 Driving across his slightly rolling ground, the tractor box became Tischler's office. As the computer drove his vehicle, Tischler hammered on a keyboard, continuing to perfect the overall program—AgOpenGPS. "I spend so much time in the cab and I don't want to waste it. I was about two steps away from designing a total self-driving tractor. I wrote the autonomous part while the vehicle drove itself, and now I'm going to unleash the beast and completely let it operate on its own. That's how this works: Continuous small steps."
Despite a remarkably humble outlook, Tischler possesses an innate ability to solve machinery issues, according to Mannville farming partner and neighbor, Will Groeneveld. "Brian has an uncanny sense of how to understand a problem, especially with mechanical things. He'll take a piece of equipment and watch it calmly like the 'Thinker' statue, fist under jaw, and he'll figure out what needs to be done. Once he identifies the problem, he can very quickly figure out a solution."
"This Stuff is Cropping Up"
The potential for DIY-related savings and efficiency is exploding, partially due to a radical decrease in hardware costs, Tischler explains. The pièce de résistance that has fueled tremendous innovation, and is almost ubiquitous among DIY farming advocates, is the Arduino, a simple, open-source microcontroller originally designed in Italy for high school learning. An Arduino is a highly durable microcontroller on a board enabling basic understanding of how a computer works. "They took a $3 computer and built software. Now the silly little thing is used on an inestimable amount of projects around the world, including farming."
Tischler used an Arduino to connect with a driver which powers a tilt meter and an electric motor turning his John Deere 4560's steering wheel. "It's $3 for an Arduino, $3 for a tilt meter, and $25 for the motor driver. You now have autosteer…DIY guys have never had this many affordable parts and pieces available, and it's happening everywhere."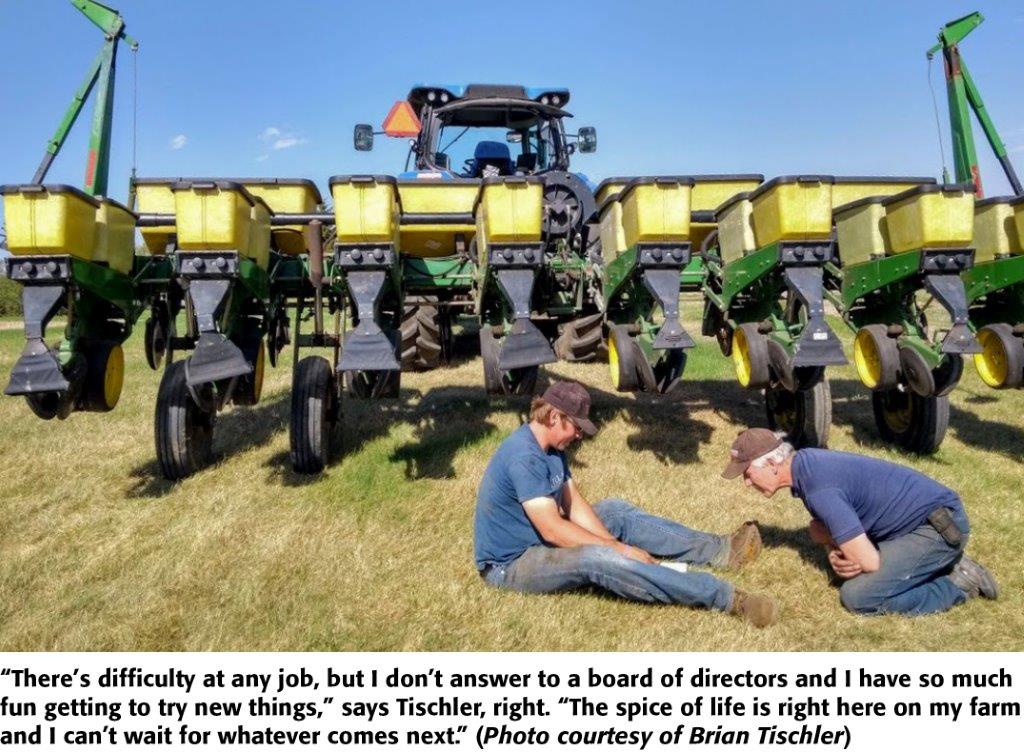 The impact of AgOpenGPS stunned Tischler. He expected a limited degree of success, but never predicted the swell of interest generated by his open-source offering. "As it goes along, I'm seeing guys making circuit boards for it; selling whole kits with electronic parts and cables ready; and side businesses making boards and putting parts in a bag. This stuff is cropping up and I'm just finding out."
Following the ball, Tischler predicts DIY automation will bypass the download of schematics and wire-by-wire hook-up, becoming increasingly simpler for growers. "Someone is going to carry the parts and you can just sodder them on a circuit board and go, or you'll just push some chips into sockets and you're ready."
Much to Tischler's satisfaction, AgOpenGPS has been adopted by growers across the globe: China, multiple European countries, Russia, South Africa and more. "What's happened is mind-boggling. Granted, there are lots of guys who don't care, but there are also lots that don't want to spend an extra $15,000 on tech they can build for the bare minimum. Some guys will continue to pay $500,000-plus for a new tractor and all the extras, and others will buy an older model and dress up it with open source and DIY. That's farming."
Community of the Curious
Tischler doesn't shy from a plain assessment of open-source potential: "…I don't think the future of farming technology is based on open source; it only has a role. Manufacturers continue to make software that runs with ease—the push of a button that does 800 things in the background. Everyone in ag has to make money."
He points to CAN (controller area network) bus technology as a major limitation on open-source expansion, and contends all new-model tractors are on the road to self-driving sufficiency. Tischler began his innovative efforts with a JD 4560 because it was conducive to DIY. Simply, he could put in an actuator and control the clutch on a 4560; he can't do the same on a CAN-based tractor. CAN bus is entirely proprietary, he explains: "CAN is the computerized system that allows all the different parts and devices to communicate, and guys like me can't get those codes to turn anything on or off. The big companies are heading toward autonomy all their own."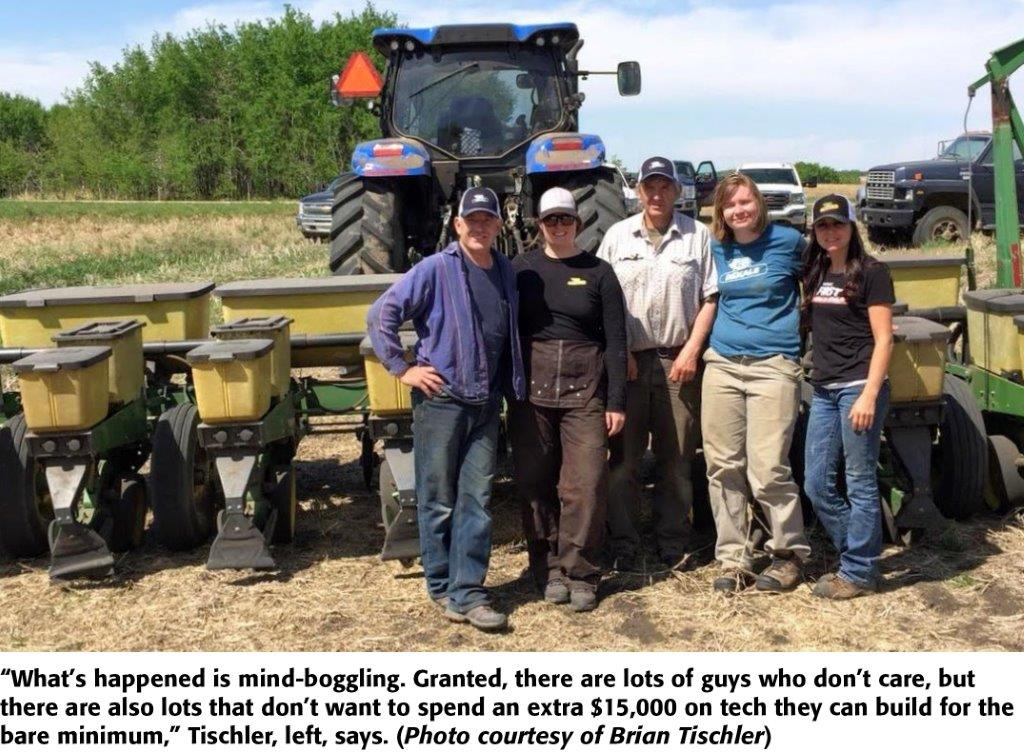 However, Tischler emphasizes the infancy of open-source technology in agriculture and the major potential innovation. "Open-source taps the minds of 1,000 incredibly sharp farmers at one time all over the world. It's a true community of the curious."
He cites endless examples of open-source farm tech with potential to provide immediate value: A few Bluetooth relays for an Arduino connected to an iPhone can open/close the tailgate of a truck, manipulate an auger, or control the booms on a sprayer—all for $30. When a particular technology reaches the masses, price goes down and performance goes up, Tischler explains: "Because of self-driving cars and the drone industry, and the need to mass-market positioning systems of every kind, high-accuracy, centimeter-accurate RTK GPS complete systems from manufacturers like u-blox can be purchased for around $600. Five years ago this was unheard of. You still can go the normal route of purchasing complete commercial systems and spend $15,000 or more—but the best part today, there is a choice."
Weed control, variable rate prescriptions and 3D printing are additional areas where Tischler sees major opportunity for open sourcing to play a role. "One big area for future application is robotic crop tending; making your own computer vision to remove everything but the crop. I don't say this because chemicals are bad, but because we are running out of chemical options."
"The software for VR is so locked up," Tischler continues. "We send data to the cloud and then a company comes up with magical prescription based on who knows what. Instead, I want automation to get the farmer directly involved in deciding what rates and where to apply."
"3D printing is amazing and we're at the point where you can print in metal with powdered iron laser systems. I'd rather spend several hundred bucks to make a part than throw away a machine."
Sponsored by FUN
Tischler achievements were highlighted in 2018 and he was recognized by the ASTech Foundation with its Outstanding Achievement in Agricultural Innovation award. After his initial success with AgOpenGPS, Tischler downplays his remarkable effort and is excited to provide growers with more choices. "It's great for guys out there to have options. There's still a whole lot to do, but this is a simple, great start."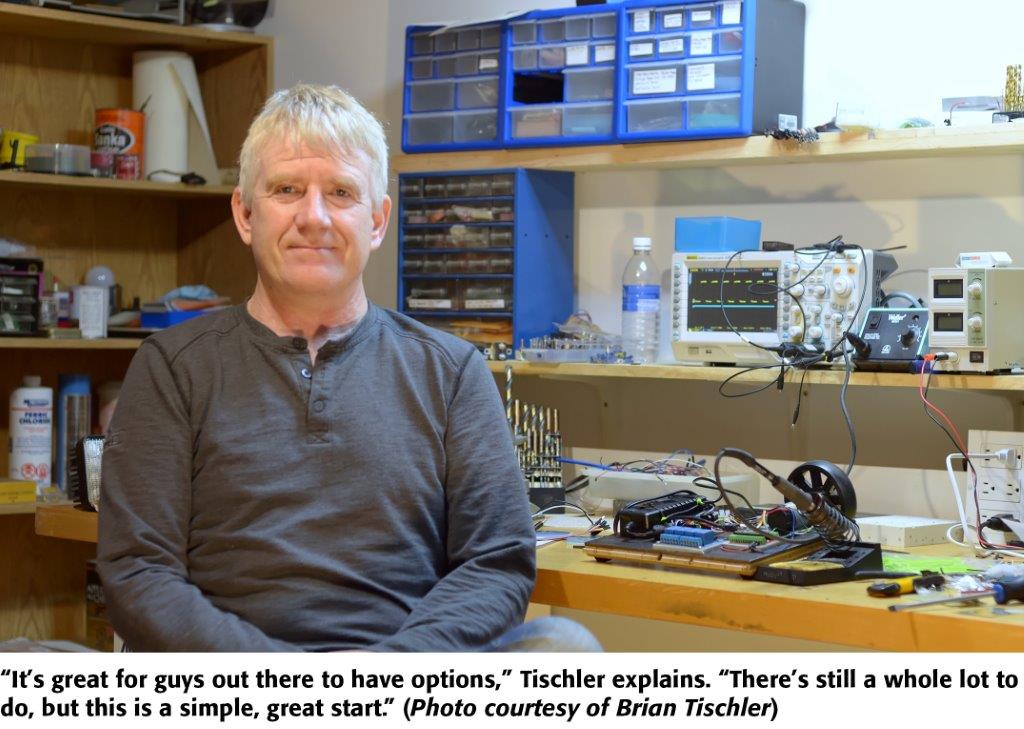 A significant part of Tischler's overall success relates to "balance," Groeneveld explains: "He's a guy with a really strong sense of work-life balance. Brian works long, long hours, especially at different points in the season, but when he hits a break, he cuts away and goes traveling with his wife, Arvel, for a different perspective. He gets the work-life balance right and that's something a lot of guys make a mistake on."
What drives Tischler on the farm? Pure joy. When he gives talks or presentations to farming audiences, "Sponsored by FUN," rolls across the screen on the last slide. "I love being able to develop; talk to people; and be inspired by people all over the world. Who has this much fun at work? There's difficulty at any job, but I don't answer to a board of directors and I have so much fun getting to try new things. The spice of life is right here on my farm and I can't wait for whatever comes next."
For more, see:
Corn Maverick: Cracking the Mystery of 60-Inch Rows
Descent Into Hell: Farmer Escapes Corn Tomb Death
Killing Hogzilla: Hunting a Monster Wild Pig
Breaking Bad: Chasing the Wildest Con Artist in Farming History
Blood And Dirt: A Farmer's 30-Year Fight With The Feds
American Farmer Snuffed Out Saddam Hussein
Against All Odds: Farmer Survives Epic Ordeal
Future Shock: Farmers Exposed By US-China Long Game
Wild Pig Wars: Controversy Over Hunting, Trapping in Missouri
Agriculture's Darkest Fraud Hidden Under Dirt and Lies
In the Blood: Hunting Deer Antlers with a Legendary Shed Whisperer